7 Best Dog Foods For Labs - Expert Picks
01.04.2022.
Every product and service on World Dog Finder is independently selected by our editors, contributors, and experts. If you purchase something through our links, we may earn a referral fee. Learn more
---
Labrador Retrievers are one of the world's most popular dog breeds. They are easily trained, enjoy being with and around their family, and have a lot of energy. They are outgoing while remaining gentle, even-tempered, and trusting.
Because of its ability to swim in strong currents, the Lab is known as the original fisherman's friend. Because of their powerful jaws and soft bite, they've evolved into excellent hunting companions. In a nutshell, the Labrador is multi-talented and capable of serving as a companion dog, a therapy dog, and even a military dog. Because of these various responsibilities, the Lab requires only the best nutrition available. This buyer's guide is for those committed to feeding their Labs only the best dog food.
Here is a list of the 7 best dog foods for Labs.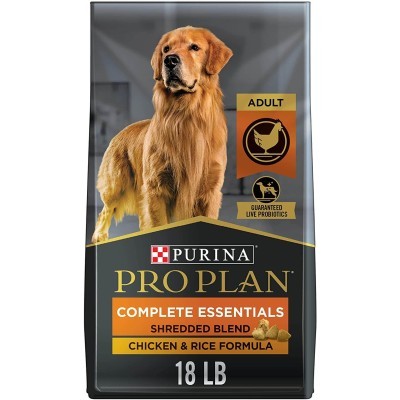 The Purina Pro Plan is our top pick for the best dog foods for Labs. It's packed with great ingredients that meet all of your pup's nutritional requirements. This recipe's main ingredients are chicken and rice, resulting in a flavorful experience that is also extremely healthy.
There are 389 calories in this recipe. This dog food has a guaranteed analysis of 26 percent crude protein, 16 percent crude fat, 3 percent crude fiber, and 12 percent moisture. It also has 600 million live probiotics to help with gut health and high fiber content to help with regularity.
This bag contains two types of textures. The dried kibble for the crunchy sensation and tender pieces that add additional flavor and palatability. Overall, a closer look at this recipe reveals the perfect amount and balance of omega fatty acids and proteins. This dog food will promote optimal musculoskeletal function, healthy bowel movements, and a shiny coat.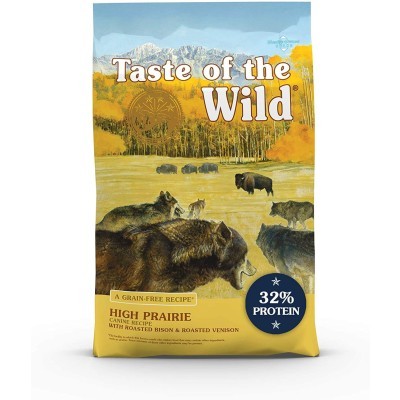 This Taste of the Wild recipe is to spice up your dog's diet and introduce them to new proteins. Its first ingredient is water buffalo. This recipe's protein levels are boosted with premium ingredients like chicken fat, roasted bison and venison, beef, lamb meal, and chicken meal.
Despite the fact that this increases the protein and fat content of your dog's food, it won't help you avoid giving your dog chicken, which could cause them to develop an allergy by feeding them the same recipe over time. According to our opinion, omitting the chicken would have been a minor improvement to the recipe.
RELATED: Silver Lab - Facts, Rarity & Guide
Grain-free and chock-full of vitamins and antioxidants, this recipe is perfect for your pup's health. In addition, a proprietary K9 strain probiotic blend is also included. Its goal is to support your Lab's digestive health.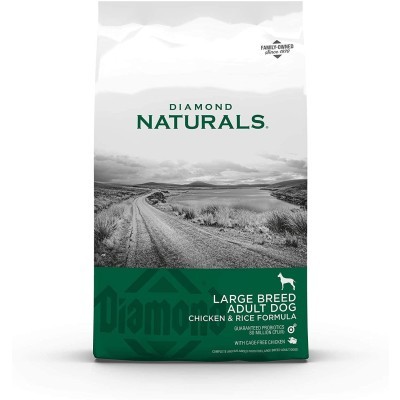 Diamond Naturals Premium Large Breed Formula is a high-quality formula specifically developed for large breed dogs.
This brand is the epitome of a well-balanced meal. The protein, calorie, and fat ratio that fuels your Lab is meticulously measured. This natural dog food is gentle on your pup's digestive system because it contains the most easily digestible protein - lamb.
This recipe also contains L-carnitine, which will assist your dog in converting fat into energy and thus regulating weight gain. This dry food contains no corn, wheat, artificial fillers, flavors, or preservatives. Diamond Naturals can take care of your Labrador's health.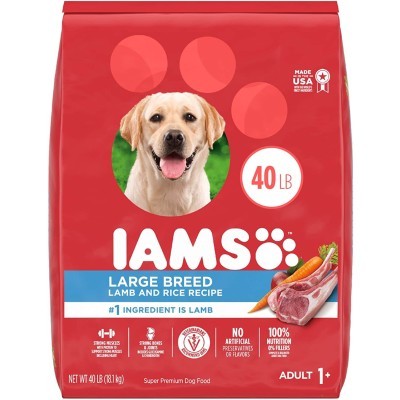 You've probably noticed their products on every store shelf. While many dog owners avoid big-name brands like Iams, the Iams Large Breed Adult Dry Dog Food is actually a pretty good food option for your Lab, and we would recommend it without hesitation.
To begin with, the food has all the advantages of a well-known brand. For example, it is significantly less expensive than the more artisan brands we have previously featured.
RELATED: Golden Retriever vs. Labrador - How to Pick the Right Breed?
It's also not highly specialized (meaning it's suitable for various breeds), which contributes significantly to the low price. Second, because Iams is such a well-known brand, the food is widely available. So, you can buy some of the food online, then go to a store to get the rest, because Iams is sold almost everywhere. Iams Large Breed dog food includes glucosamine and chondroitin in its recipe, which are great for your Lab's joints.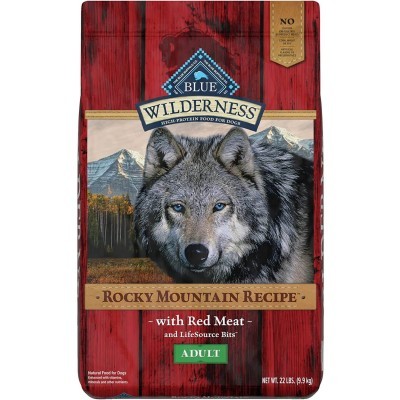 The Blue Buffalo Wilderness Rocky Mountain Recipe is formulated and manufactured by Blue Buffalo. Its now-iconic LifeSource Bits technology is one of the best dog foods for Labradors available. This ensures that your Labrador receives the optimal blend of minerals and vitamins for optimal growth and development, as well as the optimal functioning of all physiologic processes in its body.
We adore Blue Buffalo and believe they make fantastic products for dogs and cats. The main ingredient in this recipe is beef, and you should be aware of how good beef is as a protein source. Furthermore, it contains all of the necessary ingredients you'd want to see in your dog's diet.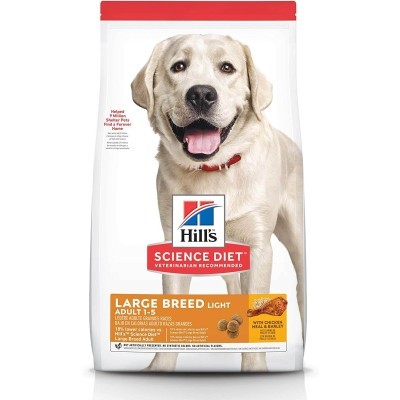 The Hill's Science Diet Dry Dog Food is not cheap, but it can be extremely beneficial to Labradors. Labrador Retrievers are prone to obesity as they grow old, especially if the activity levels their owners provide them declines. This dog food allows your Lab to convert fat into energy, resulting in lean muscles, increased stamina, and improved health in large dogs aged 1 to 5.
This dog food has 18% fewer calories compared to other dog foods for Labs. One serving of Hill's dog food contains only 271 calories. This dog food's guaranteed analysis should contain 20% crude protein, 14% crude fiber, 5% crude fat, and 10.5% moisture.
RELATED: 7 Labrador Retriever Fun Facts
Glucosamine and chondroitin are also included in this recipe. These two supplements work in tandem to preserve the dog's cartilage and joint health. It's packed with antioxidants, essential vitamins, and all-important minerals to help you serve your dog a well-balanced diet and at the same time keep the dog's calorie intake under control.
We appreciate that Hill's is specifically formulated for breeds such as Labrador Retrievers, which can have difficulty regulating their weight. However, not all Labs will need this recipe, especially if your Lab is a high-energy dog that gets plenty of daily activities. They'll require a high-protein, high-fat diet.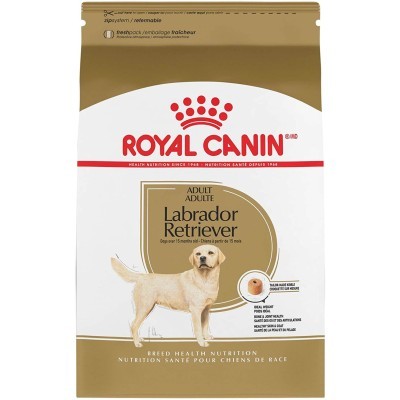 The Royal Canin BHN Labrador Retriever has a specially shaped donut-style kibble that helps prevent choking.
This distinctively shaped kibble encourages your Labrador to eat more slowly and methodically. This drastically reduces your dog's chances of choking, which is obviously a big plus for the food.
RELATED: Labrador Retriever - Coat Colors
This dog food is a nutritional powerhouse. It has so much great nutrition packed into each kibble that discussing it would necessitate a separate article. We won't be able to do that, so we'll just go over some of the highlights.
To begin with, it contains nutrients that are intended to aid in joint and bone health, which is obviously very beneficial given that Labradors can suffer from hip dysplasia. Second, it contains EPA and DHA, both of which are beneficial to the development of your Labrador's cognitive abilities and sight. Finally, the food has an ultra-precise fat and calorie content that is intended to keep your dog satiated while also assisting them in maintaining an ideal weight.
What is the best diet for a Labrador?
Like all other dog breeds, Labs have specific dietary needs their owners need to address. Here are some of the most important aspects of a Lab's diet.
Diet ranging from moderate to high protein
Because Labradors are naturally active and energetic, it is evident that they will benefit significantly from a high-protein diet. However, in today's pet parenting, many people simply do not provide their Labs with the necessary exercise. Many are confined to the confines of their homes. They might be able to play in the backyard, but that's about it. Because of the sedentary lifestyle they now lead, Labs are predisposed to obesity.
In such cases, a high-protein diet may not be ideal because there is no need to build muscle tissues due to decreased physical activity. Having said that, the amount of protein fed to Labs can be reduced.
Low to moderate calorie intake
The calories that Labs consume will be a more significant concern. Again, if you're talking about a very active dog who swims in rivers or lakes at least twice a week and spends a lot of time playing outside on a daily basis, this Labrador Retriever will undoubtedly require a high-calorie diet.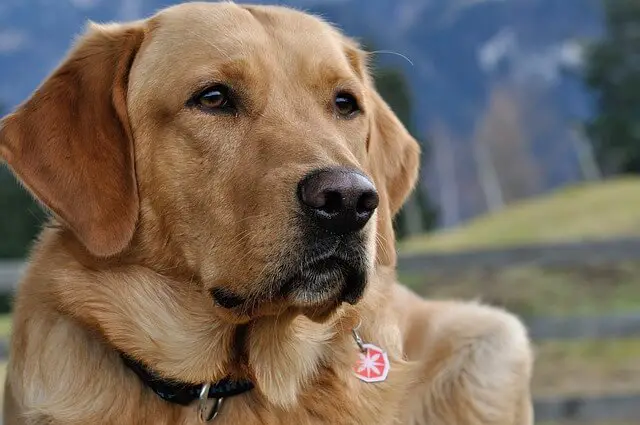 Unfortunately, as previously stated, many Labs and other dogs today do not receive the type of physical stimulation and exercise required to truly expend the energy supplied by the food they eat. As a result, any calorie that is not used, usually in the form of carbohydrates, is converted into fatty acids and glycogen.
This can exacerbate Labs' propensity to become obese. Obesity is not the only issue that needs to be addressed. Because carbohydrates are not being used as energy sources, blood sugar levels rise, predisposing Labradors to the development of canine diabetes.
RELATED: 7 Labrador Puppy Training Tips
Low in fat
Fats are molecules that contain incredibly concentrated forms of energy. Because Labradors have a predisposition to become obese due to excess unused energy, their diet should be low in fat. We are not advocating that they completely eliminate fat from their diet because these molecules are also important in maintaining the integrity of cells, particularly those in the central nervous system. These are also required for the production of certain hormones, without which other health issues may arise. It is thus advised to feed Labradors a low-fat diet.
So, what is the best Labrador diet? A diet high in proteins and low in calories and fats is ideal for your Labrador Retriever. However, we must emphasize that this is only a generalization and may not accurately reflect your Lab's requirements.
As previously stated, your Lab's ideal diet is determined by several factors, including its age, health status, developmental stage, and even activity level. This is especially true for the latter, as many Labrador Retrievers today live sedentary lives.
They are unable to swim or hunt as their forefathers did. As a result, they are now more prone to obesity. Giving them a high-calorie, high-fat diet may only increase their chances of becoming obese. However, your dog could be the archetypal Labrador – active, energetic, and full of vigor. If this is the case, you may require moderate calories and fats.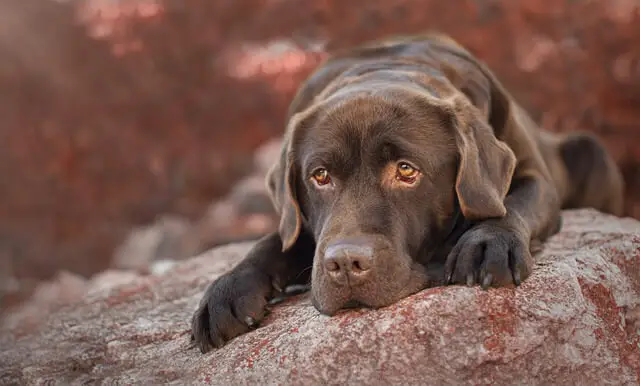 The point we're trying to make is that you should talk to your veterinarian about your Labrador's specific dietary needs. Existing health conditions usually necessitate a change in dietary habits. Pregnancy, lactation, puppyhood, and aging are all examples of developmental changes. Only your veterinarian can determine your dog's current state of health. This allows them to create a more comprehensive, realistic, and appropriate diet for your Labrador.
How frequently should you feed your Labrador Retriever?
Depending on their developmental age, Labrador Retrievers require different feeding frequencies. Puppies under a month old should typically be fed exclusively on their mother's milk. This ensures that the puppies receive all of the necessary nutrients, including the critical antibodies.
By 4 weeks, additional feeding in the form of milk replacers can be introduced to supplement the milk feeding. They should be fed four times a day until they are about 12 weeks old. They can be fed three times a day by then.
Your Labrador puppy can be fed twice a day, once in the morning and once in the evening when they reach 6 months. This feeding frequency is typically observed well into the adulthood of your Lab's life.
RELATED: Black Lab - 10 Fun Facts
As is always the case, these are only general guidelines. Depending on your Labrador's current health, your veterinarian can help you determine the exact frequency of feeding. Many dog owners take their cues from their pets as well. There are also pet owners who only feed their adult Labs once a day. Experts do not recommend this practice because it increases the risk of bloat in dogs.
How much should you feed a Labrador Retriever?
The amount of dog food you should feed your Lab is determined by many factors. It is critical to seek the advice of your veterinarian regarding the appropriate amount of dog food to feed your Lab based on a variety of factors.
You will also need to consider the type of dog food you will be feeding. Dry kibbles naturally have more nutrients packed into each unit of weight. If you choose canned or wet dog food, the nutrient content is usually lower because a greater proportion of it, roughly 70 to 80 percent, is water. As a result, these should always be taken into account.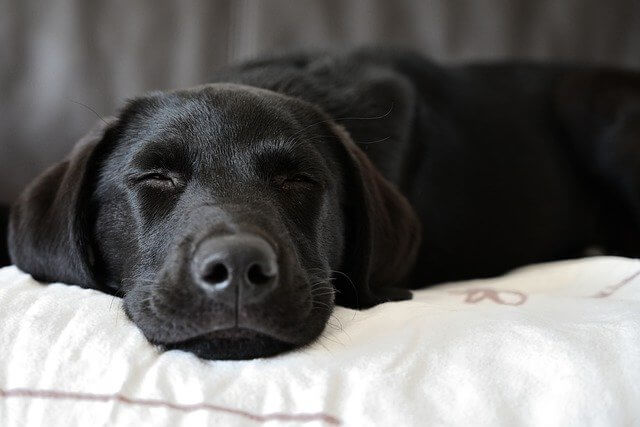 In any case, here are the most recent recommendations for the amount of dog food to feed Labradors.
For puppies weighing 15 to 18 pounds, 2 ounces per meal, four times a day
For puppies weighing 24 to 26 pounds, 3 to 3.5 ounces per meal, three times a day
For puppies weighing 50 to 60 pounds, 6 to 8 ounces per meal, twice a day
For Labs weighing 61 to 80 pounds, 1.75 to 2.25 cups per meal, twice a day
For Labs weighing over 80-pound, 2.25 to 2.75 cups per meal, twice a day
Keep in mind that if your Lab is on a weight-loss diet, these amounts of dog food will be reduced as well.
There are numerous reasons why Labrador Retrievers are so popular. Their gentle personalities and multi-talented natures make them very amiable creatures. So, if you own a Lab, don't you think it deserves the best nutrition for happiness and optimal development? If that's the case, you should start with our list of the best dog food for Labs.
World Dog Finder team