Best 3 Coyote Vests For Complete Protection Of Your Dog
28.11.2022.
Every product and service on World Dog Finder is independently selected by our editors, contributors, and experts. If you purchase something through our links, we may earn a referral fee. Learn more
---
All dogs, especially smaller ones, can be seen as prey for coyotes. Coyote attacks are rare, but they can still occur, and this low percentage of attacks will not mean anything to you if your dog gets attacked. The coyote vest for dogs is specifically made to protect your dog from coyote attacks and birds.
The coyote vest contains whiskers that look good and have a purpose. They will make smaller dogs look visually bigger and more threatening. This vest will either completely prevent attacks or slow down the attack and give you enough time to help your dog.
You may think that coyotes attack will only happen in the wild, but in reality, there are more and more reports of coyotes attacking in the areas closer to popular cities. It is better to be safe than sorry.
Here are our recommendations for the best coyote vest for your dog.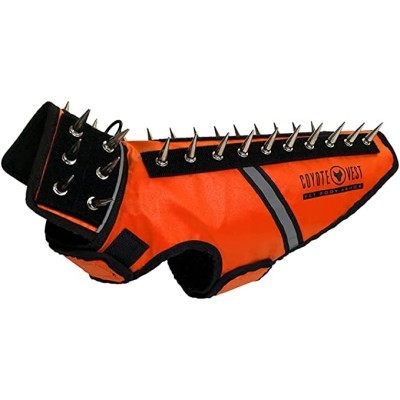 With this coyote vest, you can be sure your dog will be fully protected in case of any coyote attack. This vest features removable chrome spikes that provide additional protection for your dog. This vest will protect your dog and give you enough time to react properly to the attack.
The material used for this vest is super resistant, meaning it can withstand any coyote attack and a dog's attack. It is very light, and this vest doesn't contain any metal, so there is no possibility of rusting.
These coyote whiskers will look so cool on your dog and will also provide your dog with proper protection against coyote attacks. They can be attached to your dog's spike vest or coyote vest. These whiskers are very flexible neon-colored nylon bristles that are completely safe for your dog and will not cause any harm to him or cause mobility issues.
Make sure to read the instruction before assembling these whiskers to ensure that you do it right, so your dog will be fully protected.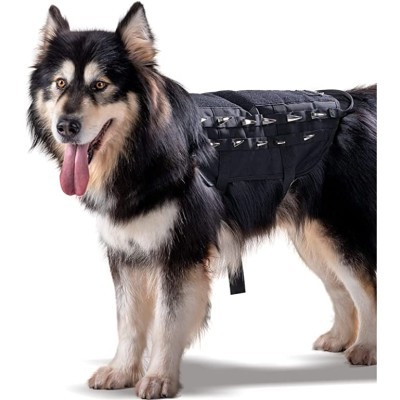 This harness will protect your dog from various attacks, including coyotes, dogs, birds, or any other animal that can attack your dog. This harness was made to protect your dog from attack and give you enough time to react properly. It is made from a very gentle and breathable pad that will be comfortable for your dog.
There are horn spikes on the surface of this harness that will protect your dog against various attacks. It is very easy to put on your dog, and you can easily fit the size.
World Dog Finder team