Best Dry Dog Food for Your Dog in 2023
04.02.2021.
Every product and service on World Dog Finder is independently selected by our editors, contributors, and experts. If you purchase something through our links, we may earn a referral fee. Learn more
---
Getting balanced dog food is one of the first things you need to do for your dog. There is no point in training or socializing your dog if their health is down because of bad dietary habits. Choosing the right dry dog food is a process you will have to carefully go through, and you should ask for advice as much as you can.
Your first questions should be directed to the previous owner of the dog. Whether you got your dog from a breeder or a shelter, a balanced diet is something every dog needs. After a while, you should consult your vet and ask for advice on types of dry dog food that might be best specifically for your dog.
Choosing the right ingredients
There is no easy way to know which ingredients are beneficial for your dog if you are not a dog nutritionist or a vet. You can't trust the marketing and promotional videos that are just trying to sell their product, and in the vast ocean of available options, picking the right one might be difficult.
Today, dog foods are filled with "premium" ingredients like Angus beef, lamb, bison, or free-range turkey, and if you are not sure why each of them is beneficial, how can you choose the right dry dog food?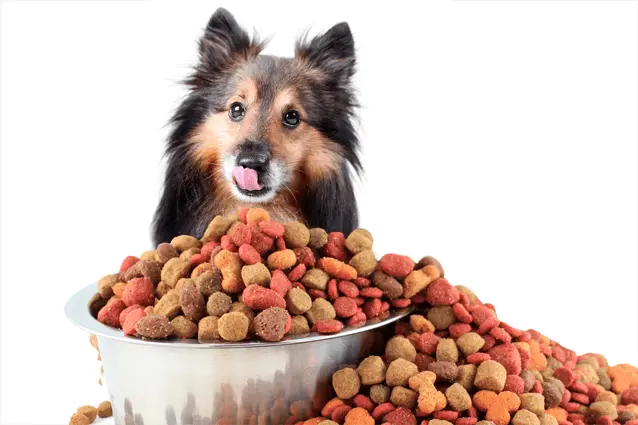 That is why we prepared a list of seven high-quality dog foods that are known and vet recommended. These foods have the best ingredients which will support your dog's lifestyle and development. Each of these seven picks has been carefully selected for their specific recipes and their beneficial effects on a dog's body.
We spoke to 10 vets about more than 50 popular dry dog food brands, and after careful consideration, we picked these seven, which we fully stand behind. Any of these picks will be great, and you can be sure you will not make a mistake if you pick any of them.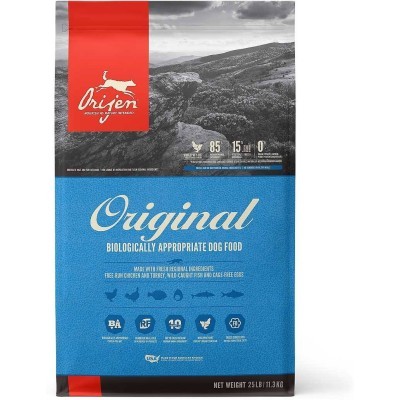 If you ask 10 dog owners which dry dog food they feed their dog, at least one will say they use ORIJEN dog food. This is a premium dog food manufacturer from Canada that uses only the finest ingredients. This dog food has high-quality protein from turkey, chicken, and fish. It is something most dogs will love and benefit from.
Owners that use ORIJEN Original dry dog food said their dog's coat looks great, and even the pickiest of eaters seem to like the smell and taste of this food. It has a fat-to-protein ratio of 47%, which indicates it is properly balanced.
Pros
Highest quality
Great fat-to-protein ratio
Great smell
Great taste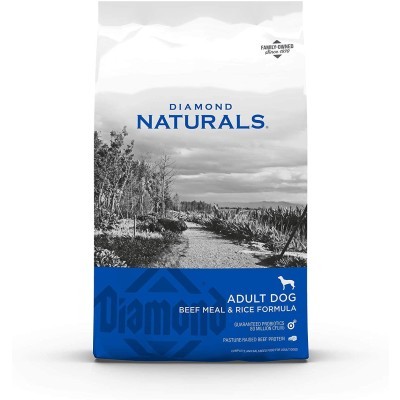 As our dogs get older, their nutritional needs change. Their body goes through some changes, and their dry dog food will have to follow their development. One of the most important things pet parents need to look after is their dog's digestion. Diamond Naturals is the most affordable dog food that includes 80 million colony-units of lactobacillus strains that support the dog's digestion.
This is one of the best possible picks for older dogs that need to keep their good health even in their golden years. They need great dry dog food, and this one has a tremendous fat-to-protein ratio of 78%.
Cons
Some dogs are allergic to chicken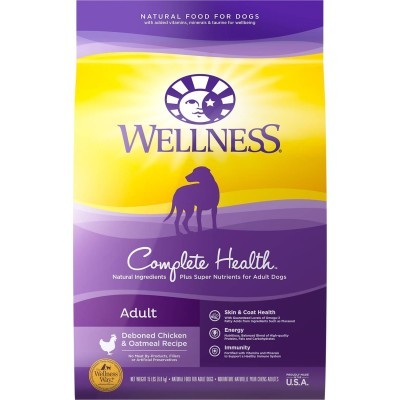 Many people think that dogs are carnivores, but actually, dogs are natural omnivores. Even the wolves in the wild eat plants to get everything they need for their digestion. Grain-free food is not always the best choice. If you ever see your dog eating grass, one of the possible reasons is they miss something in their diet.
If you are thinking about getting affordable, well-balanced dry dog food for your adult dog, then Wellness Complete Health is the way to go. It includes peas, which are very healthy, and this food has a fat-to-protein ratio of 50%.
Pros
Includes healthy grain
Well-balanced
Affordable
Cons
Some dogs are allergic to grain
Only chicken-based protein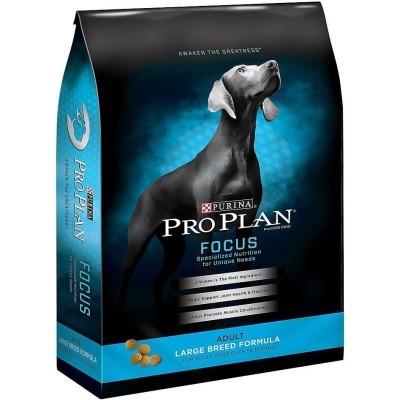 Purina is one of the most famous dog foods out there, and plenty of owners said they love how good it is. All of Purina's protein comes from fresh chicken, and this is a brand that is grain-inclusive. Purina is a trusted manufacturer that invests large sums of money each year in research. They make all their food based on strict World Small Animal Veterinary Association guidelines.
Purina is a great choice not only because of its quality but because they are available everywhere. You can order it online or just drop by your local pet store, and you will probably find it there. It has a slightly lower fat-to-protein ratio of 46%.
Pros
Affordable
Grain-inclusive
Cons
Lower protein value
Some dogs are allergic to grain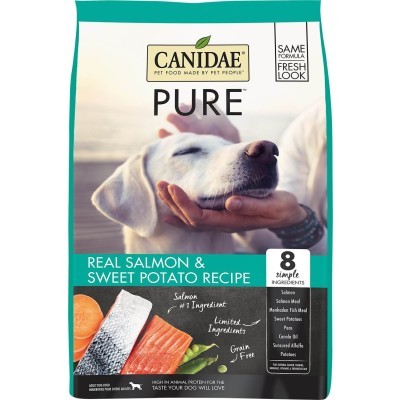 If you are looking for a healthy option for dry dog food based on some other protein source, CANIDAE Grain-Free Salmon & Sweet Potato is the way to go. Many dogs, especially small dog breeds, are allergic to chicken and chicken meal, which means they cannot eat dry dog foods whose proteins come from that source. This food has a fat-to-protein ratio of 56%, which is a very healthy ratio.
Canidae is not the only manufacturer that offers dry dog food based on salmon, but it is undoubtedly one of the best options out there. It offers only the highest quality salmon, and you can be sure it will provide your dog a well-balanced diet.
Pros
Salmon-based
Great fat-to-protein ratio
Affordable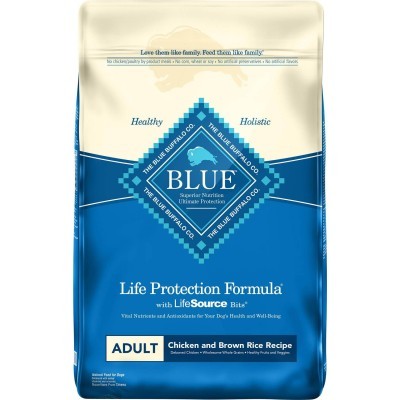 Blue Buffalo is one of the most popular choices among dog owners across the US. This dry dog food gets its protein from chicken and chicken meal, and it is grain-inclusive. It has a specially balanced formula that focuses on the dog's digestion tract and nutrient absorption.
Blue Buffalo has a vast range of products that can follow you and your puppy throughout their life, from their puppyhood to their senior years. Make sure your dog isn't allergic to chicken, and if this is an excellent option for them, you can rest assured you picked excellent dog food. It has a fat-to-protein ratio of 58%.
Pros
Affordable
Well-balanced
Vast range
Cons
Chicken only
Some dogs are allergic to grain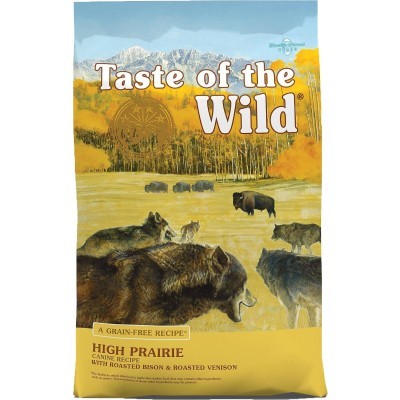 Taste of the Wild has a different approach to dog digestion. This dog food gets most of its protein from none other than wild buffalo. Their philosophy is that wolves in the wild used to feed on these magnificent beasts, and dogs will benefit from having buffalo in their daily diet. Buffalo isn't the only source of protein; there are chicken and lamb meals as well.
Blue Buffalo is a premium food that can be found at reasonable prices across the US. Plus, owners that feed their dogs with this dry dog food say they see significant health benefits. Their dogs are healthy and can't wait for their next meal. It has a fat-to-protein ratio of 56%.
Pros
Wild buffalo
Other protein sources
Affordable
Cons
Some dogs are allergic to chicken
World Dog Finder team