Glucosamine For Dogs To Treat Joint Pain
---
Getting your dog diagnosed with arthritis can be pretty devastating. This is a health issue that can happen as dogs grow old. Luckily, glucosamine can play an important part in helping your dog battle the pain and the condition. There are many reasons a dog can get arthritis, and no matter the cause, it still remains a painful condition. Here is what you need to know about glucosamine for dogs and battling arthritis.
What is glucosamine?
Glucosamine is a compound that can be found in nature. It is a popular supplement and remedy for arthritic pains. It is not the only natural substance capable of fighting and easing pain. They are called nutraceuticals and are used for treating arthritis in several species, like dogs, horses, and humans.
Uses of glucosamine
Glucosamine is an excellent over-the-counter supplement that doesn't need a vet prescription; it can easily be bought even online. As we said, it is not only used for arthritis but it also:
Eases recovery after joint surgeries
Helps alleviate the pain caused by hip dysplasia
Eases joint wear
Great supplement for dog sport contestants
There are plenty of supposed effects glucosamine has on a dog's health, and most importantly, it helps repair damaged cartilages and the spongy material which joint cushions are made of. There are plenty of great supplements like the Glyde Mobility Chews that are often given in the early stages of arthritis. They are safe for long-term use and have a significant effect on dogs with arthritis.
What is arthritis?
Arthritis is a condition where joints get inflamed, and it is a common problem among senior dogs. It causes a lot of discomforts, stiffness, and pain. Dogs that get arthritis end up having damaged cartilages. Cartilages end up with reduced smoothness, and they cause the bones to rub together.
You can read more about osteoarthritis here - Osteoarthritis In Dogs.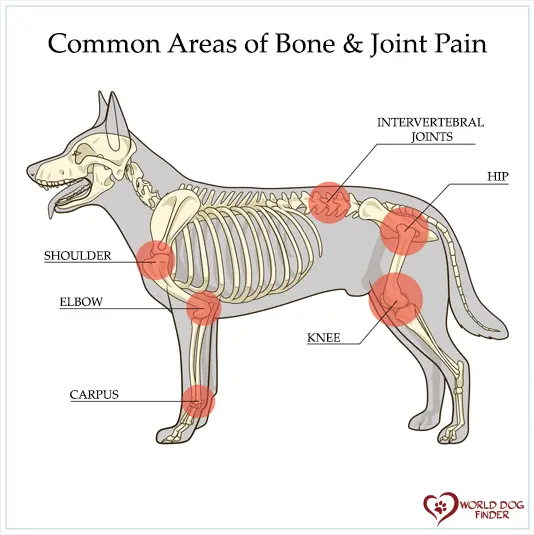 Glucosamine for hip dysplasia
Hip dysplasia is a common hip problem found in canines, especially the larger breeds like the Great Dane, Mastiffs, or Labradors. That doesn't mean smaller breeds are safe from it; hip dysplasia can affect dogs of all sizes, and even humans can suffer from it.
Depending on the severity, hip dysplasia can be very problematic to resolve. Sometimes, surgery is the only option. It can be very painful, and vets often advise owners whose dogs are suffering from this condition to get them on supplements, and the most popular supplement is glucosamine.
Hip dysplasia is a serious health condition that can cause terrible pain to dogs. You can read more about it here - Hip Dysplasia In Dogs.
How can I give my dog glucosamine?
If you have a senior dog and think about getting them on supplements, it is essential to know how to safely get your dog on supplements. Glucosamine is often given to dogs combined with one more natural substance that can stimulate cartilage repair - chondroitin.
What is chondroitin?
Chondroitin, as we mentioned, is a natural substance. It is made from pig or cow cartilage and aims at stimulating the repair of damaged cartilage. Chondroitin for dogs can also be derived from different shells, like crabs, shrimp, or oysters. There is also another way scientists are capable of synthesizing it in their laboratories by using plant sources.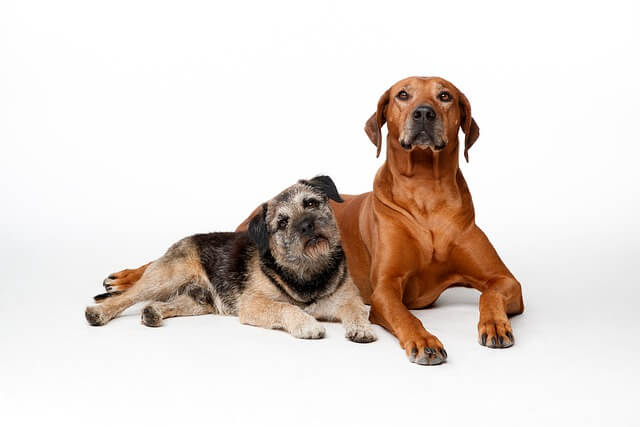 When should I start giving my dog glucosamine?
Several scientific studies say that around 80% of dogs older than seven years suffer from stiff joints and some sort of arthritic problems and pains. Glucosamine is generally very safe for dogs, and if you notice your dog has some problems or is even born with hip problems, starting them on glucosamine might be a good idea.
If your dog is older than seven years, getting them specialized diets or supplements would be a wise decision. Even if nothing is wrong with your dog, supplements like glucosamine can help keep their bodies healthy and functioning. If you start noticing symptoms of "aging" or arthritis, you should ask your vet for help and start giving your dog glucosamine. Some of the symptoms are:
Struggling to jump
Problems getting up and sitting down
Lifting a limb
Favoring a leg
Limping
Popping and cracking of joints and hips
Swelling
Taking shorter walks
Refusing to run or walk
Refusing to walk upstairs
How to give my dog glucosamine?
There are many available options, and the best advice can be given by your vet. Your dog might have a specific situation or is taking a combination of drugs where glucosamine might not be the best option. Some of the most popular choices of glucosamine supplements are;
World Dog Finder team