Best Indoor Dog Houses in 2023
08.03.2021.
Every product and service on World Dog Finder is independently selected by our editors, contributors, and experts. If you purchase something through our links, we may earn a referral fee. Learn more
---
Dog owners need to make sure their dogs have a safe space to rest and where they will feel comfortable and at home. An indoor dog house can be exactly that. It will ensure your dog has their own personal space where they can go and be left alone. Plus, some indoor dog houses have a fantastic design that can double as a piece of furniture.
What to look for in an indoor dog house?
When deciding on any product, there are things to consider. The process of buying an indoor dog house shouldn't be any different. You have to account for the design, quality, durability, and size. Nobody wants to end up with a product they or their dogs end up hating. Here are the most important things to consider when buying an indoor dog house;
Size
Size is probably the most important thing when deciding on a particular model. Comfort, design, and all other things don't matter if the dog doesn't fit in the house. Make sure you get a model that will fit comfortably in your home, and your dog can fit in it.
Have you ever thought about getting an automated dog feeder? Check out this article for more ideas - Best automated dog feeders.
Material
There are different materials used for constructing an indoor dog house. Think about things like: Will the house be moved? Is it in its permanent place? Where will it be positioned? Will it fit the rest of the interior? These are all things to consider when choosing a model for your dog. Make sure you pick the material that will suit all your criteria.
Assembly
Some of us are not that handy with putting things together. We prefer when things arrive already put together. Indoor dog houses can come premade, or some assembly can be required. Make sure you order a premade one if you are not that handy with tools.
Purpose
Another important thing about an indoor dog house is its purpose. You should be clear about why you are getting your dog that model. If the dog will use it as a crate or a kennel, the house needs to have sturdy doors and plenty of room for the dog to be comfortable. If it is just a beautiful designer piece that will give your dog a space to run to when they get fed up, there are more options available, and a secure door is not a necessity.
Here is a list of our favorite indoor dog houses.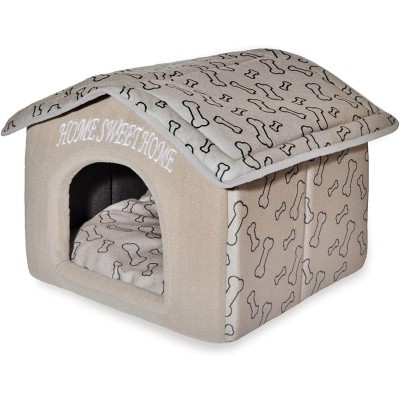 Our top pick is the Portable Soft Indoor Dog House. The truth is, most indoor dog houses are aimed at smaller dogs that require some peace and quiet. This dog house is as comfy as it gets, and we can guarantee your small dog will love it. It is effortless to assemble and disassemble, so you can take your dog's house wherever you go. It comes in several color options. Another considerable advantage this indoor dog house has is that it is entirely machine-washable. That is not a feature you'd expect from a dog house.
Pros
Machine-washable
Budget-friendly
Cozy and soft
Cons
Only for small dogs
Not for too active dogs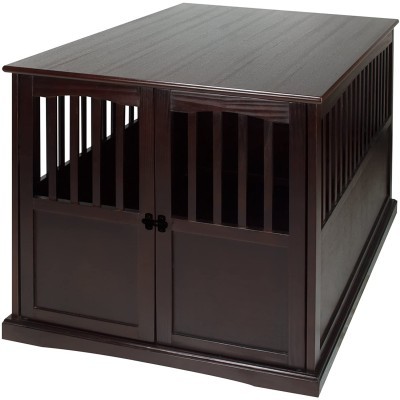 If you are looking for something that offers a classy design and wooden construction, then Wooden Extra Large Pet Crate might be of your interest. This indoor dog house can be used as a permanent dog crate. It is sturdy and reliable, with a durable wooden construction that will keep your dog out of harm's way while you are away from home. This is an excellent option for larger dogs that need a place to call their own. It is a great-looking piece that will fit in different interiors. Plus, you can use it as an end table.
Pros
Design
Sturdy
Great wooden finish
Cons
Pricey
Not for dogs that love gnawing on furniture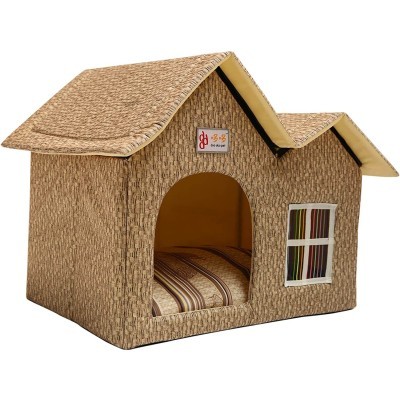 Our nominee for the best-designed indoor dog house is the Luxury Double Roof Dog House from ZPPMC. We love the spacious place your dog will have inside their new house, and the design is just what you would expect from a dog house - a house. It even has some cool features, like waterproof, so you can easily place this indoor dog house outside. The roof can be easily removed, and the sponge is really comfy. However, the only thing we can see wrong with it is that it comes in sizes suitable for small dogs.
Pros
Sturdy
Easy to clean
Removable roof
Another great indoor option is an igloo dog house. Check out this article for more ideas - Best igloo dog houses.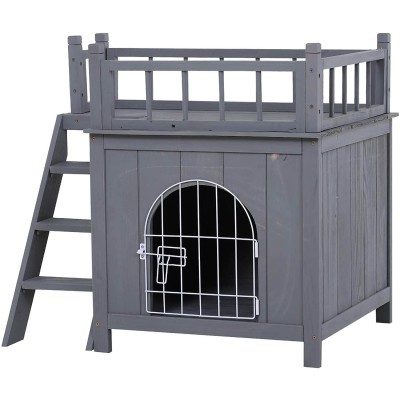 If you are looking for something that can serve as a more permanent crate and a kennel for your dog, this model might interest you. The PawHut 2-Level Dog House provides dogs with an indoor place to lay down and sleep and the upstairs balcony where they can keep an eye on their surroundings. This indoor dog house has a great design, and even though it is not preassembled, it shouldn't be too much of a problem assembling it. It comes with predrilled holes, and all the hardware is included. The whole installation takes about 30 minutes, and you will have a great piece of furniture that your dog will love.
Do you know which dog carriers are the best? Check out this article for more info - How to choose a dog carrier?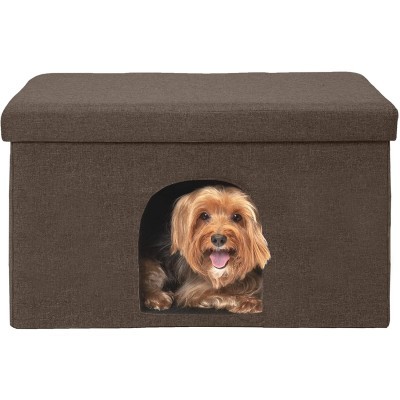 If you are looking to get a 2-in-1 indoor dog house, the Ottoman and Footstool Pet House from Furhaven is the right choice for you. It comes in 16 different color options and can fit small dogs and cats with ease. This is an excellent option for all of us whose dogs want to be near us but have a cozy place that is just for them. The ottoman's roof can be removed for easy access and cleaning, and it will easily fit in different decors. Plus, the price is budget-friendly.
Pros
Affordable
Multi-purpose
Extra easy assembly
Cons
For small dogs only
Thin material
World Dog Finder team