Best Automatic Dog Feeders in 2023
21.02.2021.
Every product and service on World Dog Finder is independently selected by our editors, contributors, and experts. If you purchase something through our links, we may earn a referral fee. Learn more
---
The most important thing we have to do as dog owners is to feed our dogs. Sometimes, even that basic thing can get complicated. We can get swamped by our chores and hectic work schedules, which is when automatic dog feeders play a vital role. You don't have to worry about feeding your dog regularly if you have a machine doing that for you. Your only job is to make sure the feeder doesn't run out of dog food.
What to look for in an automatic dog feeder?
In an ocean of available automatic dog feeders, we could get easily confused and end up picking the wrong one. Some feeders have amazing designs, but they are not practical or get jammed with food that isn't round. We have prepared a short guide for buying an automatic dog feeder, and these are the most important things.
Quality
The most important thing to look for is the quality of production. Poorly designed and made products can break down easily or allow your dog to eat whenever they want. Most of our dogs will eat as much as they can, as often as they can. You must ensure there are locks of some kind and that the feeder is not easily tipped over.
Feeding bowl
The feeding bowl is the place where dog food will fall, and your dog will eat from it. The automatic dog feeder must offer high-quality bowls. If they don't, you can always buy them separately - just make sure they fit with the feeder.
Kibble handling
Some feeders cannot handle large kibble. If you have a large dog that eats a specific food with large kibble, make sure you get an automatic dog feeder that can handle it. There are dog food options that offer the same recipe with different sized kibbles, but if they don't, picking the right feeder is the key.
Seal quality
Dog food that is not adequately contained can get spoiled. Unfortunately, there are no automatic feeders that provide a 100% seal quality. However, there are some that offer somewhat good containers. Make sure you pick the best one to keep your dog's kibble as fresh as possible.
Different types
There are different available options for automatic dog feeders. If you are just looking into that option for your dog, you might be confused about which ones might work best for your dog. Each option offers some benefits, but they also have some drawbacks. Here are the available types.
Gravity Systems
This is the basic automatic feeder. It works on a fundamental principle that keeps your dog's dish full at all times. It is an excellent option for dogs that don't overeat but a terrible option for those prone to overeating.
Mechanized Feed Systems
Vertical mechanized dog feeders include a large food container that stores food. The timer releases it in the bowl below. This gives you more control and is the right choice for dogs prone to obesity and overeating.
Round dispenser
This type of automatic feeder typically has a few different food compartments. They are filled with food and covered with a lid. At the predetermined time, the top rotates, exposes the full container, and allows your dog to eat.
Clamshell feeder
The clamshell type usually has a few food compartments covered with lids. They have a timer and fewer electrical parts than other, more complicated feeders. At a specific time of day, the top opens and allows your dog to get their meals.
Keeping our dogs out of the trash can be difficult. They love the interesting scents, and sometimes they can't help themselves. Check out this article for a solution - Dog proof trash cans.
Now you know the basics about them, and here is our list of top 5 automatic dog feeders.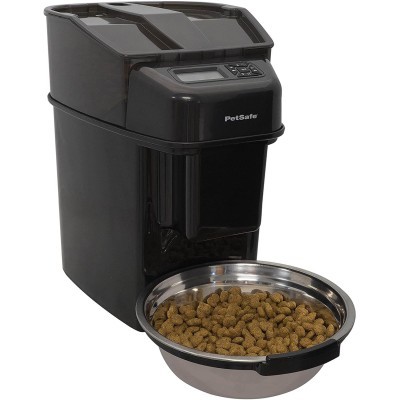 When it comes to automated food dispenser, there is nothing better than the PetSafe feeders. The PetSafe dispenser can be programmed to feed up to 12 meals in a single day. It is our top pick for an excellent reason. It offers different feeding programs, comes with a stainless steel bowl, and has other functions like "pause feeding." Plus, it has an attractive design that will fit right in. PetSafe is a known and trusted manufacturer with more than 30 years of experience in producing pet products.
Pros
Design
Price
Different feeding options
Work with batteries
Cons
Small food container
Confusing to program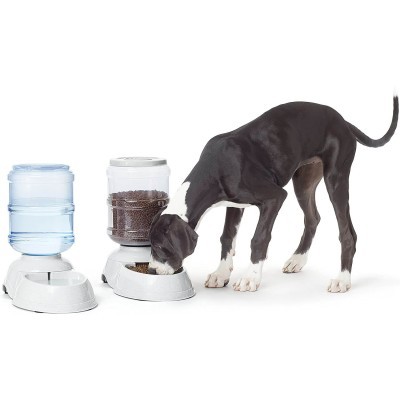 Suppose you are looking for a simple and affordable solution for feeding. In that case, Amazon Basics Gravity Food and Water Dispenser is a clear choice. It is cheap and effective. The gravity will take care of your dog's food and water bowl. You need to make sure they are filled, and the rest will take care of itself. More than 27.000 satisfied customers can't be wrong, and this is a very elegant solution for those of us who would like to get rid of one from our to-do list. Keep an eye on your dog's eating habits. If they are prone to overeating, this might not be the ideal feeder for them.
Pros
Affordable
Large containers
Non-skid bottom
Cons
Food available 24/7
Hand cleaning only
If you want to make sure your dog has a comfortable place to nap, check out this article - Best dog beds.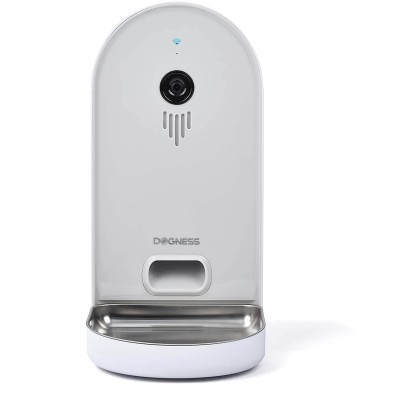 Suppose you are looking for a well-designed automated dog feeder. In that case, the obvious choice would have to be the DOGNESS Automatic WiFi Dog Smart Camera Feeder. This model connects to WI/FI, and you can control it from your smartphone even when you are not at home. It has a camera, which makes keeping an eye on your dog even easier. The thing that caught our eye was the soft lines and an unusual stainless steel bowl. This is really a good-looking product that will be an ideal feature in all interiors.
Pros
Design
Large container
Connects to your smartphone
Cons
Not for Android, only for iPhone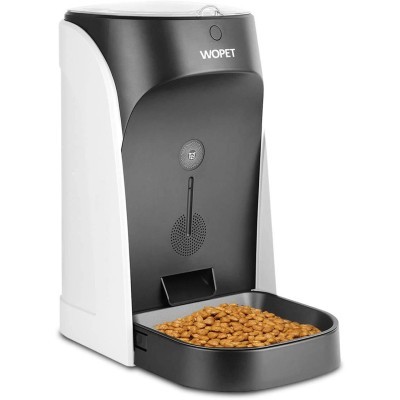 Smaller dogs and puppies should eat more often, and if you are looking for an affordable dog feeder that can feed your dog four times a day, WOpet has got you covered. This feeder has a built-in speaker, and you can play a 10-second prerecorded message. It has another cool feature - an infrared scanner that will scan the food flow and prevent the feeder from jamming. The WOpet Automatic Dog Feeder comes with a camera, so you can easily access it and check what your dog is doing. But the absolute best part about it is the affordable price tag.
Pros
Affordable
Camera
Speaker
Anti-jam system
Cons
Relatively small container
It could be confusing to program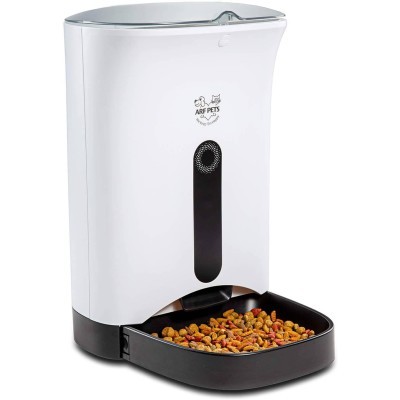 This is another automated dog feeder that offers excellent value at a reasonable price. The Arf Pets Automatic Food Dispenser is a fantastic product that lets you record a message, which will be played before feeding. That way, your dog will still connect your voice with mealtime. It has a camera, and the feeder can run on batteries or cable. You can program the exact amount of dog food you want to give your dog, which makes portion control a piece of cake. It has an LCD screen and is very user-friendly.
Pros
Affordable
User-friendly
Portion control
Cons
If moved around, the feeder seems to serve smaller amounts
Interested in keeping your dog's food fresh longer? Check out this article for ideas - Best Dog Food Containers.
World Dog Finder team