Best Dog Food Containers You Must Have In 2023
19.01.2021.
Every product and service on World Dog Finder is independently selected by our editors, contributors, and experts. If you purchase something through our links, we may earn a referral fee. Learn more
---
There are a few good reasons behind getting a dog food container, and if you are looking for one, you probably already know some of them. If you are looking to get rid of the dog food smell in your home, or maybe you just want to prevent your dog from getting into the open dog food bag, a good food container can probably help you.
What to look for in a dog food container?
There are a few important things you should look for in a dog food container, and those things will mostly depend on your dog. If you have a large dog breed, a small container is out of the question, and if your dog has a sensitive nose that always finds the open bag of food, something airtight is probably a good idea.
We have more than plenty of experience with nosy dogs, so we decided to share with you some of our favorite dog food containers that will make your life significantly easier. Here is a list of our eight favorite dog food containers.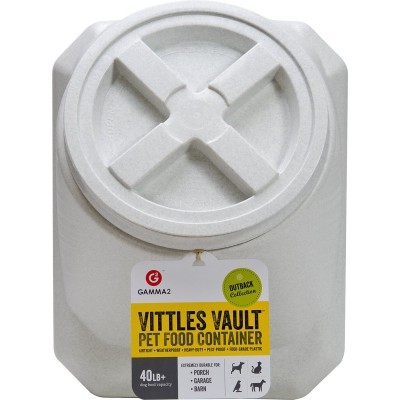 We are probably not the only ones that will recommend the Gamma 2 dog food container, and that is because it is that good. You can easily stack two or more containers on top of each other, making it convenient if you have different pets eating different foods. The Vittles Vault is sturdy, can hold up to 40 lbs of food, and has a locking lid, so your dog can't get in it.
Pros
durable
stackable
safe
airtight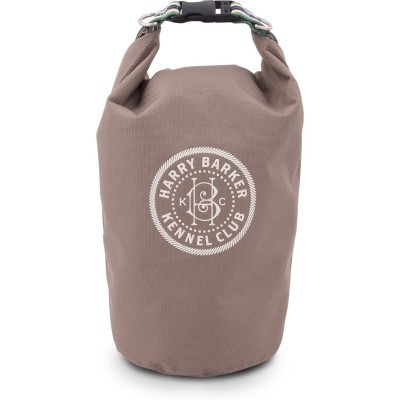 If you are the type of pet parent who travels with their dog, why not carry their dog food with style? The Harry Barker Food Container makes an ideal and safe way to take your dog's food with you on the road and not worry about dropping it everywhere across the floor. The stylish design, durability, and simplicity make this travel food container a must-have for all traveling pet parents.
Pros
design
safety buckle
waterproof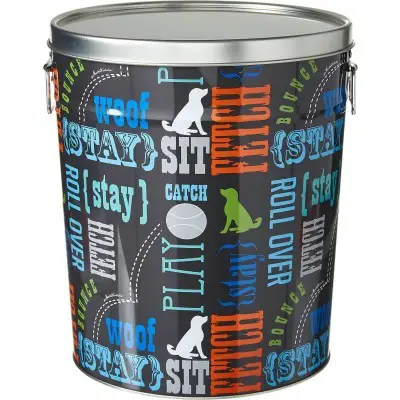 If you are looking for a dog food container with a good design and practicality, the Paw Prints Pet Food Storage Bin is a clear choice. It will seal your dog's food with an airtight lid and make it, so you don't have to worry about having your place smell like dog food. It can fit 15 pounds of food, which will be enough for breeds of all sizes. You can easily order it online and have your dog food container liven up the place.
Pros
design
fairly large
airtight
Cons
might be difficult to store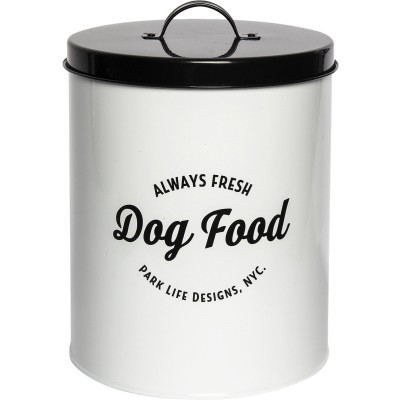 The Park Life Food Storage was one of the best-designed food containers last year, and it still looks absolutely gorgeous. It is made from carbon steel and will keep the food fresh, and the odors contained. This container will go great with this Vintage ceramic dog bowl, of course, if your dog won't play with it and break it. The Park Life remains one of our favorite containers still available on the market.
Pros
durable
airtight
great design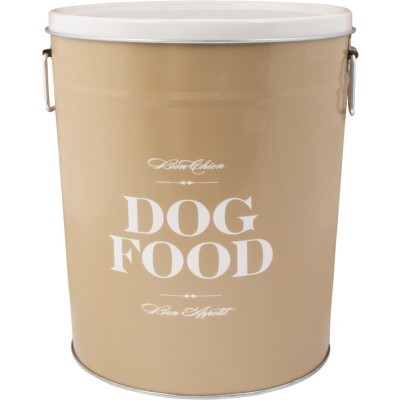 Harry Barker is a relatively well-known pet supplies manufacturer, and as you can see, they are focused on excellent quality and design. Their food containers are stylish and will fit any interior and decor. The taupe container is especially great if you have a small dog that doesn't eat too much food. This container has an airtight seal, so don't worry about odor or spillage.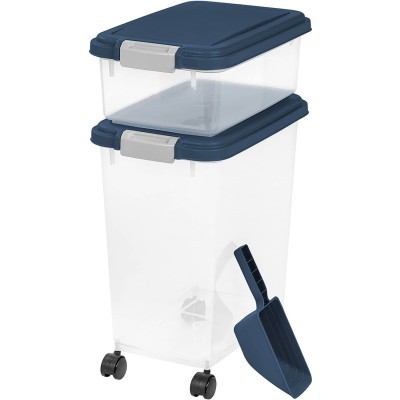 If you have a large dog at home, getting a larger food container might be a necessity. The IRIS 3 piece allows you to get different containers for the treats and dog food. Plus, it has a handy food scoop. The smaller container fits perfectly on the larger one. The large container has wheels, so moving it is a piece of cake. One of the best things about it is that it is seethrough, so you can quickly check when it's time for a refill.
Pros
seethrough
wheels
2 containers
affordable
scoop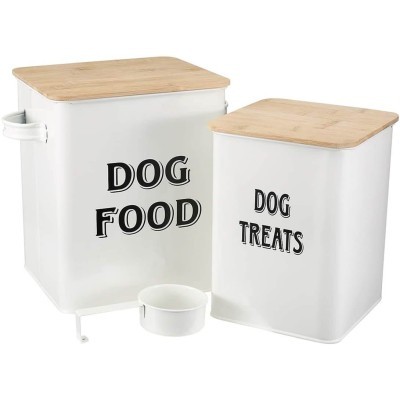 The Pethiy is a stylish dog food container that comes in combination with a smaller treat container or cat food. It is made of steel, so you can be sure it won't break easily, and the wooden lid fits perfectly in this design. You also get a handy scoop for filling your dog's bowl with food.
Pros
sturdy
great design
two containers
scoop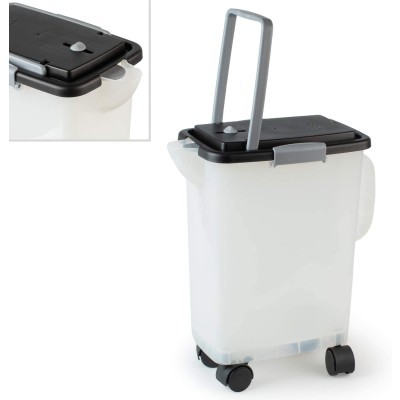 If you are looking for function over looks-type of product, then the PetFusion food container will be right up your alley. This portable dog food container is sturdy and transparent, so you can easily see when the dog food is running out. The lid will keep the moisture out and keep the freshness as long as it can. It is an ideal product for owners with a large dog or a few smaller dogs that eat the same food.
Pros
useful
portable
transparent
12-moth warranty
World Dog Finder team