Best Dog Beds in 2023
09.02.2021.
Every product and service on World Dog Finder is independently selected by our editors, contributors, and experts. If you purchase something through our links, we may earn a referral fee. Learn more
---
Providing your dog with a nice and comfy place to sleep in is one of the first things we as owners need to do. Some of us love having our dogs sleep with us on the bed, and even in that case, getting them a bed where they could comfortably nap during the day is not a bad idea. It can be quite confusing to pick the best dog bed in the sea of available options, but if you pick any of these dog beds from this list, we are sure you won't make a mistake.
What to look for in a dog bed?
Picking the right option for your dog might not be as easy as you think. There are many things to consider if you want your dog to love the bed you got them. Sure, some will be perfectly comfortable on the floor, but some dogs are a lot pickier than that. You should consider some key things when picking the ideal dog bed for your dog, and the most important things are thickness, material, price, and size.
Check out these amazing alternatives for dog beds - Best dog igloo houses.
Thickness
Getting the right thickness is crucial. You don't want to end up buying a dog bed that can't support your dog. Their shoulders and hips shouldn't go all the way through to the floor, so make sure that the foam is thick enough.
Material
Dog beds are made from all sorts of materials, and not all of them are a good option. From thin fleece dog beds to orthopedic memory foam beds, there are many options, and make sure you get the right and safe material for your dog.
Price
Prices for dog beds range from $10 to several hundred. Custom-made, furniture-grade dog beds, can even go for more than $1.000, so make sure you get the bed that won't be out of your budget.
Do you know what the best dog crates are? Check out this article - Best dog crates.
Size
Size is probably the most important thing to look for in a dog bed. Make sure you don't get a bed that can't fit your dog. There is no support or comfort if half of their bodies are on the floor and half on the bed. Plus, you should think about the place where the dog bed will be placed.
Here is a list of the best dog beds you can get.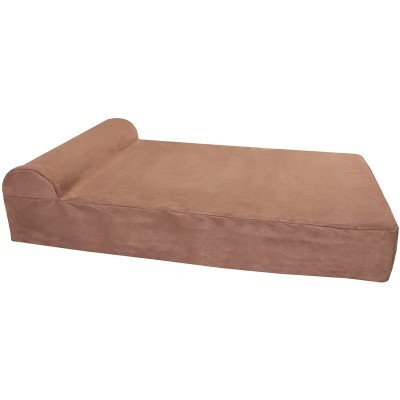 The Big Barker is our Top Pick, and for a good reason. It has several layers of foam and offers orthopedic support that is comfortable enough for humans to sleep in. This is a dog bed made for larger dogs, but even the smaller ones will comfortably fit in it. It has a machine-washable suede cover, and the design is fantastic. This bed will go with any interior design and the only bed whose effectiveness was clinically proven. The Big Barker is an excellent choice for a dog bed.
Pros
Soft
Machine-washable
10-year warranty
Quality materials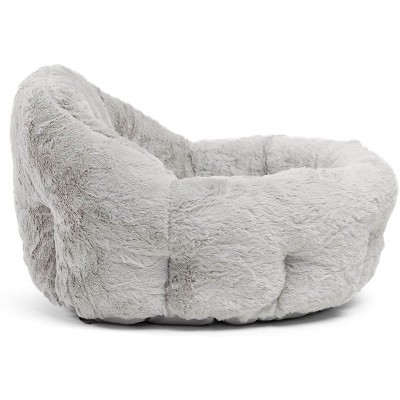 If you have a smaller dog breed, then OrthoComfort Deep Dish Cuddler is the bed for them. This is a dog bed for smaller breeds like Chihuahuas, French Bulldogs, Boston Terriers, or Pomeranians. It is incredibly soft and comfortable. More than 11.000 dog owners recommended it, and it has an overall score of 4.8. This dog bed has higher standing sides, which will provide additional comfort and warmth. It is entirely machine-washable, and it has a very affordable price.
Pros
Comfy
Warm
Machine-washable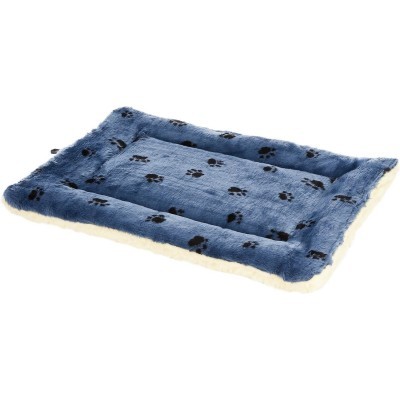 If your dog is not that picky about the place they sleep in, then there is no reason to pick something too expensive. There is a budget-friendly dog bed that will work great - MidWest Quiet Time Fleece Reversible dog bed. This fleece dog bed is comfy and warm, and your dog will enjoy it very much. It can be easily placed inside a crate or just set it aside and provide your dog with a nice place to nap during the day or night. It is machine-washable, and you can reverse it for your dog's comfort.
Pros
Machine-washable
Reversible
Affordable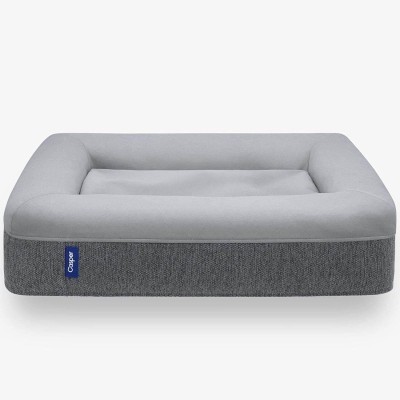 It is quite logical to pick a dog bed from a well-known manufacturer of human matrasses. The Casper dog bed is one of the best dog bed options available out there. It comes in three sizes, so different options will fit your dog perfectly. It has an entirely machine-washable microfiber cover. This bed is made from memory foam and has bolsters on the side so your dog can rest their head. It provides excellent comfort, and you can be sure you won't make a mistake if you order this dog bed.
Pros
Memory foam
Bolsters
Machine-washable
Easy to clean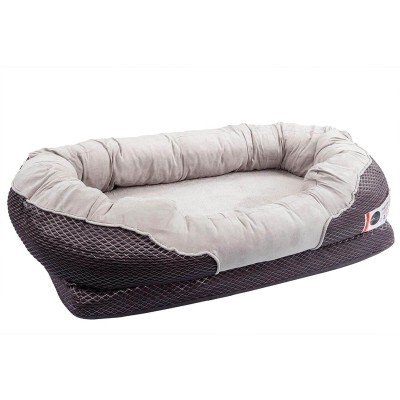 We chose the BarksBar Orthopedic Dog Bed as best designed bed, not for its looks, but because they come with many handy features you didn't know you wanted in a dog bed. It can comfortably support dogs up to 100 pounds because of its 4-inch thick orthopedic foam. It has a cotton cover for that extra snuggliness, and it has bolsters all around that act like pillows for your dog. One of the best features is the non-slip bottom surface that will keep the dog bed in place.
Pros
Affordable
Comfy
Machine-washable
Bolsters
Cons
Not for the biggest dog breeds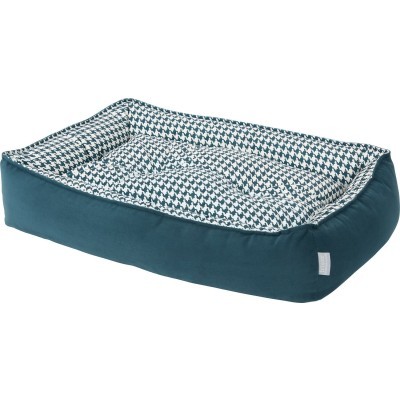 If you are looking for an entirely machine-washable dog bed, Frisco has you covered. It is an affordable option that your dog will just love. The cover can be removed and washed in a washing machine; just be sure to use the gentle cycle. There is also the option of washing the mattress made from Virgin Polyfill, which will provide your dog with extra comfort. Plus, one of our favorite features about this dog bed is the design. It has a classic dog bed design that works for any interior.
Pros
Affordable
Comfy
Machine-washable
Design
Cons
Not for small and extra-large dogs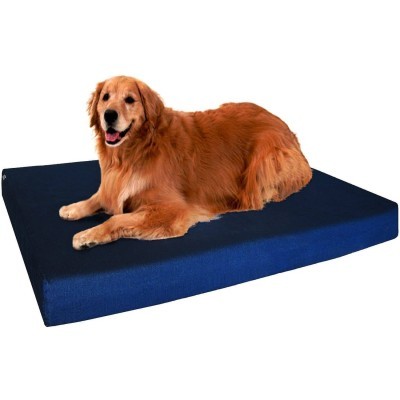 If you have a senior dog that needs good lumbar support, then Dogbed4less is a clear choice. This dog bed is made from memory foam that will provide premium support to your older dog with reduced physical capabilities. It has a 4-inch gel-induced memory foam whose goal is to reduce joint pressure and increase blood flow. Senior dogs need all the help they can get, so why not get them a dog bed to help them sleep and rest better? This bed comes with two external covers from different materials, so you can choose something that will work best for your dog. The internal foam has a waterproof cover that will prevent it from getting soaked.
Pros
Different options
Memory foam
Machine-washable
Orthopedic support
Cons
Inner cover not completely waterproof
World Dog Finder team