5 Best Dog Crates - 2023 Update
17.05.2020.
Every product and service on World Dog Finder is independently selected by our editors, contributors, and experts. If you purchase something through our links, we may earn a referral fee. Learn more
---
We absolutely love our dogs and we want only what is best for them. Sometimes that means that your dog should have a restrained movement and it is usually for their own safety. Some of the best ways to help your dog feel comfortable while remaining safe is a quality dog crate.
Great dog crates can help your dog keep out of trouble in many situations. Imagine you have to leave your home and leave your pooch at home for a couple of hours. Dogs can become bored easily and they will have to find some way of entertaining themselves and it is usually by becoming destructive and destroying your furniture, shoes, carpets, etc..
If your lifestyle or work requires you to leave your dog at home a good idea is to get them a safe and quality crate. Make sure your dog has enough time to get used to their new crate and create a feeling of "safe space" for your dog. Make sure that when your dog enters the crate you do not disturb them and very soon they will love their crate.
Today, we can find many different options, and sometimes it is unclear what the best options are. Here is a list that we at World Dog Finder stand behind and would recommend for all sorts of different usages. Dog shows, traveling, leaving your dog at home, and camping are just some of the scenarios these crates would come in handy to you.
Here is a list of crates we have experience with and would recommend:
We personally own a Presa Canario dog and for those who are unfamiliar with this breed, it is a fairly large, muscular, and powerful dog breed. It is a lovely girl that is very active in dog shows and we travel with her, a lot.
Presa is a beautiful Molossian dog breed that can look pretty scary to some people. Even though she is very peaceful and calm with people, she doesn't like other dominant females. That is where this crate does wonders for us. It is absolutely huge yet very sturdy and easy to assemble. The trey inside the crate can be removed for easy cleaning and that can even be done while the doors are closed (we recommend putting a soft bed ar a blanket so your dog doesn't lay on the metal plate).
It can be easily and quickly folded back down so it isn't a problem for transporting in your car. We have it for 2 years now and it is still in extremely good condition.
The giant breed crate is big enough for dog breeds like the Great Dane, St. Bernard, Mastiff, Newfoundland, or any other giant dog breed.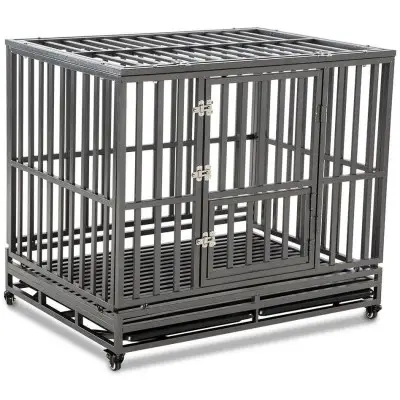 One of the most stylish and best looking dog crates out there is the Walnest Heavy Duty crate. It is made from stainless steel and has many cool features.
This crate is a bit heavier but has wheels so you can easily transport the crate and your dog wherever you need to. It is foldable so you can easily take it with you wherever you go. It comes in three possible sizes and two color options.
It will require more assembly for the wheels and screws to hold the sides up but it is incredibly sturdy and feels extremely safe. It also has two doors (side and top) and the top door allows you to interact with your dog while they are safely in their crate. We would recommend this for your home but can also be of great use in dog shows, hotels, or any traveling where you need to keep your pet safely and comfortably restrained.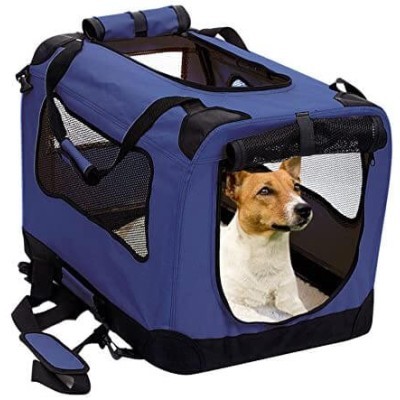 This soft crate was a gift for our family members for their small dog breed. They have a Havanese and take their dog with them wherever they go.
Most of the accidents happen when transporting dogs in a car unsafely. The best way of traveling with your dog by car is by securing them in a travel crate. While hard travel crates can be a problem to place in your car or store at home, this foldable crate is a great choice for exactly that!
It is easy to store and really light. It is easy to put your dog in it and it even has a practical set of handles for easy transport.
It has a steel tube frame that is made of light yet very strong metal so you can be sure that your pet is safe. It is also designed with bone-shaped windows for natural ventilation. The fabric part is completely removable and washable and the mat is waterproof and can be flipped.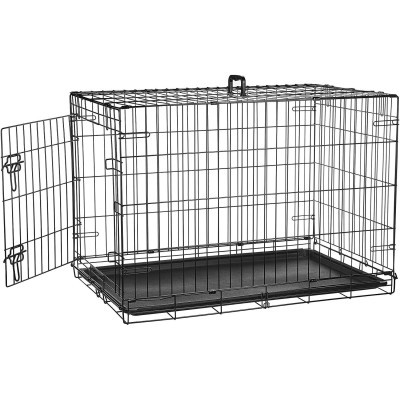 This soft crate was a gift for our family members for their small dog breed. They have a Havanese and take their dog with them wherever they go.
It is made from a high-quality metal that will not corrode or lose its quality over time. The price is also very affordable and if you are in a need for a crate that will not cause you bank problems, this is the crate to go for.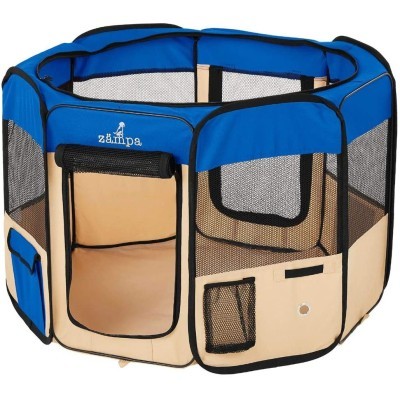 If you prefer your dogs to have a designated playing area and are not as small as a traditional crate, this is the thing you need!
It is an octagonal playpen made from durable and water-resistant materials with reinforced sides for your dogs' safety.
It is ideal for multiple dogs and has a removable top part so it is very easy to interact and check your dog whenever you feel like. It also comes in 4 possible sizes so you can accommodate different dog breeds without a problem.
It is really light and comes with a handy bag for transportation. This playpen is ideal for all sorts of different traveling situations as well as home.
World Dog Finder team