Igloo Dog House: What is the Best Option for Your Dog?
24.01.2021.
Every product and service on World Dog Finder is independently selected by our editors, contributors, and experts. If you purchase something through our links, we may earn a referral fee. Learn more
---
Igloo dog houses are a fantastic way to provide your dog with a comfy, safe, and warm place for their naps and overnight sleeping. Igloo houses have a specific design, so they are usually pretty spacious. They make an ideal insulator without compromising the space.
If you live in places with a colder climate, you will probably have to take your dog out at least two times a day. If your dog doesn't have a coat that can adequately insulate them from the cold, the igloo house will make them pretty happy and comfy. If you are looking into getting one for your dog, there are two main things you need to think about - is it an inside igloo house or an outside.
Inside igloo house
When getting an igloo dog house that will remain in your house, the house must be light. It would be great if it was machine washable for easy maintenance. You can feel the fabric and make sure your dog is comfy and warm. It is also important to get big enough for your dog.
Outdoor igloo house
If you have a dog living outside, getting them a sturdy and safe dog house that can offer them protection from harsh elements. Some dogs have thick, double coats that can insulate them from elements, so their house doesn't need to keep them warm; it has to keep them off the elements' direct effect. Keep in mind the house's materials and that the material will keep the rain outside.
If you are interested in buying one, here is an awesome list that can help you choose.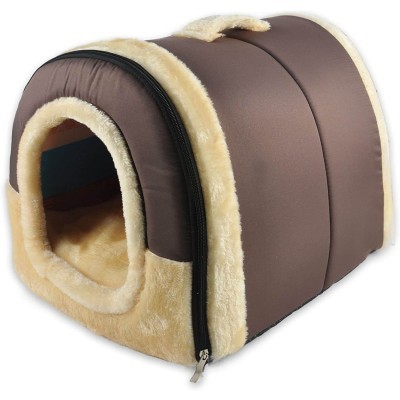 If you are looking to get a cozy igloo dog house, then the ANPPEX has something to offer. This stylish igloo dog house makes a fantastic indoor house that is relatively easy to maintain and will keep your dog comfy. It has a removable cushion that is machine-washable. This dog house comes in different designs, sizes, and materials, so it gives you plenty of options. Plus, the price is affordable for any pocket.
Pros
easy to maintain
affordable
different designs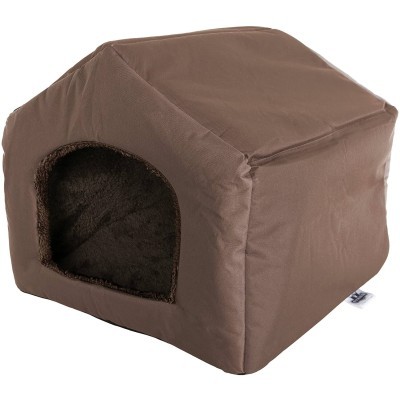 The PETMAKER Cozy Cottage is a completely washable, cozy cottage that your dog will just love. It has a polyester cover and a removable sherpa pad inside for even easier cleaning. This igloo dog house needs only a little vacuuming, and it is clean. It repels fluids, and comes in different sizes. This cozy dog house comes with a foam filling that will be very cozy for your dog. The PETMAKER is pretty cheap, so it won't make a dent in your budget.
Pros
affordable
cozy
easy maintenance
Cons
completely from polyester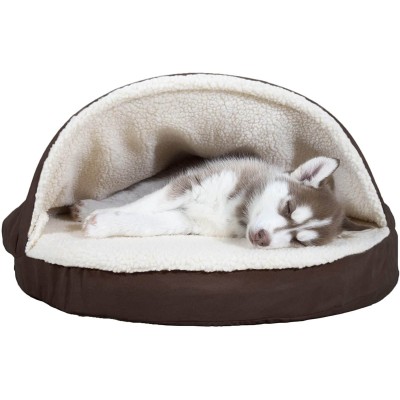 The Furhaven might not technically be a full igloo house, but it has all the necessary characteristics of one. It is a cozy, protected indoor house that will make an ideal place for your dog to rest. It is very easy to maintain since it is made of polyester. It comes in 10 different sizes, so it will fit a Chihuahua and a Mastiff. The bed is made from insulating sherpa fleece, so you can be sure your dog will be warm even if they have no heating.
Pros
different sizes
great insulator
cozy
Cons
open
not really an igloo house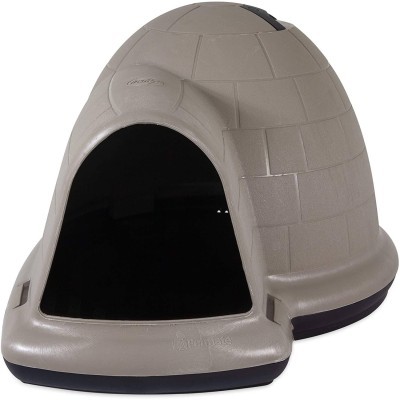 If you are looking for something sturdier and rigid, the Petmate Indigo might be the answer you are looking for. It has a strong built and is ideal for medium, large, and extra-large dog breeds. The Indigo from Petmate will completely insulate during hot and cold weather, and it has a vent on top that will ensure your dog always has fresh air. One of the best things about this igloo house is that it has Microban Antimicrobial Protection that prevents bacteria and yeast from growing. That way, it will prevent bad odors and harmful bacteria from developing.
Pros
against microbes
sturdy
rigid
American-made
durable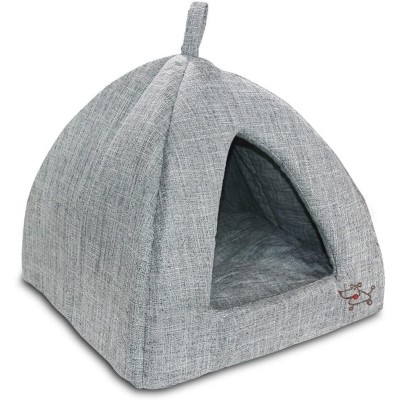 The Classic pet igloo house makes an ideal home for your smaller dog. Not only does the Soft Bed make a perfect house for dogs, but it is also just large enough for cats as well. If you have a multi-pet household, this Pet Tent will make an ideal addition to your house. This perfect dog house is made from plush (the bedding inside) and faux suede, making it quite stylish and will go well with different designs and interiors.
Pros
affordable
stylish
for cats and dogs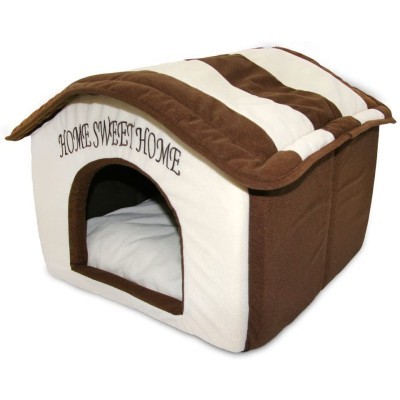 For something more classic "housey" look, this Portable Indoor Dog House will be ideal. It is soft and cozy, which is something all small dogs look for in their pet houses. They want something that will keep them warm and a peaceful place where they can lay down. It has a timeless design that will easily blend into all decors. Plus, this is completely machine washable, so maintaining it is a piece of cake.
Pros
great design
affordable
machine washable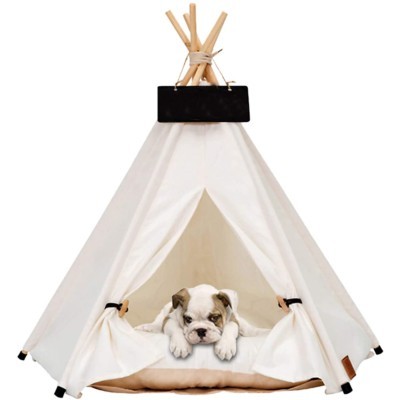 If you want something completely different and unique, the JOUDOO Teepee Tent will be the ideal pet house for your small dog. It is made of durable material, and even though it is a teepee, your dog will not break it down easily. It has a cotton canvas that is easily maintainable. It is ideal for small pets like dogs, cats, and even bunnies. Plus, the price is not that bad.
Pros
stylish
durable
affordable
Cons
light
can be knocked down
World Dog Finder team