How To Choose Dog Carrier?
07.02.2021.
Every product and service on World Dog Finder is independently selected by our editors, contributors, and experts. If you purchase something through our links, we may earn a referral fee. Learn more
---
Getting a dog carrier is a good idea. It is the safest way to transport your dog, and even the shortest car rides can end up with accidents if your dog is not adequately contained. A dog carrier is a safe and handy way to get your dog from point A to point B and avoid unnecessary problems.
What to look for in a dog carrier?
Traditional dog carriers were large, bulky, and pretty heavy, which made them rather unpractical. Modern carriers are stylish, light, and very practical. If you are a traveler and would like to take your dog with you, a dog carrier is necessary. Here are some things you should look out for when getting a dog carrier.
Purpose
Different types of travel will require different dog carriers. If you are going on a plane, some airline companies have strict rules about dog carriers, so make sure your carrier fits the description. If you are going to travel by car, the carrier can be more comfortable for your dog.
Size
Make sure you get a dog carrier that can comfortably fit your dog. The easiest way to do that is to measure your dog from the ground to the shoulder and add 3-5 inches. It would be a good idea to check the weight limit of a carrier, and most manufacturers will state how much weight their dog carriers can take.
The right carrier type
There are three basic dog carrier types, and you should pick one that will suit your needs. If you have a smaller dog that you want to take with you on a bike ride, then a wearable carrier is a good option. If you are going for a long car drive, picking a soft-side or hard-side carrier is probably a better idea.
Here are our favorite dog carriers that will fit any purpose.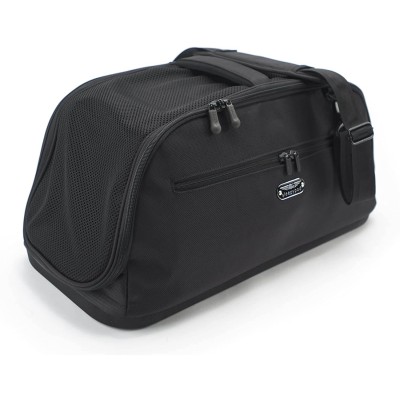 The Sleepypod Air in-Cabin Pet Carrier is our top pick for several reasons. Not only is it TSA approved, but it also has plenty of cool features that will get handy when traveling with your dog. This dog carrier has comfy bedding that will make sure your dog can take a nice nap no matter how you are traveling. Plus, it is machine-washable.
When you are not using it, the Sleepypod can be folded and neatly tucked away. It has a shoulder strap for practicality, and the outer part is made from luggage-grade nylon. It might be a bit pricey, but it can be used for cars, planes, boats, and trains, so there is no need to buy different carriers.
Pros
Durable
High-quality material
Practical
Foldable
Cons
Pricey
For dogs up to 19 pounds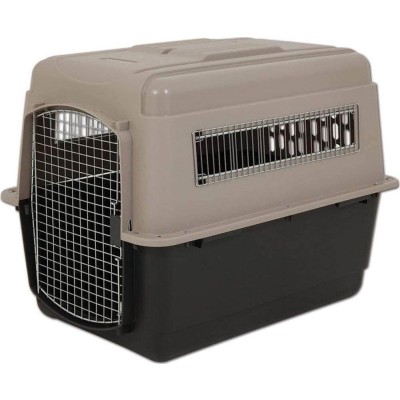 If you are looking for a traditional, hard-side dog carrier, Petmate has you covered. The plastic and metal construction will keep your dog safe if any accidents happen. This is an excellent choice for small and large dogs. Most stylish nylon carriers cannot fit larger dogs. Still, the Petmate can comfortably fit dogs up to 90 pounds, which is usually more than enough.
Some owners even said that the Petmate is very durable. They had a dog that loved to chew and scratch on it, and nothing broke loose. Plus, if you are not using it for travel, it can be comfortably used as a dog crate or kennel.
Pros
Durable
Vents on all sides
Sturdy construction
Different sizes
Cons
Pricey
Measurements are not right
Keeping your dog comfy during traveling is important, but you should also keep them cozy at home. Check out this article - Best dog igloo houses.
When it comes to your dog's safety in car rides, you should not compromise nor take unnecessary risks. Luckily, Petmate has got you covered with their Two Door Top Load model. This is a dog carrier for smaller dogs and cats. It has a sturdy construction like their bigger "brother" model - the Ultra Vari.
This one comes in several color options and is ideal for dogs up to 20 pounds. This is a perfect carrier for all Frenchies, Pomeranians, Chihuahuas, and other smaller breeds that need to be contained during traveling. Plus, the price is very budget-friendly.
Pros
Durable
Vents on all sides
Sturdy construction
Different colors
More than 7.000 5-star reviews
Cons
The holes' edges are sharp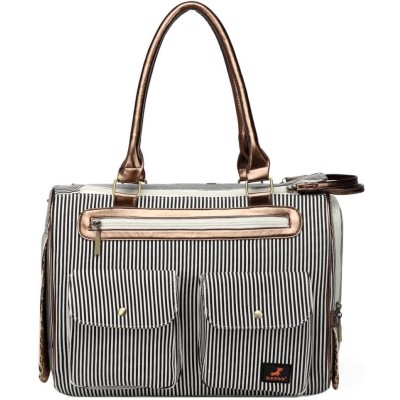 The Kenox Fashion Dog Carrier Bag is proof that dog carriers don't need to be ugly to be effective. This is an ideal fashion piece that will be an excellent option for all pet parents whose dog can fit in a purse.
Not only does it look great, but it is also subtle. It can fit all the necessary accessories you might need for transportation. This dog carrier has long handles, so carrying it shouldn't be a problem. Some owners mentioned that their tiny dogs love it; some can comfortably sit and sleep in it. Ideal for anyone working in dog-friendly offices.
Pros
Design
Affordable
Comfortable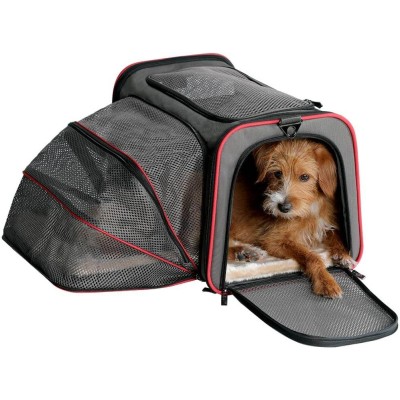 If you want your dog to be safe while traveling and give them enough space for a comfy sleep, the Petsfit Pet Expandable Carrier is a great option. This is also a carrier that works for dogs up to 20 pounds, and they will have plenty of room once they are settled and the expendable part collapses.
Make sure you measure your dog before you order this dog carrier because you don't want to end up with a carrier that can't fit your dog in. This is also a TSA-approved carrier and can be brought with you on planes. The bedding in it is soft, removable, and machine-washable, making it very easy to clean.
Pros
Foldable
Affordable
Expendable parts
Light
Sturdy
World Dog Finder team