Best Dog Tents for Outdoor Adventures
26.04.2021.
Every product and service on World Dog Finder is independently selected by our editors, contributors, and experts. If you purchase something through our links, we may earn a referral fee. Learn more
---
If you are an outdoorsy person who loves going camping with your dog, you need a proper dog tent to accommodate your dog and keep them safe. If you go hiking in the wilderness, you probably already know that carrying a large tent is not really practical. Having your dog inside your tent might be an option, but be prepared for a crowded sleeping arrangement.
Some owners prefer having their dog sleep in their own dog tents. It is more comfortable, and you can be sure your dog won't walk over you, snore, or pass gas in a tiny tent. If you are hiking with a hiking partner and staying in the same tent, getting a dog tent might be the best option. Your dog won't be left home and can come along with you on adventures, and the best part is - you will all sleep comfortably.
Types of dog tents
Not all dog tents are meant to serve the same purpose. Some dog tents are called dog tents because of their looks rather than their purpose. The main goal of these types of tents is to provide your dog with a quiet place to rest without outside disturbances. These types of dog tents have the same purpose as indoor dog houses.
There are indoor and outdoor dog tents. Indoor dog tents should remain inside the house and are pretty much always in the same place. Outdoor dog tents are ideal for giving your dog some rest while still being outdoor. These are ideal for yards, beach days, or RV camping. Your dog will have their own place where they can have some peace and quiet even in the wilderness.
Here are some of our favorite indoor dog tents.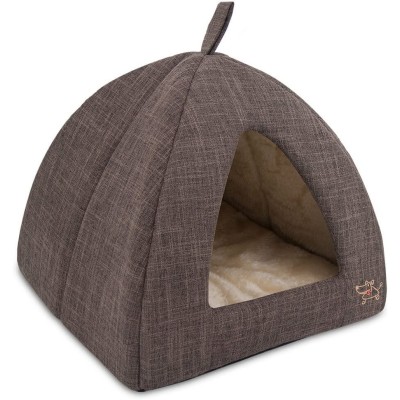 Our top pick for an indoor dog tent is the Best Pet Supplies Pet Tent. Not only does this dog tent have a great design, but it is also incredibly comfortable. This is ideal for smaller dogs that love having some privacy and peace. Some of the best things this dog tent offers are easy maintenance, coziness, and surprisingly large space. This is mainly for smaller dogs, but it offers plenty of room inside it. The materials are machine washable, and the bedding is incredibly soft. We love the modern design, and dogs seem to agree with us. Your small dog like a Chihuahua or Papillon will love their unique dog tent. This is an excellent recommendation.
Pros
Design
Plenty of space
Easy to maintain
Cons
Not for large dogs
For indoor use only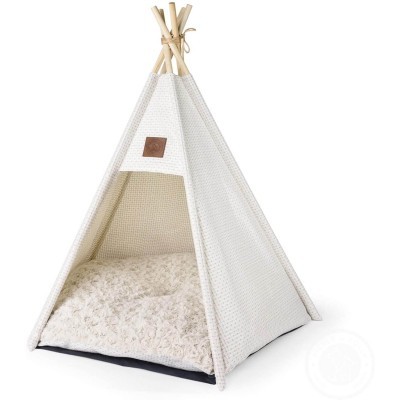 If your dog loves having their own covered space inside your home, getting them the Pickle & Polly Dog Tent is a great idea. This model is sturdy enough and large enough to accommodate your small and medium-sized dog. Beagles, American Eskimo Dogs, or Pomeranians will be equally comfortable in this stylish dog tent. It is surprisingly sturdy, which is something that surprised us. It comes with breathable materials that are machine washable and easy to maintain.
Cons
Not for large dogs
Only for indoor use
Here are our two picks for the best outdoor dog tents.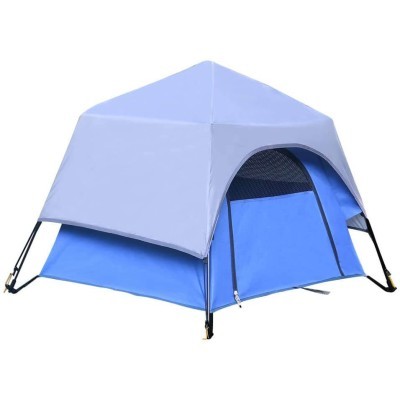 When it comes to dog tents for outdoor adventures like hiking or beach days, our pick would be the Yolafe Dog Camping Tent. This model is sturdy, breathable, and waterproof. The moveable cover will protect your dog from rain and elements, and the scratch-resistant fabric will make sure the dog tent is durable and safe. This is an ideal dog tent for dog shows, camping trips, or as a dog house permanently set in your yard.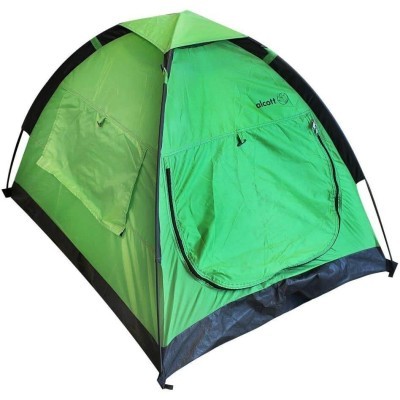 The second-best option for outdoor dog tents is the Alcott Pup Tent. This model is spacious enough for medium-large dogs like Retrievers or German Shorthaired Pointers. It is entirely waterproof and will provide much-needed shade, peace, and quiet your dog needs. It has an easy setup, and like all good tents, the spikes go into the ground, making this dog tent ideal for windy conditions. This tent will also keep your dog dry on wet camping sites.
Pros
Waterproof
Light
Easy to set up
World Dog Finder team