Best Dog Backpacks [2023 Review]
21.02.2021.
Every product and service on World Dog Finder is independently selected by our editors, contributors, and experts. If you purchase something through our links, we may earn a referral fee. Learn more
---
One of the best things about having a dog is enjoying all the activities you can do together. If you are an active person and have an active dog that loves to go camping or hiking with you, getting them a dog backpack might be a fantastic idea. There is no need to carry all of your equipment as well as your dog's equipment; let them take on a little bit of the load.
The extra weight your dog will have to carry will be great because they will burn more calories, and they will get a bit more tired. That is especially good if you have a super energetic breed like the Belgian Malinois, Border Collie, or a Labrador. Many breeds will love going to nature with you and giving them their backpack will help you with all of their stuff.
What to look for in a dog backpack?
You wouldn't get yourself just any backpack, so don't settle for the first dog backpack you come across. There are some things you should consider before getting your dog a backpack. The first thing you should know is that dog backpacks are not actually backpacks with single storage space like for humans. They are actually saddlebags.
Saddlebag
Saddlebags have storage spaces on both sides of your dog's back. That is actually a lot safer, and it evenly distributes the weight. It will prevent injuries and make your dog feel more comfortable carrying it. Plus, most of these packs are also harnesses.
Thinking about getting your dog a harness? Check out this article for ideas - Best Dog Harness.
Size
You should think about the size of your dog's backpack. You don't want to end up buying a backpack that won't fit them or slips off of them because it's too big. Make sure you measure three things - Chest, neck, and back. Some brands might even guess the size based on your dog's weight, which is a useful piece of information to know.
Adjustability
A backpack's adjustability is just as important as its size. Pick a backpack that can be adjusted to fit your dog snuggly enough without chafing or creating hot spots. When you are putting a backpack on your dog, don't strap it too hard because it will make your dog really uncomfortable.
Material
Make sure the material your dog's backpack is made of is waterproof and durable. You will probably go hiking and camping, which means your dog can quickly get wet or tangled in some bushes. You wouldn't want to end up with a torn backpack on your first adventure. The color is also important. Bright colors can help you spot your dog in case they wander off.
Capacity
And last but not least - the capacity. Depending on your dog's size, you should pick a backpack with a capacity between 10 and 25 liters. Make sure it is not too heavy for your dog when the backpack is fully loaded.
Helpful design features
Design features might not be the most important thing, but they can be very helpful. Things like padded straps, a large handle in the middle of the back will make it easy to lift or pull your dog, and gear loops that are handy for hanging things like leashes or ID tags.
Here is a list of our 5 favorite dog backpacks.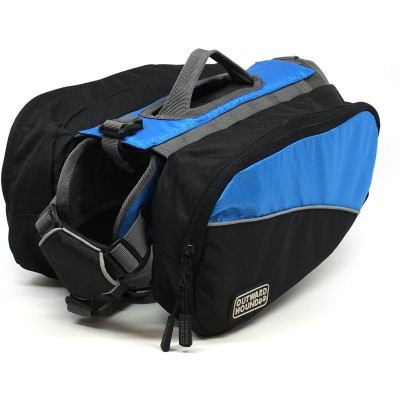 The Outward Hound Kyjen Dog Backpack is our absolute top pick. It is the best option for your super active dog, and it is full of little design things that will make it really easy and practical to use. It has extra-large zippers so putting in larger things is no problem. It comes with an integrated water bottle holder. The best thing about it is that the material is extra tough and the colors are really bright.
Pros
Affordable
Practical
1.000+ 5-star reviews
Different options available
Cons
Some owners mentioned stitching problems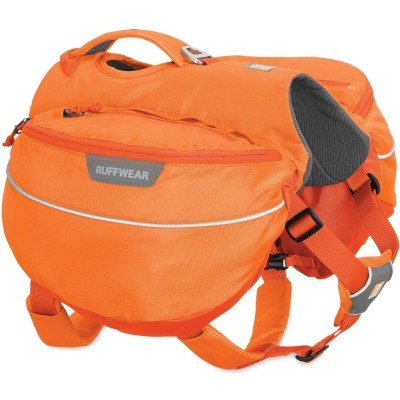 If you are looking for a heavy-duty, reliable, and durable dog backpack, then RUFFWEAR Approach Dog Pack is the way to go. It might be a bit pricier, but they are known for making fantastic pet products. These guys made sure that the handle and panniers are stitched into the harness, so they won't get easily torn. Even the zipper is pretty rugged. This is an ideal, brightly-colored backpack that will fit snuggly on your dog. It is fairly adjustable, and you can be sure you won't make a mistake if you go for the Approach dog backpack.
Pros
Sturdy
Durable
Bright-colored
420-denier ripstop nylon
Cons
The height of the pouches is not adjustable
If you are thinking about going to the beach with your dog, here is a helpful article - How To Prepare For A Dog Beach Day.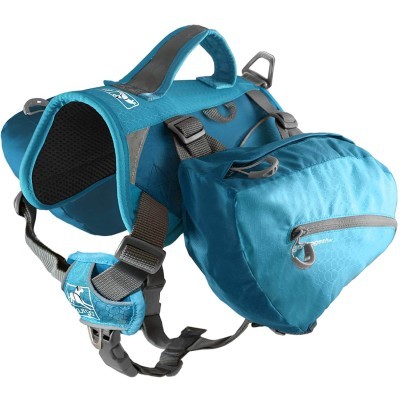 Our pick for the best-designed dog backpack is the Kurgo Baxter. Not only does it look very cool, but it is also convenient. Each strap is fully adjustable, so you can be sure you can achieve the best possible fit. It is not complicated to put on your dog, and it only has two connection points. This is a backpack for dogs between 30 and 110 pounds, and it comes in two sizes that will fit all. The harness part is padded, so your dog won't get any hot spots, and the nylon is reflective.
Pros
Great value-for-money
Durable
Adjustable
Different sizes
Cons
Pouches don't fit standard water bottle sizes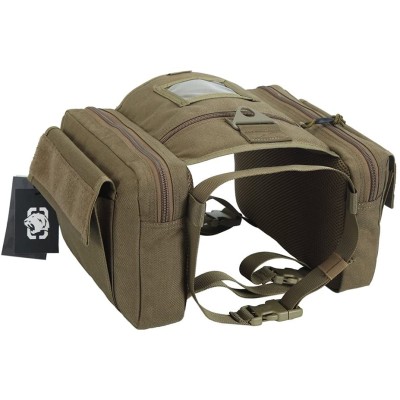 If you are looking for an affordable and military-styled pack, then OneTigris Tactical Dog Pack is the way to go. Unlike competing packs, this one is made from cotton canvas. OneTigris wanted to create a dog backpack that will be as comfortable as possible, but they kept their trademarked military style. They have also included plenty of useful pockets for everything your dog needs on an adventure. It has a see-through ID holder and a padded underside.
Pros
Durable
Military design
2 color options
Cotton canvas
Cons
Some owners reported fitting problems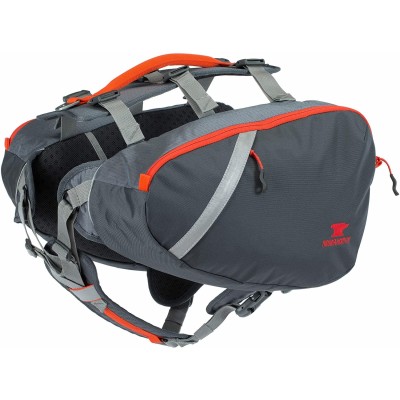 Mountainsmith K-9 Dog Pack has everything you want in a dog backpack. It slides over the dog's head instead of having to put the legs inside the straps. The straps have a 4-point adjustment, and the back harness can be independently adjusted. Plus, the harness has a tubular padded handle for easy handling. All the straps are padded, so there is no risk of hot spots or chafing, making it one of the best dog backpacks out there. This backpack is made from a combination of 420D and 630D nylon, and it has rugged zippers. Plus, everything is stitched for extra durability.
Pros
Durable
High-quality materials
Plenty storage space
Padded straps
World Dog Finder team