Best Flea Treatment for Dogs
24.02.2021.
Every product and service on World Dog Finder is independently selected by our editors, contributors, and experts. If you purchase something through our links, we may earn a referral fee. Learn more
---
Fleas can be pretty irritating and somewhat dangerous for humans and dogs alike. They carry different pathogens and diseases that can cause significant health concerns to our dear pets. If you live in an area that can sustain fleas seasonally or year-round, it is essential to provide your dog with flea treatment and prevention.
One of the most significant benefits of flea treatments and preventions for dogs is that they have excellent tick-prevention characteristics. It is a great idea to get a product that can prevent fleas and ticks, so you don't have to buy different products and double your costs. If you are looking to get the best option for flea treatment, we have prepared a list of products to help your dog get rid of these dangerous little bugs.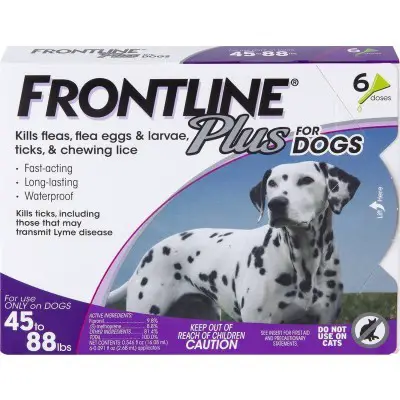 If you talk to any dog owner, you can be sure they heard about Frontline. It is one of the most trusted flea and tick prevention products that will surely be recommended by dog owners worldwide. It is easy to use; you apply the liquid directly to your dog's skin, in the neck behind their head where they can't lick it. It offers 30-day protection from fleas, ticks, lice, and mites.
Pros
Effective
4 type parasite protection
Cons
Expensive
Bathing your dog can wash away some of the product
Not for puppies below 8 weeks
This is for large breeds, but Frontline offers different products for smaller dogs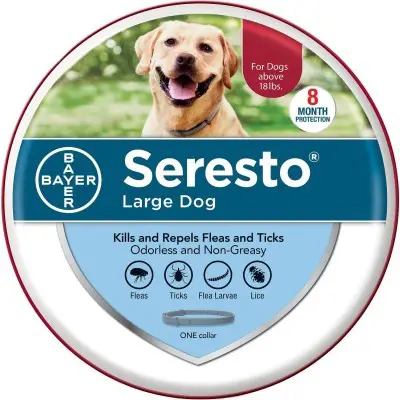 If you are looking for something to prevent fleas or other parasites from infecting your dog in the first place, then Seresto Flea and Tick Collar for Dogs is the way to go. One of the best things about this collar is that it protects your dog for 8 months and costs as much as 6-month protection collars. If you don't want to apply flea treatment every month, this dog collar will offer long-lasting protection. It prevents fleas and ticks and kills them upon contact. They don't have to bite your dog for this to work. It is also waterproof, so you can keep it on your dog for as long as the flea protection collar works.
Pros
Waterproof
8-month protection
Safety release
Odorless
Non-greasy
Cons
Not for puppies up to 7 weeks of age
Shouldn't be combined with other flea protection forms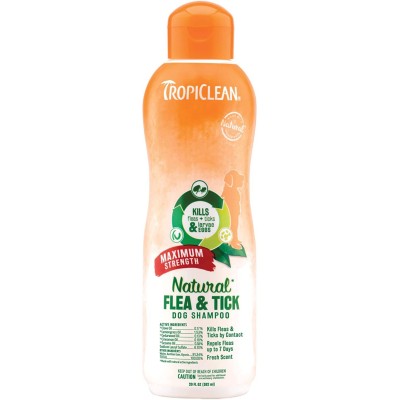 One of the best things you can do to get rid of fleas on your dog is to give them a bath with flea shampoo. The TropiClean Maximum Strength Natural Flea Shampoo will kill ticks and fleas in all life stages (egg, larvae, adult), and it even helps repel these parasites up to 7 days after use. It is entirely natural and doesn't contain chemical insecticides. This dog flea shampoo contains oils, lemongrass, cedarwood, cinnamon, and clove that kills fleas upon contact. Plus, it won't wash away other flea protection forms like Frontline or Seresto collars.
Pros
Natural
Mild for dogs
It kills fleas in all life stages
Cons
Only for dogs, not for other pets
Not for puppies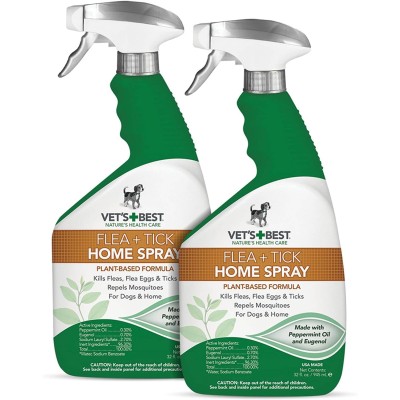 One of the best ways to fight off fleas and ticks is a spray. The Vet's Best Indoor Flea & Tick Spray for Dogs is an excellent option for all owners that want to clear their environment of these disgusting parasites. It kills fleas and ticks on contact, and it works for the whole house. You can spray your furniture, clothes, floors, and your dog. It is an easy-to-use, effective way of managing the infestation. Plus, it is gentle enough for everyday use. You can safely use it before your dog goes for a walk during the height of tick and flea season.
Pros
It kills fleas in all life stages
Natural ingredients
Affordable
Easy to use
Cons
Not for puppies under 12 weeks of age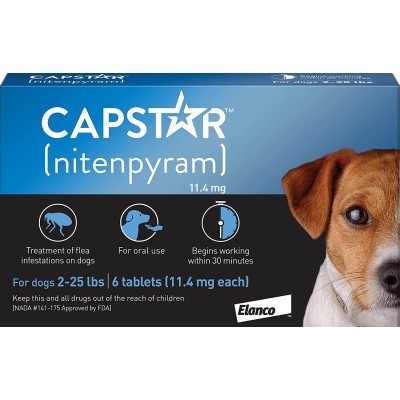 If you have a dog with a bad reaction to fleas, you probably want something that will help them get rid of fleas immediately. Capstar Flea & Tick Oral Treatment for Dogs is precisely what you are looking for. This flea treatment will start getting rid of dogs in 30 minutes. In a couple of hours, these tablets will kill 90% of adult fleas in your dog's coat. These flea tablets have an active ingredient called nitenpyram. Nitenpyram messes up the flea's nerve transmission, killing them instantly. Plus, Novartis is a trusted company that makes excellent pet products. There are two options - for dogs under 25 pounds and those over.
Pros
30-minute effect
Safe for dogs
Effective
Owners recommend it
Cons
Effective against adult fleas
Larger dogs need higher dosages
Potential side-effects
If you are looking for more advice on getting read of fleas, check out this article - How to get rid of dog fleas in 4 easy steps.
World Dog Finder team