Dog Frisbee - What You Should Know Before Purchase
17.03.2021.
Every product and service on World Dog Finder is independently selected by our editors, contributors, and experts. If you purchase something through our links, we may earn a referral fee. Learn more
---
Dog frisbee can be a fun way of playing and training your dog. Dogs with plenty of energy can be great candidates for making epic leaping videos most frisbee enthusiasts dream of. However, picking the right dog frisbee could be complicated, especially if you are new to the disc-throwing community. Here is some crucial information regarding dog frisbees.
Hard vs. Soft Dog Frisbee
The first distinction dog owners should know is - there are two types of dog frisbees. You can pick a soft frisbee or a hard frisbee. There are some differences, and they are not suited for all dogs. Check this out;
Soft dog frisbee
Soft dog frisbees are suited for casual owners whose dogs just want to have some fun playing with their owners. This type of frisbee won't fly as far as a hard one would, and the best thing about it is - it is less likely to hurt the dog. These frisbees are usually made from rubber, fabric, or very soft plastic. They are easy to pick up from the ground and won't break so easily.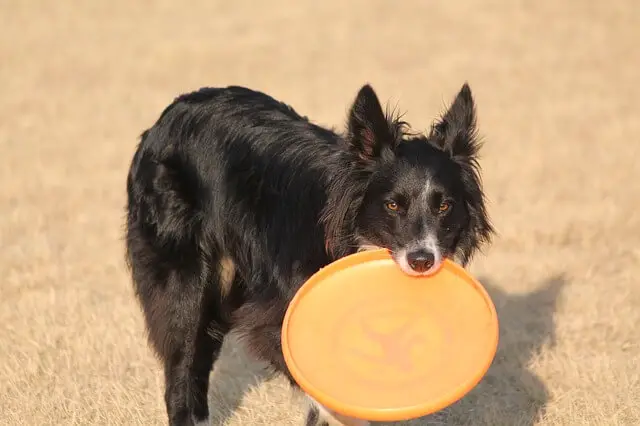 Hard dog frisbees
Hard dog frisbees will fly further, and throws will be more precise. Hard frisbees are the better choice for dogs on a higher frisbee-catching level, and their owners want to throw further and more precisely. However, the dog will likely take a frisbee to the face, and there is a possibility they could hurt the dog's teeth. It is vital to pick the suitable material and make the hard frisbee as safe as possible.
Dogs that run after frisbees can get lost. Getting them something that will guarantee their return might be a good idea. Check out this article - GPS dog collars.
What to look for in dog frisbees?
To avoid any issues and injuries, there are certain things dog owners should look for in dog frisbees. Are you looking for casual fun with your dog or a high-intensity catch game? Those things will determine which is the best type of frisbee for your dog. Here are some of the most important things to look for in dog frisbees;
Weight
Dog frisbees have different weights. The lighter the frisbee, the shorter they can travel. Professional frisbees are heavier, but they also pack a punch. The heavier they are, the chance of injury grows. Ensure you don't get a dog frisbee that is too heavy for your dog.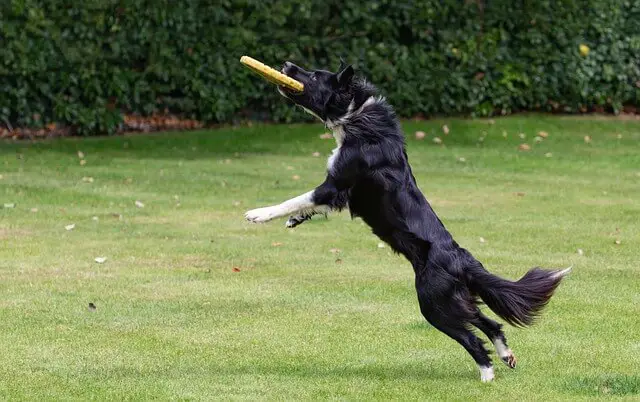 Flight ability
Good dog frisbees will fly well and straight. The owner's ability to throw the frisbee is just as important as the dog's ability to catch it. There won't be much fun if you continually pick the frisbee from a tree. Make sure the disc you get is easy to throw and flies well.
Durability
Dog's teeth are sharp, and if you get a flimsy frisbee, chances are your dog will destroy it in seconds. Dog frisbee is a dog toy, and dogs chew their toys. Make sure the frisbee is rigid enough to withstand your dog's bite and some wear and tear.
Grip
The best dog frisbees will have a good grip. They are easy to pick up and can be flexible. Standard "human" frisbees are rigid, and your dog might have issues picking it up from the ground. Some dog frisbees are designed so dogs can easily pick them up from the ground.
Now you know what to look for in a dog frisbee, so check out this list of recommendations.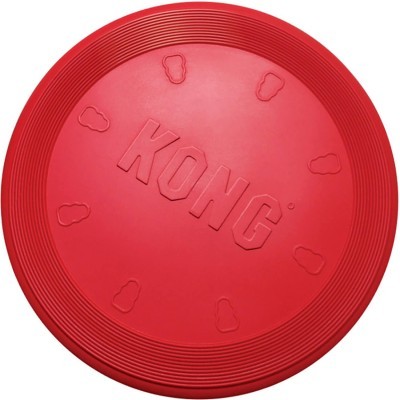 Our overall top pick for dog frisbee is the KONG Classic Flyer Frisbee Dog Toy. Kong makes amazing dog toys, and millions of dog owners can confirm that. This dog frisbee is made of KONG durable rubber that gives plenty of weight to the frisbee but is still soft enough when the dog catches it. It comes in two sizes.
Pros
Durable
Soft
Great flight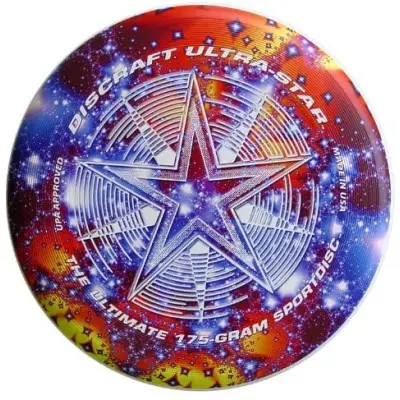 The Discraft Ultra-Star Disc is the industry standard for the best flying discs. Most ultimate frisbee teams use these frisbees because of their accuracy. They have the best flight capabilities, and they make ideal toys for dogs and dog owners that want to take frisbee throwing to the next level. This frisbee is made from soft plastic, so you should expect some wear and tear after playing with your dog. However, it is a great piece that can fly exceptionally precise.
Pros
Great flight
Soft
Precise
Great design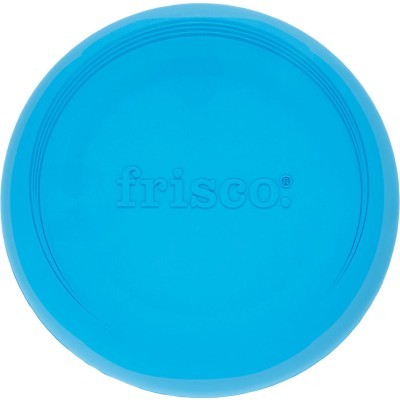 If you are looking for a casual toy that is durable enough, so your dog doesn't destroy it in seconds, this might be a great choice. Frisco Fetch Rubber Flyer Dog Toy has decent flight capabilities and won't break even if your dog starts using it as a chew toy. Catching this dog frisbee won't be a problem since it is gentle to the dog's teeth and gums. An excellent choice for a very budget-friendly price.
Pros
Soft
Decent flight
Durable
Cons
Bit too heavy
Dogs have issues picking it up from the ground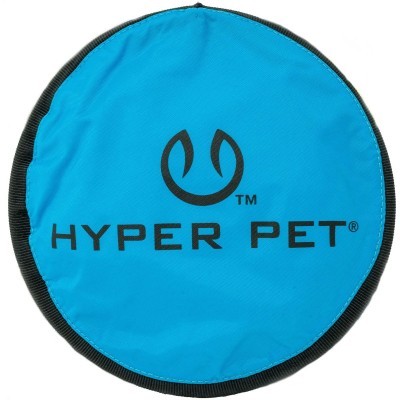 This is a soft dog frisbee. It is ideal for playing with the dog in your yard or in a fenced area where you have limited space to offer your dog. This is not a professional frisbee, and there is not much flight and accuracy involved. However, that is exactly what some owners want. Not all dogs want to become daredevils and catch frisbees while doing a flip in the air. Some prefer having a toy and playing with their owners. If that is the case, then Hyper Pet Flippy Flopper Dog Frisbee is a great and affordable choice.
Pros
Durable
Soft
Great for yard play
Cons
Bad flight capabilities
No precision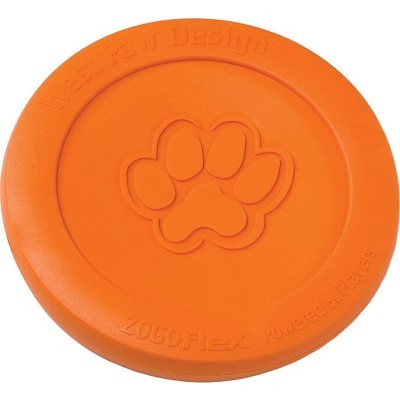 If you are looking for a dog frisbee for intermediate frisbee catchers, this is a clear choice. West Paw Zogoflex Zisc Flying Disc is rigid enough for decent flying but won't fly too far. It is made of durable rubber, so your dog won't hurt their teeth catching the frisbee mid-air. This is an excellent choice for active breeds that need some distance and have plenty of energy. Border Collies or Australian Shepherds will love this dog frisbee. Make sure you don't allow your dog to chew it; it is made of rubber, so it will break.
Pros
Decent flight capabilities
Soft rubber
Bounces
Easy to pick from the ground
Cons
Chewers can destroy it fast
If you want to get your dog some interesting toys, you can check out this article for some ideas - Best dog toys.
World Dog Finder team