What Are Good Toys for Dogs?
26.01.2021.
Every product and service on World Dog Finder is independently selected by our editors, contributors, and experts. If you purchase something through our links, we may earn a referral fee. Learn more
---
Dogs love playing, and for your dog to be completely happy and fulfilled, they will need good dog toys. Some manufacturers want to make a quick buck, and they are too quick to release a product that might not be the best or the safest for your dog to use. All dog owners should be careful when picking their toys and should not hesitate to spend a bit more money if that means their dog would be safe.
Toys should play a massive role in any dog's life; they help dogs overcome boredom, help prevent behavioral problems, and strengthen the bond between dogs and their owners. Giving them a low-quality toy can end up pretty badly, especially with toys that can tear up easily. Dogs examine and play with their mouths, so you don't want to end up giving them a toy that poses a choking hazard or can be toxic if ingested.
Choosing the right toy for your dog should be based on the breed and type of play your dog likes. If your dog has powerful jaws, you don't want to give them a toy they will easily tear into; make them work for it. Plus, if they destroy it right away, they will get bored again.
Types of toys for dogs
There are many toys available, and not all toys serve the same purpose. It might not be the best option to get your dog a toy that will not interest them. Here are the primary three groups toys can be divided in:
Active dog toys
Comfort dog toys
Distraction dog toys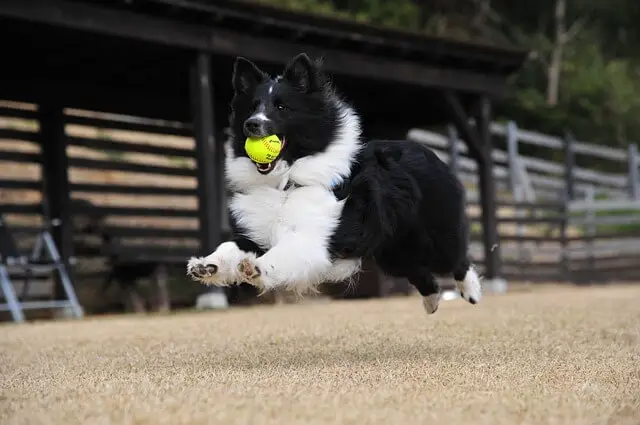 Active toys
Active toys are pretty self-explanatory. They are the type of toys that will require physical activity from your dog. Tennis balls are the perfect example. They are used for a game of fetch, and your dog will love them. Tugging toys and Kong-type toys fall in the same group.
Comfort toys
Some dogs prefer having soft toys for comfort. They love carrying them around, and they take comfort from it. The best example would be an old T-shirt or a pillowcase your dog will love having around them all the time, especially if it smells like their owner. Some manufacturers even offer custom stuffed animal of your pet that can serve as a great comfort toy.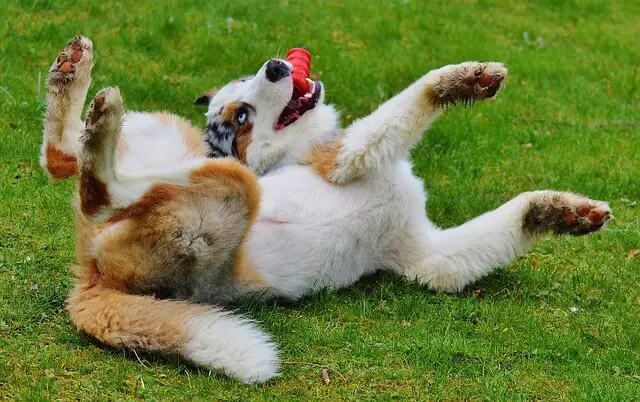 Distraction toys
The main goal of distraction toys is to keep the dog busy for hours. Treat dispensing toys and toys filled with peanut butter will ensure your dog doesn't lose interest in them for hours. Intelligent dog breeds can even get specialized puzzles that will keep them entertained.
Because many owners get confused about which toy to get their dog, we decided to create a list with 3 toys from each group we would recommend. Whichever toy you pick, you can be sure you won't make a mistake.
Active toys for dogs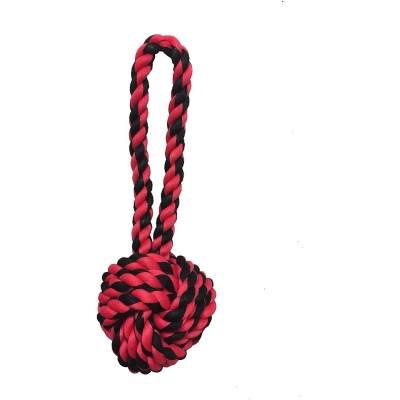 Active dog breeds will enjoy a good game of Tug O' War, and this durable Rope dog toy is made to withstand even the hardest chewers. This is an affordable dog toy that can last for months if properly maintained. Not only can you play Tug O' War, but you can also throw it for a good old game of fetch.
Cons
Can be hard on dogs teeth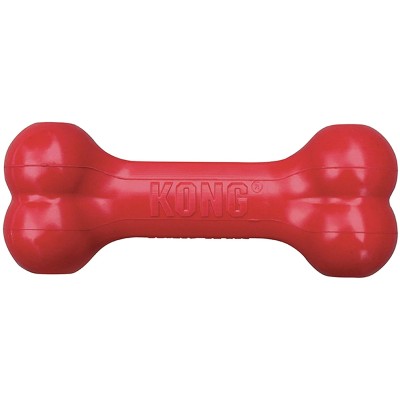 Most dog owners already know about Kong and all the quality dog toys they produce. This bone-shaped dog toy has an appealing shape and color, so you can be sure your dog will enjoy it. It is made of unique material that flexes when the dog bites it, so even though it is made for chewing and catching, it is still pretty durable. Plus, it can be stuffed with treats.
Pros
High-quality
Durable
Trusted manufacturer
Cons
Some owners say their dogs destroyed it in 20 minutes
Pricey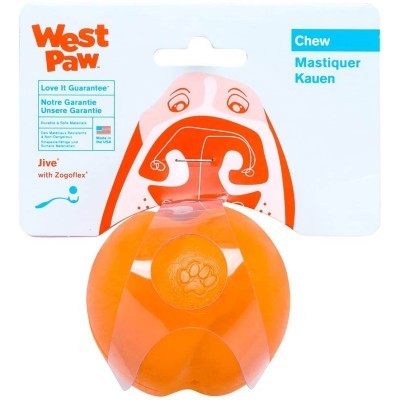 Nothing beats a good old ball that dogs love. This one is a lot more durable than your average tennis ball and is even made from rubber that can withstand the strongest jaws. This ball is not entirely round, so your pup will never be sure where it will go. Plus, orange is a color dogs can see pretty clear, so it will be fascinating to them.
Cons
Some owners say it was destroyed fast
Comfort toys for dogs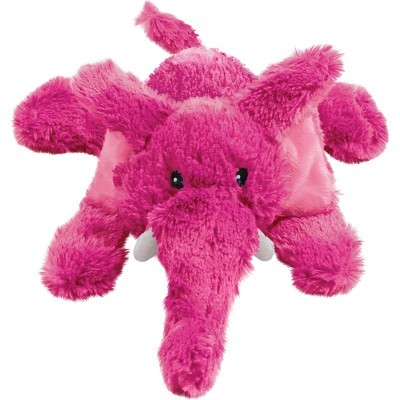 You can't go wrong with KONG. Their plush toys make amazing comfort toys for dogs. This is also a squeaking toy that will make your dog want to play for hours and hours. It has extra layers for strength, so your dog shouldn't be able to break it quick. Plus, this toy is exceptionally soft and will make a great sleeping buddy for your dog.
Pros
Extra layers
Minimal filling
Cons
Squeaker can be dangerous when dogs get to it
Pricey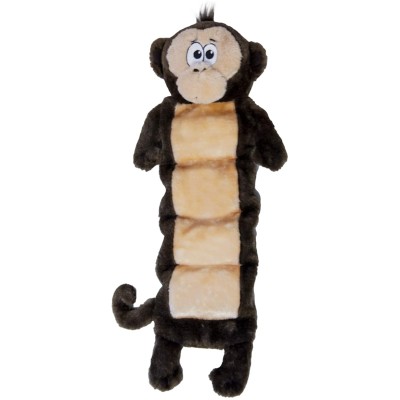 Outward Hound is one of our favorite pet supplies companies, and we are personally delighted with their toys. They are durable, and our dogs seem to like them very much. This is an elongated toy that is relatively durable. The signature squeaker can make sounds even if it is punctured. This might be a comfort toy, but it can make a great tug toy for dogs.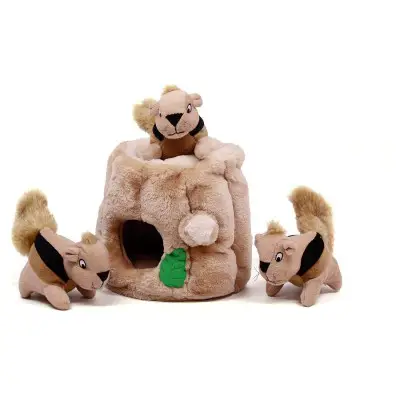 Suppose you are looking for something a bit more complicated for your dog to play with but also something they can comfortably sleep with. In that case, the Outward Hound Hide-A-Squirrel Squeaky Puzzle is the ideal thing for you. You can stuff all three plush squirrels inside the plush tree trunk and watch your dog have fun with them. There are squeakers in all squirrels, and even if one gets destroyed, your dog has two more to play with.
Pros
Trusted manufacturer
Puzzle/Comfort toy
Interesting
Distraction toys for dogs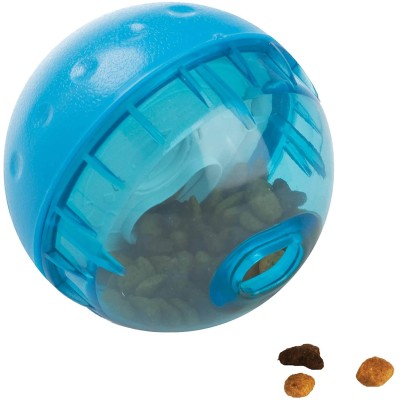 Keeping your dog's attention for a long time can be challenging, even for their owners. The key to successfully doing that is including hard-to-reach treats. This IQ treat-dispensing dog toy can keep your dog focused on it for hours upon hours, or at least while there are still treats to come out. It is durable and made from strong plastic that is BPA-free. It is adjustable, and it comes in two sizes for larger and smaller dogs.
Pros
Keeps dogs interested
Affordable
Cons
Strong chewers can break it
Small dogs can get their jaws stuck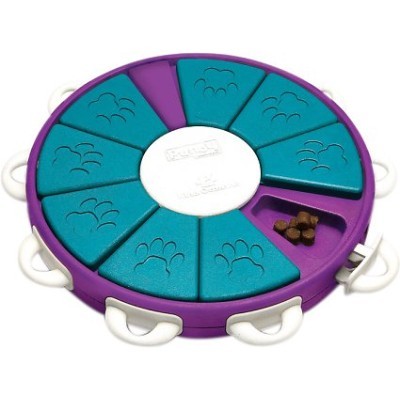 Suppose you want to keep your dog interested and occupied while you are away from them. In that case, Twister Puzzle Game Dog Toy by Nina Ottosson and Outward Hound is the thing for you. It is a fun, exciting puzzle game that, when solved, gives away treats. The small boxes need to be moved, and the difficulty can be increased as your dog starts to figure out the toy. This is a great way to engage your intelligent dog's mind.
Pros
Interactive
Keeps dogs interested
Cons
Some dogs decide to destroy it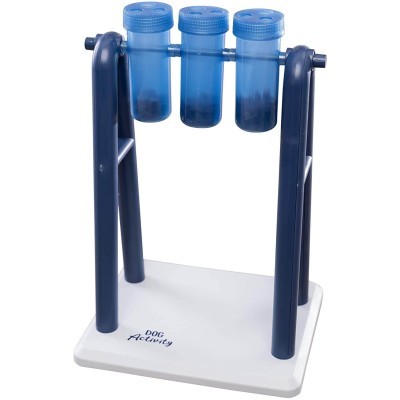 The mad scientist dog toy will definitely keep your dog interested as long as there are treats they can get their paws on. The goal of the game is to flip the containers and get the treats to fall out. There are few different options of the mad scientist games like windmill or a Poker Box, so you can pick something that can fit your dog's character the best. Whatever you choose, you can be sure they will have plenty of fun with it.
Pros
Interactive
Keeps dogs interested
Sturdy
Cons
Poker 2 Box lower quality
Enthusiastic dogs can break it
World Dog Finder team