Best Dog Crate Covers in 2023
19.04.2021.
Every product and service on World Dog Finder is independently selected by our editors, contributors, and experts. If you purchase something through our links, we may earn a referral fee. Learn more
---
Having your dog used to their crate is a wise thing to do. Many dog owners use dog crates as a special little place where their dogs can rest, sleep, or just move away from the fuss and be left alone for a bit. Dog's ancestors were pack animals that loved dens and burrows, and traces of that behavior remains with modern-day dogs, so it is not a huge surprise dogs love dark, cozy spaces where they can sleep in peace.
That is precisely why dog crate covers can help your dog. Many dog owners love using dog crate covers, and their dogs seem to enjoy having a dark, soft crate. Dog crate covers can come in handy in different situations you can't even imagine. Here are some of the scenarios where you will be glad you have a dog crate cover;
Hyperactive dogs
Some dogs seem to have an abundance of energy. They can be very reactive to outside stimuli, and it can seem impossible to make them calm down and relax. One of the great ways to make a hyperactive dog calm down and relax is by using a covered, dark crate. The dog crate cover will block the dog's visibility and settle them in a cozy nap.
Anxious dogs
Like humans, dogs can suffer from anxiety. One of the most significant behavioral issues dogs can experience is separation anxiety, and owners will need all the help they can get to help their dog get rid of it. One of the cool tricks you can use to help your dog is to use dog crate covers. An anxious dog can have a cozy, safe space with one open side to keep an eye on their surroundings. Solving separation anxiety will require a lot more training and working with your dog. Check out this article for more information - Separation anxiety in dogs.
Traveling
Traveling can be stressful for some dogs, and dog crate covers can make your dog feel a lot calmer while traveling. It will block the dog's vision and prevent them from seeing outside stimuli that can upset them or cause advert reactions. One thing to keep in mind is - make sure the temperature inside the crate isn't too warm.
Temperature regulation
If your dog spends most of their time outside, you can get them a dog crate cover to keep them away from elements. The cover will block the wind and prevent your dog from being directly exposed to the cold. A lightweight dog crate cover can block the sun and provide some much-needed shade and a safe space for your dog in the summer.
A dog crate cover will do you no good if you don't get a good dog crate. Check out the best dog crates according to dog breeders.
There are numerous different situations in which you can benefit from having a dog crate cover, so why not pick one, and make sure you are ready for anything? Here are our picks for our favorite dog crate covers.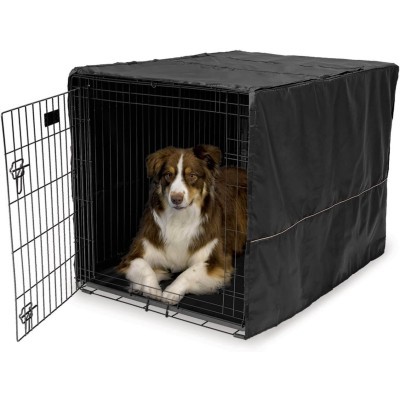 If you are looking for the best recommendation for dog crate covers, you can be sure you won't pick wrong if you go with the MidWest Dog Crate Cover. This model includes three roll-up sides, so you can choose which one your dog can see through. A great thing about this cover is that it comes in different colors and 6 different size options, which makes it fit most crates. The MidWest dog crate cover is 100% polyester, machine washable, and dryable. This is a top pick with guaranteed satisfaction.
Pros
Velcro straps
Durable
Affordable
Adjustable
Cons
The material might be a bit thin
Sizing can be an issue, so double check your order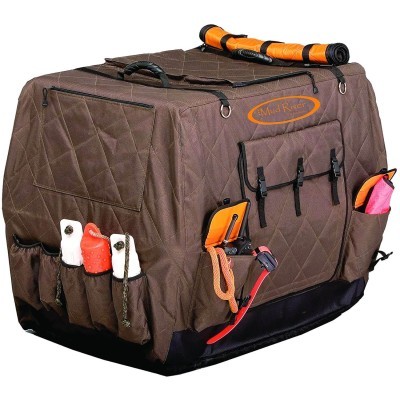 If you are an adventurer that loves taking their dog with them or an owner that attends dog shows, you will love the Mud River Dixie Insulated Kennel Cover. This completely insulated dog crate cover will keep your dog warm and away from wind and water. This is an ideal cover for traveling, camping, or dog shows. It has plenty of pockets, and this cover can store all the dog's toys and training equipment. This dog crate cover's original idea is to accommodate sporting breeds, so the size might be limited, but the functionality and insulation are brilliant.
Pros
Insulation
Side "windows" for ventilation
Reflects and retains body heat
Pockets
Cons
Limited size
Not machine-washable
Cleaning might be problematic
A dog crate can be a functional piece of furniture. Check out these suggestions - Dog crate furniture.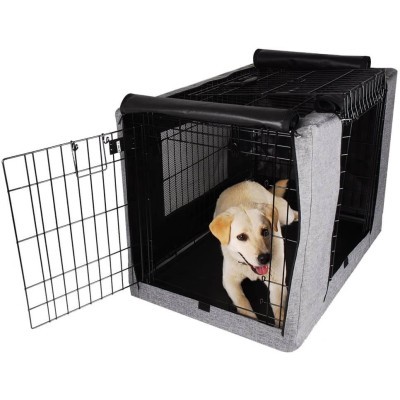 If you are looking for a dog crate cover for indoor use, the Petsfit Double Door Dog Cover is a great choice. This cover is made from fashionable oxford cloth, and it comes with several panel options. This model has different entrance options, so you can be adapt it to different dog crates. One of the coolest things about this cover is the option to remove the top part. That is very handy when you need to quickly check up on your dog and make sure they are alright. This is a top recommendation.
Pros
Design
Soft material
Adjustable
Affordable
Cons
Sizing might be an issue, so double check before ordering
Plastic that makes it waterproof can also make the inside of the crate quite hot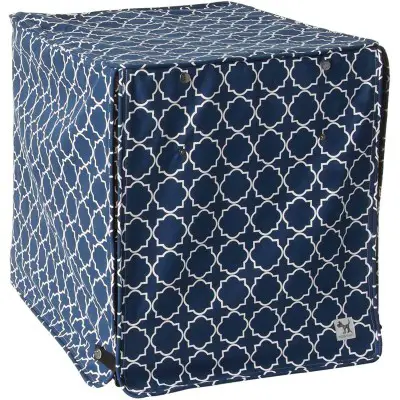 The Molly Mutt Dog Crate Cover is one of our favorite dog crate covers mainly because it comes in different designs. You can choose from 20 different stylish designs and 5 size options. When it comes to having options, the Molly Mutt Dog Crate Cover is the way to go. Not only does this cover look good, but it is also very useful. It is really easy to place over the crate, and it comes with two sides that you can quickly roll up for additional ventilation and visibility. This cover has straps that will keep it securely in place. This model is machine-washable in cold water.
Pros
Design
Size options
Machine-washable
Rolling sides
Cons
Some owners shrunk the material after washing it in a washing machine
The material is thinner than you would expect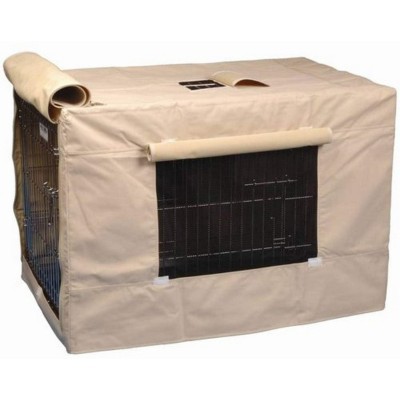 If you are on the hunt for a dog crate cover that is perfect for indoors and outdoors, then Petmate Precision Pet dog crate cover is for you. This model has different door options, so your dog can enter their crate through the front or the side. The moveable windows will provide plenty of ventilation, or you can close them for complete seclusion. The Petmate Precision Pet is made from durable, water-resistant fabrics, but it is still machine washable. This dog crate cover will last for years, and it comes with a reasonable price tag.
Pros
Affordable
Durable
Adaptable
Cons
Most bad reviews are connected to the sizing, so measure twice before ordering
World Dog Finder team