Top 6 Dog Crate Furniture for Your House
03.02.2021.
Every product and service on World Dog Finder is independently selected by our editors, contributors, and experts. If you purchase something through our links, we may earn a referral fee. Learn more
---
Picking and finding the right dog crate is not always easy. There are plenty of options, and most "standard" crates are not practical, and they take up plenty of space. It is a good idea to combine style and practicality by getting a nice piece of furniture that is also a dog crate.
It will fit right in your home, and since it is a piece of furniture, it won't take too much space. These furniture dog crates are stylish and practical. It is a lot easier to fit them in your home, and your dog will love their personal space.
Here are our top picks for dog crate furniture.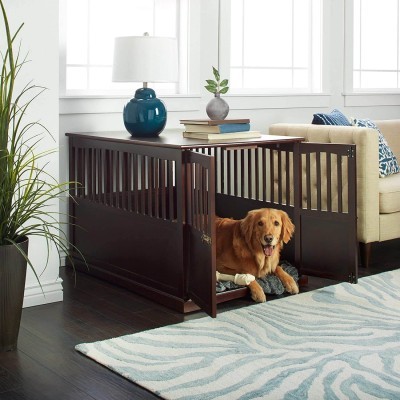 Medium-sized dogs are by far the most popular of all dogs, and most homes that have dogs have medium-sized. Ensuring your Labrador or Golden Retriever have enough space and a good-looking crate that can double as a table is essential. Especially these days when owning or renting a home became very expensive. The Pet Crate Espresso Solid Wood will end up saving you space and ensuring your dog won't get in harm's way while you are gone. It is made from solid wood and has a beautiful espresso finish. It might be a bit pricey, but then again, you are getting an end table and a dog crate in one.
If you are looking for a traditional dog crate, check out this article - 5 Best Dog Crates.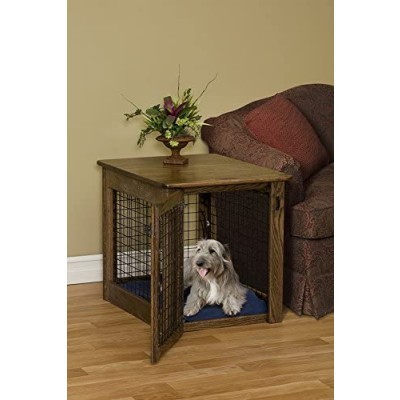 If you are looking for something more wood-like, then Pinnacle Woodcraft Luxurious & Decorative Dog Crate might be for you. This crate is our choice for the best-designed crate because we are absolutely in love with the oak tree's wooden splices. It also has a metal fence that will prevent your dog from chewing and scratching the wood. This item will fit right next to your sofa, and like every other product on this list, it doubles as a lovely table. It would probably be best if you put some sort of cloth on top of it, so your dog doesn't startle every time you put down your coffee or the remote control.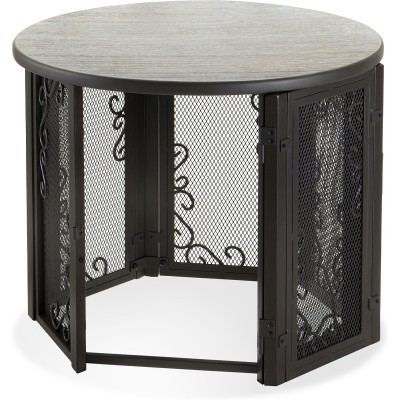 Dogs love having their safe space, and while we may think they do not like being in small, tight spaces, you will see just how much your dog loves it. Dogs are natural "den" animals, and they feel very comfortable inside tight, dark spaces. The Richell Accent Table Dog Crate is round and can be the perfect coffee table that doubles as a dog crate. However, its relatively smaller size makes it ideal for smaller breeds like Poodles or Pomeranians.
Pros
Round
Coffee table
Comes in two sizes
Cons
Small dogs only
No bedding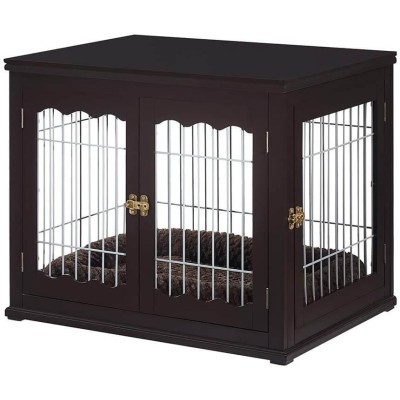 Unipaws made a more traditional Pet Crate End Table that is elegant and of the highest quality. You can easily fit this crate as a nightstand, table, or end table. There might be a slight issue with all dog crate furniture, which would be that they don't come in large sizes. It would be a bit impractical to have a table that could fit a large Great Dane inside. However, if you have a smaller breed at home, getting this unique, chew-proofed dog crate will be an excellent idea.
Pros
Design
Chew-proof
Solid wood
Double doors
Bedding included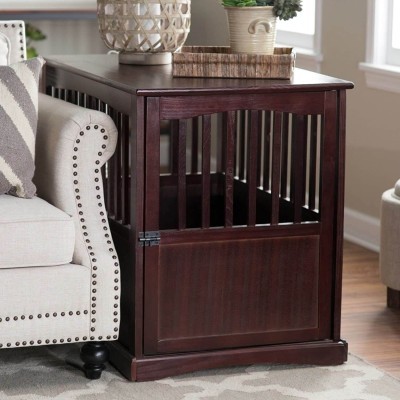 If you have a medium-large breed at home and you would like a trendy, good-looking crate that can double as an end table or a nightstand, then Newport Dog Crate might be a good option. It doesn't come with included bedding, but that shouldn't be a problem cause dog beds can fit inside. This is a crate that will fight great next to your living room sofa, and it will provide your dog with a comfy, well-ventilated place to rest and take a nap. The bars on the crate are wooden as well, so make sure your dog is not chewing on them. It is a behavior that shouldn't be tolerated, and it probably won't stop on their crate. This dog crate has a beautiful wooden finish, which makes it pretty smooth.
Pros
Wooden finish
Medium-sized dogs
Price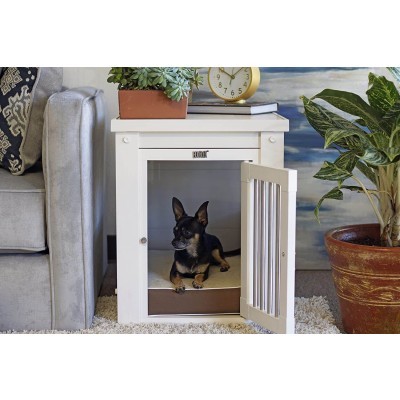 Not every owner wants a dark dog crate, and sometimes a white piece of furniture will just fit better. If you are looking for a smaller, white, plastic/wood dog crate, the New Age Pet ecoFLEX is an excellent option. Make sure your dog is not too large for this crate. They must have plenty of room to turn, lay, sit, and stand comfortably. It needs to make your dog feel comfy while you are away. This furniture dog crate is easy to clean. It is not the best choice for chewers. It is an ideal crate for smaller breeds like the French Bulldog or a Shih Tzu.
Pros
Light
Easy to assemble
Stylish
Affordable
World Dog Finder team