How to Choose a Dog Seat Belt
14.03.2021.
Every product and service on World Dog Finder is independently selected by our editors, contributors, and experts. If you purchase something through our links, we may earn a referral fee. Learn more
---
Humans love traveling, and those of us that are dog owners love to travel with their dogs. Car rides can be risky, especially if you have an uncomfortable dog that doesn't like car rides. Keeping your dog safe during a car ride is essential, but the reality is, dogs can be challenging to travel with.
In the past, dog owners just picked their dogs up and let them roam freely in the car. The dog's heads were often sticking outside the car window while the dog enjoyed a fresh breeze and their ears flapping in the wind. Luckily, car safety features have significantly improved over the past decades. Humans have become more aware of the dangers dogs can pose if they are free inside the car.
Safe travel with dogs
The safest way to travel with your dog would be placing them inside a crate. However, some dogs hate travel crates, and no matter how much we try, they just won't listen. The other good option is getting a dog seat belt.
Dog seat belts can save your dog's life if an accident happens. Dog seat belts will keep your dog restrained in the car. It will limit their movement and prevent them from distracting their owners while they are driving. There have been owner reports that claim their dogs were severely injured despite wearing a dog seat belt. We need to understand that if a crash does happen, neither crate nor a dog seat belt can entirely prevent your dog from sustaining injuries. However, wearing a dog seat belt can end up saving the dog's life.
One of the safest ways to travel with your dog is by getting them a dog carrier. Check out this article for more info - Best dog carriers.
What to look for in a dog seat belt?
Getting the first dog seat belt you come across is not the best option. You shouldn't "just" pick one up because the law says you should restrain your dog inside the car. Make sure the dog seat belt fits your dog and that it will keep them as safe as possible in the event of a car accident. The most important things to look for in dog seat belts are;
Crash tests
The most essential thing in a dog seat belt is its functionality. The design, colors, weight… nothing really matters if the dog seat belt hasn't passed the crash tests. Check for dog seat belt harnesses that have been crash-tested and safety rated. Give your attention only to manufacturers that have been through scrutinous testing.
Durability
It is pretty easy to come across a dog seat belt that is nothing but a short leash with a buckle that goes into your car's seat belt buckle. Make sure the harness is of the highest quality. Check the stitching because if your dog gets yanked, you'd want them to have a harness that can hold their body weight.
If you don't have a harness for your dog, check out this article for some suggestions - Best dog harnesses.
Travel and walking harness
While having two different harnesses can be problematic, it is not necessarily the best choice. It would be a lot better to get a dog seat belt with a harness that is safe for walking. The idea behind a dog seat belt harness is to easily and safely bring your dog everywhere you go. The harness changing step is unnecessary and will frustrate you and your dog.
Placing the seat belt harness on your dog
Make sure the dog seat belt harness you decide for is easy to put on your dog. Having a complicated system makes room for mistakes, and getting your dog a harness that is difficult to put on your dog leaves you room to make a mistake. That means your dog is not fully protected. Make sure you get a dog seat belt harness that is easy to use.
Now that you know what to look for, check out our list of best dog seat belt harnesses.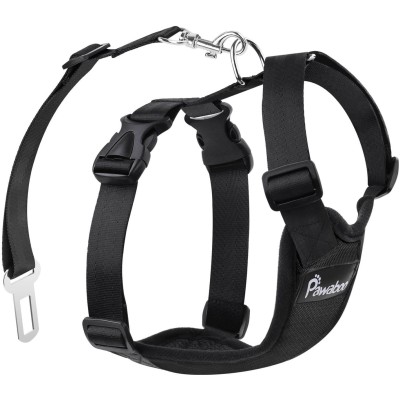 The Pawaboo Dog Safety Vest Harness is our top pick. Some dog owners are unfamiliar with harnesses and prefer walking their dogs on a more traditional collar and leash. This practical thing comes with a seat belt and a harness. It is a whole package in one, a top recommendation with more than 5.000 5-star reviews.
Pros
Seat belt and harness
Oxford polyester fabric
Durable yet soft
Padding inside the harness
Adjustable
Cons
Check compatibility to your vehicle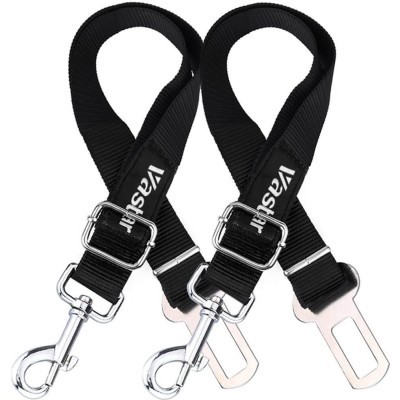 If you already own a dog harness that can distribute the force in case of accidents, then all you need is the Vastar 2 Packs Adjustable Dog Car Seat Belt. This dog car seat belt comes in a pack of 2, and it makes an ideal product for homes with multiple pets. It is made from high-quality nylon fabric, so you can be sure it is durable.
Pros
Durable
360-degree clip rotation
Affordable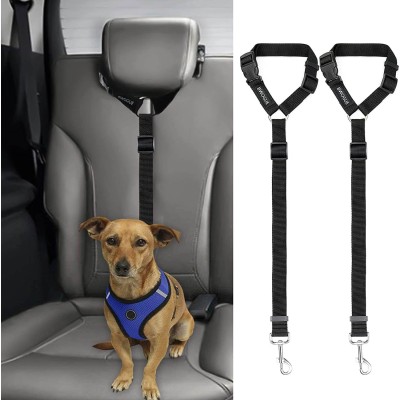 The BWOGUE 2 Packs Dog Seat Belt Strap was the runner-up in the owner-recommended category. It holds the trust of more than 25.000 owners, and more than 7.200 of them gave it a 5-star rating. These dog seat belts attach to the headrest. They come in different sizes, depending on the size of your dog. It is an excellent choice that is easily removable and safe.
Pros
Nylon fabric
Durable
360-degree clip rotation
Affordable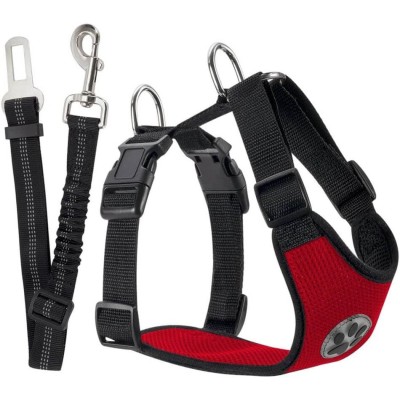 If you are looking for a great and effective dog car seat harness, then SlowTon Dog Car Harness Plus Seat Belt might be the choice for your dog. This harness is lightweight yet very durable. It is made from a breathable material, so there is no need to worry about hot spots or hair loss. The seat belt is made from durable nylon fabric. The seat belt harness doubles as a walking harness as well.
Pros
Durable
Breathable harness
Size options
Design options
2-in-1 harness
Cons
Not compatible with all vehicles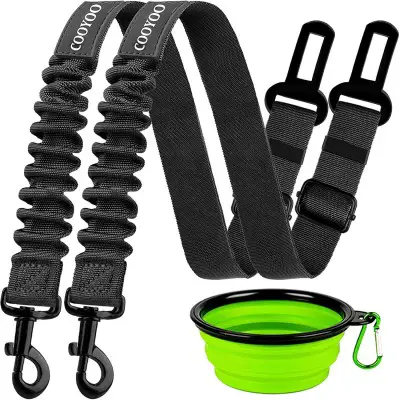 There is something really nice about the COOYOO Dog Seat Belt. This is a product for dog owners that already have a safety harness that can keep their dogs safe. This dog seat belt is made from nylon fabric, and it has an elastic buffer that can soften the blow in case of a car crash. This dog seat belt comes in a 2-pack, so it is ideal for cars and homes with multiple pets.
Pros
Durable
Color options
Elastic buffer
Cons
No harness
Not compatible with all vehicles
World Dog Finder team