What Is The Best Vacuum For Pet Hair?
20.01.2021.
Every product and service on World Dog Finder is independently selected by our editors, contributors, and experts. If you purchase something through our links, we may earn a referral fee. Learn more
---
Whether we like it or not, owning a dog comes with plenty of hair. Since we are somewhat of neat freaks, we also love having clean and hair-free apartments. The truth is that it might be pretty hard if you have a heavy-shedding breed at home. Breeds like Akita, Golden Retriever, Australian Shepherd, or Alaskan Malamute are shedding year-round, and during the shedding season, things can easily get pretty hectic.
The amount of hair these dogs leave behind seems endless, and no matter how much we clean, it looks as there is always hair we missed.
The best thing we did was invest in a good vacuum cleaner. If you would like to have a dog and a clean household, you should think about getting one too. We tried different brands, and some famous brands just couldn't handle dog hair as well as we would like. We continued testing, and here are 5 vacuum cleaners we would recommend that will help you win the battle against dog hair.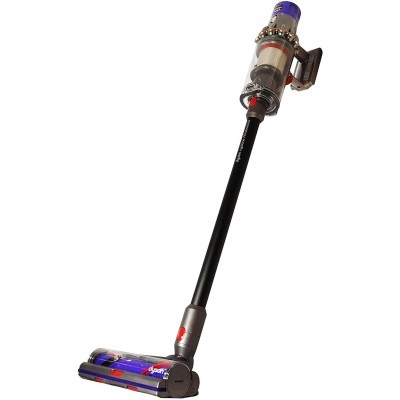 We spent way too much money trying to get a vacuum cleaner that could pick the small, slick hair our dog left all over the place, especially during the shedding season. To spare you the trouble of going through different vacuum cleaners, we can tell you what you need to know about the Dyson Cyclone V10 and why this is the right choice.
Breeds with short coats like the Belgian Malinois, Cane Corso, or Jack Russell have hair that can easily get tangled in carpets, hardwood floors, or any other surface in your home. You probably know how hard it is to get it out, so you probably already understand how important it is to have a powerful vacuum cleaner. Well, Dyson will do the job perfectly.
Its suction is powerful enough, and it works great no matter the surface. It is a bit pricey, but this is an investment that can last more than 10 years. If you are careful with your vacuum cleaner and keep it for 10 years, that makes an investment of just above 5 dollars a month. That's a bargain for having a hair-free house.
Pros
powerful
light
great for all surfaces
cordless
Cons
pricey
relatively short battery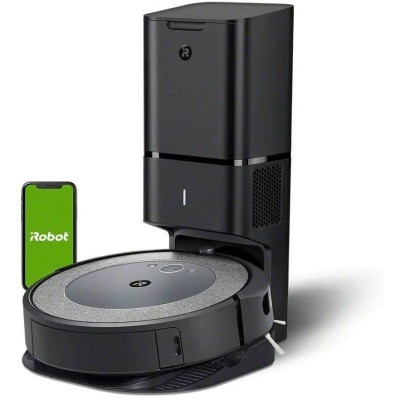 Let's face it, most of us hate chores, and vacuuming falls under that category. Owning a dog is a big responsibility, and we would rather spend our free time on something we actually like doing. Luckily, robot vacuum cleaners can make your life easier and significantly shorten your overall vacuuming time. 
Robot vacuum cleaners got a lot better in the last few years, and we can honestly say we were pleasantly surprised at their efficiency. It can work on different surfaces, plus it works with Alexa and Google Assistant, which means you can activate it by voice. The iRobot Roomba i3+ has 10x more suction and was developed with pet hair in mind.
The best thing about it is the automatic dirt disposal. It can clean itself for up to 60 days, and you can take your mind off of vacuuming.
Pros
automated
Alexa and Google Assistant
automatic Dirt Disposal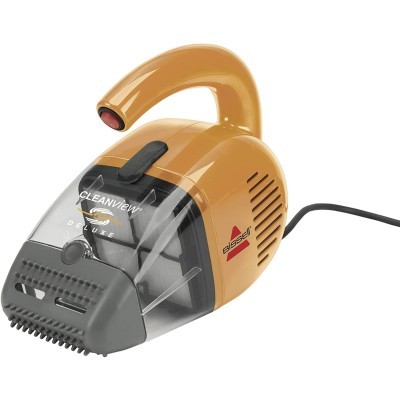 If you don't want to invest a larger amount of money for a powerful vacuum cleaner, there are other options. The Bissell 47R51 is an affordable, handheld option that will make vacuuming pet hair easy. It has a flexible rubber nozzle that will pick the hair up before it stores it in its container.
Some houses don't need large, powerful vacuum cleaners, and if you are one of those, the Bissell will be an ideal option for you. Not only is it suitable for quick home cleaning, but it is also ideal for cleaning your car.
Pros
cheap
light
rubber nozzle
Cons
small capacity
has a cord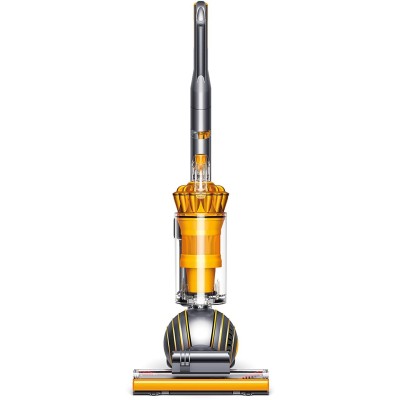 Some of us prefer having well-designed things, and why should we compromise with our vacuum cleaners? It might just be an appliance, but that doesn't mean it has to be ugly. Dyson is a company that likes to make efficient AND good-looking products, and we can say that Multi Floor 2 is precisely that.
Not only is it good-looking, but it is also one of the best options for your home in general. Their vacuum cleaners are stylish and durable - an ideal combination for those of us that don't love compromises. We are sure you won't be disappointed if you chose this vacuum cleaner.
Pros
design
trusted company
powerful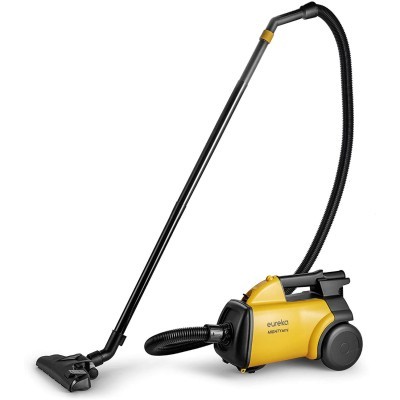 The Eureka 3670M is proof that vacuum cleaners don't have to be expensive to be efficient and useful. This traditional vacuum cleaner is strong enough to clean mites out of your carpet, and it will do a good job collecting the pesky, loose hair.
It might not be the prettiest design, but the vacuum needs to be efficient. The Eureka is up to the task and will not let you down in the inevitable battle of the shedding season.
Pros
cheap
efficient
large canister
World Dog Finder team