Best Dog Cooling Mats for Summer 2023
04.03.2021.
Every product and service on World Dog Finder is independently selected by our editors, contributors, and experts. If you purchase something through our links, we may earn a referral fee. Learn more
---
With the summer quickly approaching, it would be a good idea to think about keeping our furry friends cool and comfortable. A dog cooling mat is a great tool dog owners can use to fight off high temperatures and ensure their dog has a cool place where they can just lay down and chill. Here is what you need to know about dog cooling mats.
How do dog cooling mats work?
Some owners (including us) were unsure how cooling mats worked and whether they are an effective way to lower the dog's body temperature. We were personally convinced about the effectiveness of the dog cooling mat. There are two types of cooling mats, and they are water and gel cooling mats.
Gel-filled cooling mats are usually smaller because it has a greater heat-attracting ability than water. They work on the same principle. They attract the dog's body heat and absorb it. It is a basic physics principle - if two bodies of different heats mix (your dog laying on a cooling mat), the energy (heat is energy) will naturally flow from the hotter object (your dog) to the cooler object (cooling mat) until they are equal. It is a complicated principle, but it works.
Providing your dog with a great bed is vital as well. Check out this article for some ideas - Best dog beds.
What to look for in the best dog cooling mats?
Picking anything that will be in contact with your dog is not an easy task. Dog owners should choose the best and safest option yet not overpay. Choosing the right dog cooling pad is essential, and you don't want to end up with a product that won't do much for your dog. Before you decide on a particular cooling pad for dogs, make sure you analyzed your options. Some of the most important things to look for in a dog cooling pad are;
Size
It makes no sense to get a dog cooling pad that won't fit your dog. If the pad is too small, parts of your dog will remain off the cooling mat. Make sure you pick the right size for your dog to optimize their bodies' surface that will get cooled.
Cooling
The most important part of a dog cooling mat is - cooling. Not all cooling pads are the same, and some provide a better cooling effect than others. The best dog cooling mats will remain between 15 and 20 degrees lower than the environment.
Durability and sturdiness
The most effective cooling mats for dogs are gel-based, and while manufacturers claim the gel is safe for dogs, it is not a good idea for dogs to ingest it. Make sure the cooling mat you picked is durable enough so your dog won't tear it up and get to the gel. There have been incidents where dogs tore the pads and have gotten sick after ingesting the cooling gel.
Now you know the most important stuff about cooling mats for dogs. Check out the list of best dog cooling mats we prepared and tested.
Our top pick and the cooling mat we were most satisfied with is The Green Pet Shop Dog Cooling Mat. This cooling pad for dogs has a pressure-activated, patented cooling technology that will keep the hottest dogs cool. It is gel-based and provides 3-4 hours (depending on the dog size and heat) of active cooling. After 15-20 minutes of not using it, it is recharged, and it is ready to provide additional cooling. It is very effective, and the cooling can be clearly felt just by the touch of the hand.
Pros
Effective
Durable
Soft
Easy to move
Machine-washable
Cons
Not for dogs that love chewing
Some owners reported bad reactions after their dogs chewed the mat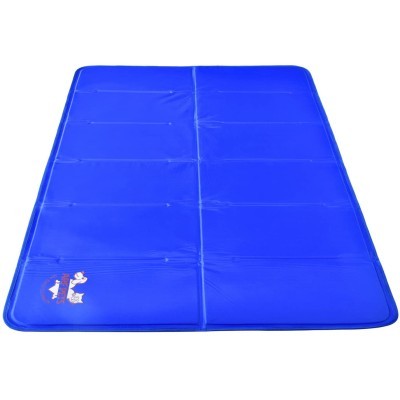 The Dog Self Cooling Pad from Arf Pets seems to have many positive reviews and happy customers. It is very similar to our top pick, and they work on the same principle. It contains a pressure-activated gel that starts cooling as soon as it senses pressure. Dog owners seemed pretty happy with it. They have reported their dogs being pretty interested in laying on this fantastic cooling pad for dogs.
Pros
Easy to clean
Effective
Gel-based
Cons
It cannot be placed in direct sunlight
Some owners reported longevity problems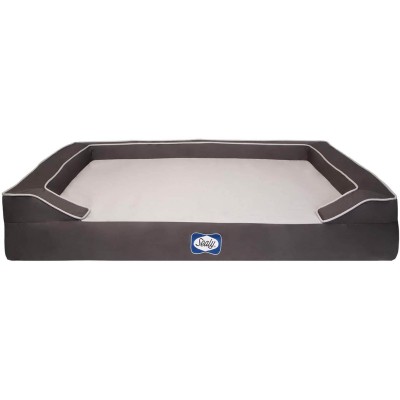 If you are looking for a cooling mat and a dog bed, this might be the ideal choice for you and your dog. The Sealy Lux Dog Bed with Cooling Gel is an all-in-one dog bed ideal for dogs that live in warmer climates. If you need something that will keep your dog cool and give them healthy support while sleeping, you will love this cooling dog bed. The Sealy Lux has four layers of comfy cooling-gel-infused memory foam that will help regulate your dog's temperature. Plus, we really love the design of this product. Absolutely a top recommendation.
Pros
Design
Support
Memory Foam
Gel-based
The cover is machine-washable
Cons
Bolsters could have been softer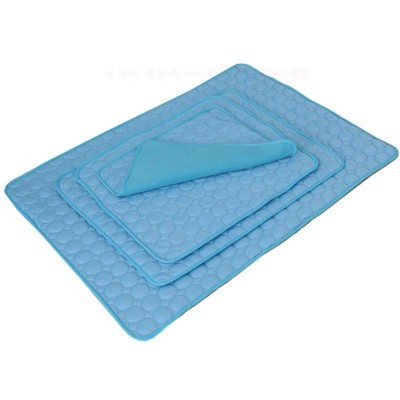 If you are looking for a budget-friendly cooling pad for dogs, this might interest you. Nesutoraito Cooling Mat for Dogs is very affordable and, according to our tests - effective. This cooling mat for dogs is comfy and very easy to maintain. It is machine-washable, and it comes in three colors and three available sizes. This product doesn't have cooling gel, but the fabric is breathable. It can be easily popped in the freezer for 10 minutes and provide your dog with a cooling sensation.
Pros
Thin, breathable fabric
Affordable
Cons
No cooling gel
No automated cooling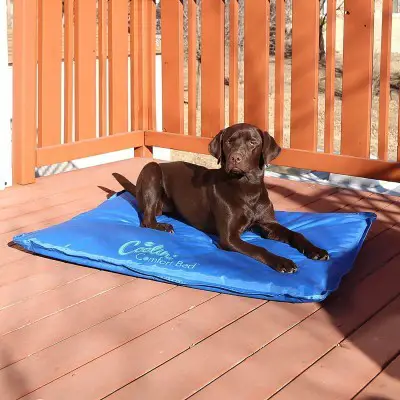 Our pick for the best water-based cooling mat for dogs is the K&H Cool Bed III. It can be filled with cold water that will provide a clear cooling sensation to your dog. It will be like your dog has their own water bed. It is surprisingly sturdy, and this pet cooling mat comes with a 2-year warranty. This cooling pad should stay a crisp 22 degrees lower than the environment temperature.
Pros
Durable
Good cooling sensation
World Dog Finder team