6 Best Dog Food for Goldendoodles - Puppy, Adult & Senior
02.12.2021.
Every product and service on World Dog Finder is independently selected by our editors, contributors, and experts. If you purchase something through our links, we may earn a referral fee. Learn more
---
Goldendoodles are one of the most popular designer dogs breeds out there. Owners love them for their low-shedding, hypoallergenic characteristics. These dogs are a mix of two popular and smart dog breeds - Poodles and Golden Retrievers. It is not that surprising they became very popular. If you are a Goldendoodle owner, you want to make sure your dog has everything they need. That will include giving them the best dog food for Goldendoodles. Here's what you should know.
Goldendoodle dietary needs
A Goldendoodle is a reasonably active crossbreed. They are unique in many ways, but their digestive system is not that different from other dogs. When choosing the best dog food for Goldendoodles, there are a few general rules you should follow. Here are the most important things in your Goldendoodle's diet;
Protein
The crucial part of your Goldendoodle's dog food is protein. These adorable dogs need food that contains high-quality protein sources. However, many of these dogs are allergic to chicken, so before you go for any particular brand, make sure it doesn't contain things that might cause allergy reactions. Look for dog foods with salmon, lamb, turkey, bison, wild-caught fish, or venison.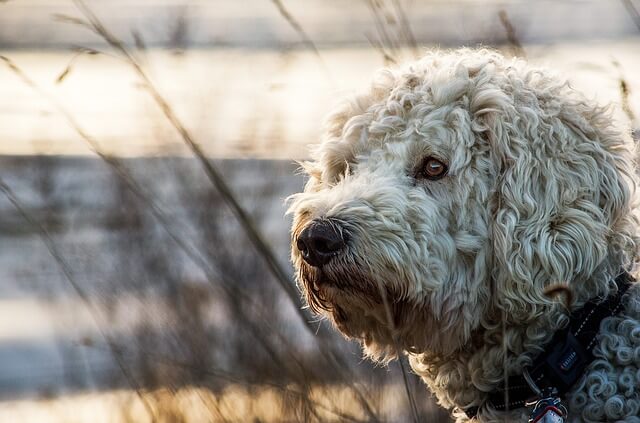 Carbs and fats
Carbs and fats have a slightly bad reputation but are crucial for a healthy dog diet. You have to make sure the dog food you choose for your Goldendoodle contains healthy carbohydrate and fat sources. This will give them plenty of energy and support healthy brain function, coat and skin health, and prevent many health issues.
Grain or no grain?
Grain also has a bad reputation, especially in recent years. However, dogs are not strict carnivores; they are omnivores. They have eaten grain since early domestication. If your Goldendoodle isn't allergic to grain, you should include it in their diet. If your dog has grain allergies, choose the best grain-free dog food.
Supplements
Dogs need healthy things in their diet, and supplements like glucosamine, omega fatty acids, additional vitamins, minerals, and other supplements can really benefit your Goldendoodle. These dogs need omega fatty acids for their coat and skin health. Antioxidants will protect their body from cancer. Vitamins will boost their immune system and keep them as healthy as possible.
Age-appropriate
Your dog's dietary needs will change as they age, so the best food for Goldendoodle will change. Senior dogs need more protein and fewer calories than adult dogs. Puppies need more protein, carbs, and calories, and adult dogs need a diet to support their lifestyle.
Here are the best dog foods for Goldendoodles based on their age;
Best Goldendoodle puppy foods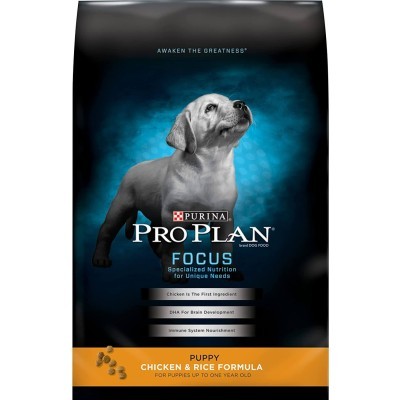 One of the best choices you can make for your Goldendoodle puppy is Purina Pro Plan. However, you have to make sure your puppy can eat chicken. Chicken is an excellent protein source, but some Goldendoodles can be allergic to it. This dog food will provide all your developing puppy needs. Plus, it comes with an affordable price tag, which is very important if you're on a budget.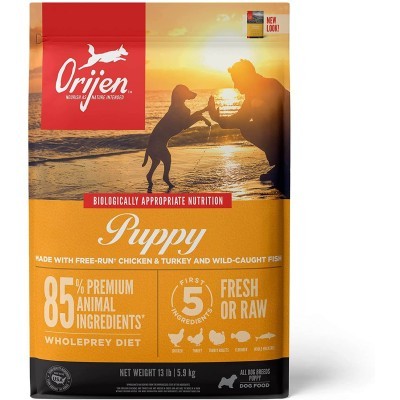 If you have a Goldendoodle puppy and you want to put them on grain-free dog food, the ORIJEN Puppy Dog Food is a fantastic choice. This dog food includes high-quality ingredients and an impressive protein amount. It is actually the dog food of choice for many dog breeders, especially for the first couple of months of their lives. One problem is that it is somewhat expensive.
Best adult Goldendoodle dog food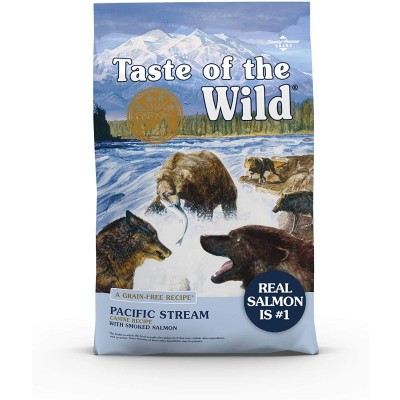 One of the most important things you have to ensure for your adult Goldendoodle is a diet supporting their skin and coat health. One of the best choices you can make is Taste of the Wild Dry Dog Food With Smoked Salmon. This dog food contains a lot of omega fatty acids, proteins, and other high-quality nutrients. Plus, it includes a lot of probiotics, so your dog's digestion will remain perfect.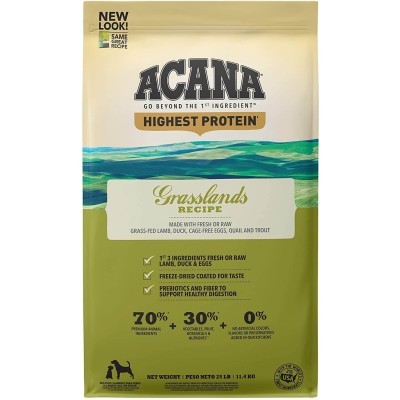 If your budget can handle it, Acana Regionals Grassland is one of the best dog foods in the world. This is probably the best dog food for adult Goldendoodles, and you can be sure you will not make a mistake if you decide to go for it. Most of its protein comes from lamb, duck, and catfish meal, so your dog will get full support for their lifestyle and health. However, Acana is relatively expensive, so make sure your budget can handle it.
Best senior Goldendoodle dog food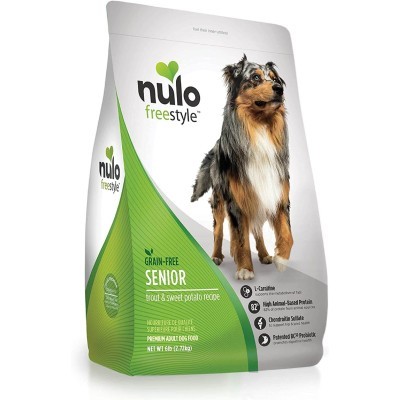 If you have a senior Goldendoodle, one of the best choices you can make for your dog is Nulo Freestyle Senior Grain-Free dog food. This dog food has a high protein content, but it also contains glucosamine and chondroitin for joint support. Most senior dogs have arthritic issues, so giving them food with supplements for joint health is a great idea. Plus, the price isn't that bad, so most budgets can handle this food.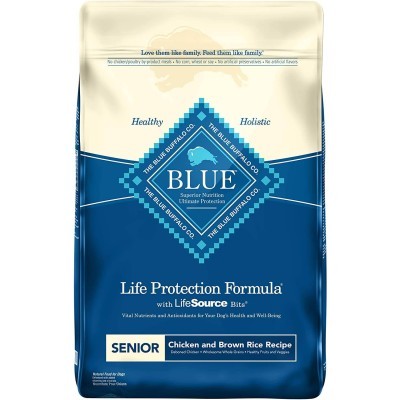 Another fantastic and affordable choice for senior Goldendoodles is the Blue Buffalo Life Protection Formula Senior Dog Food. This dog food will provide your senior dog with all the protein and supplements they need. This food has an affordable price, includes grain, and gets most of its protein from chicken - an ideal choice for dogs over 8 years.
World Dog Finder team