Blue Buffalo Dog Food Reviews
08.06.2021.
Every product and service on World Dog Finder is independently selected by our editors, contributors, and experts. If you purchase something through our links, we may earn a referral fee. Learn more
---
Picking the right dog food for your dog can be challenging. If you consider some of the most popular dog food manufacturers, maybe this Blue Buffalo dog food review will help you. One of the best things you can do as a dog owner is talking to other owners and see what they like most about their food and which food they'd recommend. Even better, talk to your vet and ask for advice. Your vet knows your dog, their needs, and medical history.
Blue Buffalo dog food
The story of the Blue Buffalo company is an interesting one. The good news is that it was started by dog owners that weren't happy with dog food brands available at the time. They decided to produce their own food and add only the healthiest ingredients they can. Jackie and Bill Bishop are the original founders. After experiencing health issues with their dog, they decided to make dog food that will provide full support and health benefits to dogs.
Of course, we should distinguish between something the company wants to market and the actual situation with ingredients. We cannot expect the same attention to detail when a company is small and developing and when they are producing tons and tons of dog food on an industrial scale. Here are some of the most important things to look at in this Blue Buffalo dog food review;
Ingredients
Reviewing Blue Buffalo dog food reveals they really do use high-quality ingredients. Mind you, they have 23 different dry dog food recipes, and not all of them are equally good. However, there are specialized recipes that will suit dogs with specific diets. For example, their fish and oatmeal recipe for adult dogs might not be the best first option, but for dogs with chicken allergies might be a fantastic one. There are three main ingredients we will focus on, and they are;
Blue Buffalo protein sources
Protein is the most essential nutrient in dog food. Everything else can be a top-notch ingredient, but if proteins are no good, the whole dog food is no good. Luckily, Blue Buffalo dog food recipes include high-quality protein sources. Their dog foods include beef, lamb, turkey, chicken, salmon, trout, duck, and rabbit. These are excellent animal protein sources.
Grain
While some Blue Buffalo dog food recipes include some types of healthy whole grain, they explicitly avoid using corn, soy, and wheat. These ingredients can cause allergies in dogs, and they decided not to include them under any circumstances.
Supplements and other ingredients
Protein and grain are not everything that goes into Blue Buffalo dog food. In fact, this company has recipes that are packed with vitamins, supplements, healthy fats, minerals, and everything a dog needs for a balanced diet. Blue Buffalo uses chicken fat, which is an excellent source of beneficial fatty acids.
Blue Buffalo dog food review tells us they regularly include probiotics, omega fatty acids, supplements like glucosamine and chondroitin, fatty acids, and all sorts of fruits and veggies as excellent sources of vitamins and minerals.
IMPORTANT NOTICE: One of the biggest advantages Blue Buffalo has is clear labels. They don't use inconclusive language and state the ingredients clearly, and easy to understand.
Recall history
Producing dog food on a large scale opens the possibility of something going wrong. We can only imagine how much meat and other raw ingredients Blue Buffalo dog food needs to purchase. We can imagine they don't come from a single farm or source. Dog food recalls can happen, but they don't mean a company is bad or reckless. However, we look at the company's reaction to such issues and judge them based on their response. Here is a list of product recalls Blue Buffalo had;
March 2017 - Wilderness Rocky Mountain Recipe Red Meat Dinner Wet Food for Adult Dogs was recalled due to the increased levels of thyroid hormones in beef.
March 2017 - Wilderness Trail Trays was recalled, but the issue wasn't ingredients; it was the packaging and the foil seal on top.
March 2010 - In March 2010, there wasn't a recall made by the company, but it is interesting to notice that researchers at Michigan State University researched dogs getting sick in that area. All the dogs had a higher vitamin D level, and 16 of them were strictly on Blue Buffalo dog food. That problem seemed to be resolved, and vitamin levels were lowered.
Another critical thing to notice is that Blue Buffalo company was sued for false advertising. It might have been a way someone wanted to hurt the company. Luckily, all cases were dismissed, and Blue Buffalo continued producing dog food.
Three of our favorite Blue Buffalo dog food recipes
We are very happy with Blue Buffalo, and we personally believe their dog food is one of the best choices you can make for your dog. However, just because something works for our dog doesn't mean it will work for your dog as well. Here are three of our favorite Blue Buffalo dog food recipes;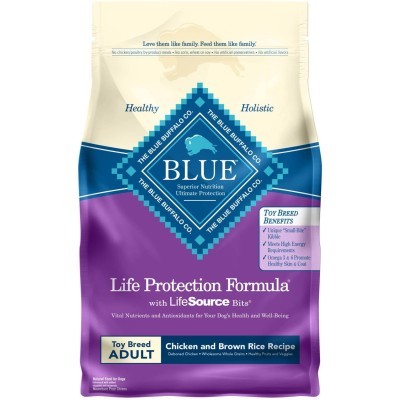 The Blue Buffalo Life Protection Formula For Toy Breeds is specially designed for toy breeds. This recipe is based on chicken and brown rice and offers a great protein-to-fat ratio. It will support a healthy diet, and dogs seem to love the taste.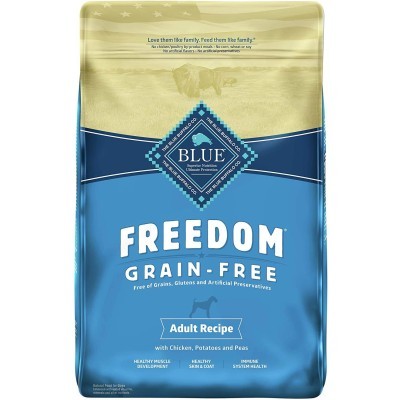 Some dogs have grain allergies, and their dog food should support them and offer them a diet without any grains included. The Blue Buffalo Freedom Grain Free dog food review tells us this is an amazing choice for dogs with grain allergies. It gets its protein from chicken and is packed with vitamins, antioxidants, and everything your dog might need.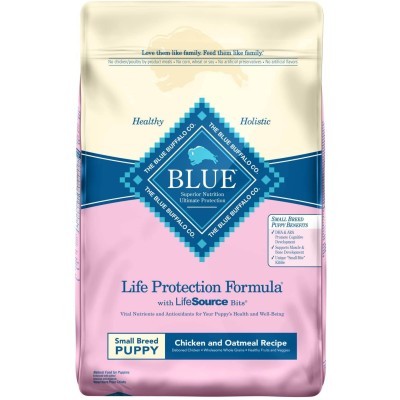 Another excellent puppy food is the Blue Buffalo Life Protection Small Breed Puppies. This puppy food recipe is based on chicken and oatmeal, which means it provides excellent proteins and fiber for developing puppies. This puppy food contains ARA and DHA, nutrients found in mother's milk. Hence, the puppy's growth continues in the best and healthiest possible fashion.
World Dog Finder team