The Best Organic Dog Food in 2023
30.06.2021.
Every product and service on World Dog Finder is independently selected by our editors, contributors, and experts. If you purchase something through our links, we may earn a referral fee. Learn more
---
As dog owners, we need to provide our dogs with endless amounts of love and affection, but before we get to the lovey-dovey part, we need to make sure they have a balanced diet. Organic dog food is one of the best things for your dog's diet, but there are some issues regarding the term "organic" in dog food.
What is organic dog food?
If you haven't studied canine or human nutrition, you might not be entirely sure what the term "organic food" means and why it is so popular. In the modern world, food production is a lot more massive. We cannot produce enough food without the aid of genetic modification. However, there are still food production companies that produce totally organic food.
The term "organic" means the food was produced without artificial things. Plants were grown without any pesticides, artificial fertilizers, or genetic modification. Meats are produced from animals that roamed freely and ate organic plants. They weren't pumped with growth hormones or anything that might compromise the health of the food.
Advantages of organic dog food
You might conclude that feeding your dog organic dog food offers them many advantages and benefits. It is not a coincidence that many of us look for organic ingredients in our diets - these types of foods are considered healthier. Dog owners are a lot more aware of things that go into their dog's diet, and we are all starting to look for organic dog foods.
When it comes to dog food, the truth might actually surprise you - Organic dog food doesn't provide significant nutritional benefits, nor will you notice health changes in your dog. Simply put, organic chicken is not a better or denser protein source than its non-organic counterpart.
There is a significant advantage from the humanitarian point of view. Animals raised on organic farms have better lives. They are allowed to roam and move freely. Non-organic farms keep animals locked up, and their movements are severely restricted. If you are a true animal lover, you might want to buy dog food sourcing its ingredients in the most humane way possible.
Types of organic dog food
Not all organic dog foods are the same, and there are three main types you should look for. According to the Department of Agriculture (USDA), there are three types of organic food. They are not the same, and if you don't know what you are looking at, you might pick something you are not happy with. Here are the three types of organic dog food;
Made with Organic Ingredients - This label means the dog food contains at least 70% organic ingredients. The rest 30% have strict regulations, and one of them stated GMO is strictly forbidden.
Organic - "Organic" label means the food is made with at least 95% organic ingredients.
100% Organic - This label is pretty self-explanatory; the ingredients are 100% organic. This type of dog food doesn't allow any non-organic ingredients.
How much does organic dog food cost?
The price tag is the trickiest part of organic dog food; it is rather expensive. Organic farms cannot receive any type of federal subsidies, which means their production costs are higher. Typically, organic farms are smaller, and they cannot enjoy the same comfort and flexibility large-scale food production can. On average, organic dog food is 40% more expensive than average non-organic dog food.
IMPORTANT NOTICE: If you want to get your dog organic dog food, you should look for the "USDA Organic" seal on the packaging. Only foods with 95% organic ingredients are allowed to display it.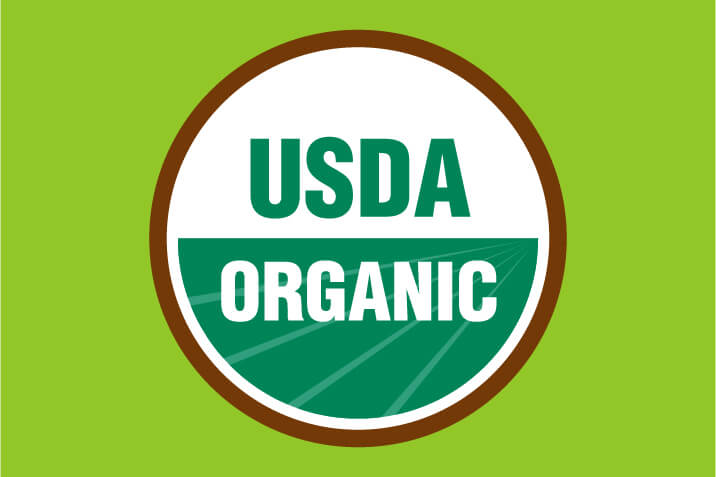 Here are our favorite organic dog foods;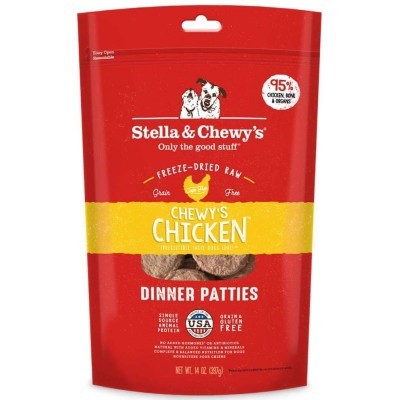 Our top pick in the organic dog food category is the Stella & Chewy's Freeze-Dried Raw Dinner Patties. The Stella & Chewy's recipe gets all of its ingredients from organic farms, and it offers our dogs the highest quality dog food you can get. This is an excellent product, and it comes in a few different recipes (Venison, Beef, Chicken, Pork, and Beef&Salmon for puppies).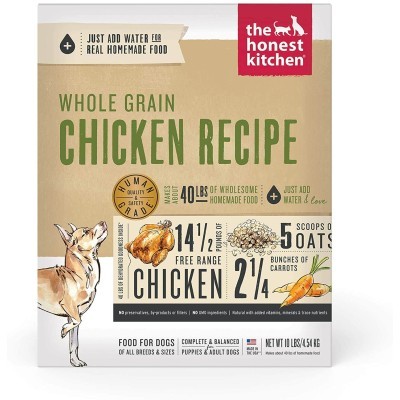 Another popular choice and great organic dog food is The Honest Kitchen Chicken Recipe. This company understands the importance of using human-grade tools. You can be entirely sure your dog's meal surpasses your average dog food quality. This recipe is our favorite, but it also comes with turkey, beef, fish, and other grain-free recipes. All you have to do is add some warm water, and your dog will get a delicious meal they will absolutely adore.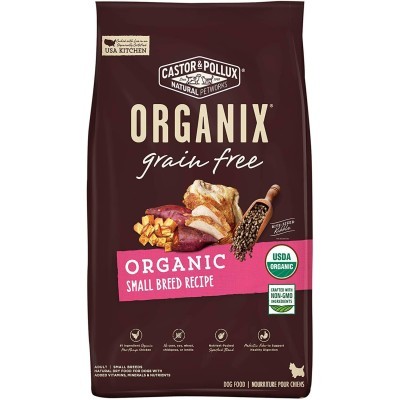 Our third pick in the organic dog food category is the Organix Organic Small Breed Dry Dog Food. This food is specifically for small dog breeds. It includes things like non-GMO blueberries, flaxseed, and coconut oil. This recipe is packed with prebiotics and probiotics, which is generally considered a great thing for small dog breeds with digestive issues. If you decide to try Organix, we can assure you you won't regret it.
World Dog Finder team