Best Dog Food for Sensitive Stomach
09.05.2021.
Every product and service on World Dog Finder is independently selected by our editors, contributors, and experts. If you purchase something through our links, we may earn a referral fee. Learn more
---
A balanced diet is key to a healthy life for your puppy. Unfortunately, some dogs have sensitive stomachs. They cannot properly digest and absorb all the nutrients their food should provide. These dogs can suffer from all sorts of gastrointestinal issues. Their owners need to give them the best dog food for sensitive stomachs. If you have a dog with a sensitive stomach, here is what you should know about their dog food.
What to look for in sensitive stomach dog food?
Dog's stomachs can be sensitive for a variety of reasons, and it is challenging to generalize when it comes to stomach issues in dogs. Different dog food recipes will affect dogs in various ways, but there are some things most dog foods for sensitive stomachs share. Here are some key characteristics to look for in dog foods for dogs with sensitive stomachs;
Ingredient count
When a large number of ingredients are present in a dog food, there is a larger chance some of them will upset the dog's stomach. If you have a pooch with a sensitive stomach, you'd want to look for dog foods that have a limited number of ingredients. Luckily, there are different limited-ingredient dog foods that are available, and a good example is hypoallergenic dog food.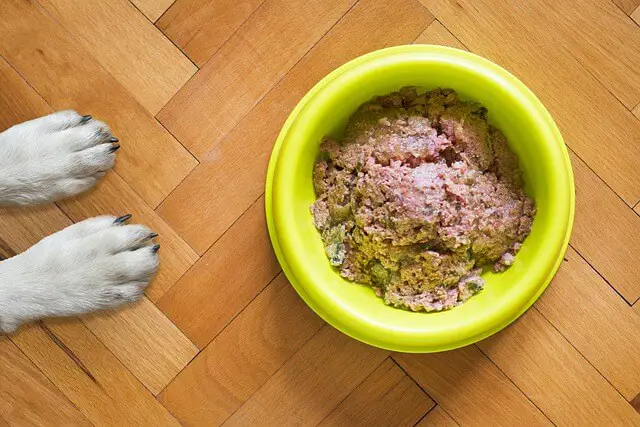 Grain-free or whole grain
Many dogs with sensitive stomachs cannot properly digest common grain included in dog food recipes. Some of these common grains are corn and wheat, and different foods exclude grains from their recipes. However, there is a rising concern about dog foods that include grain replacements like sweet potatoes or other legumes. There is a link between these foods and DCM in dogs. If you are worried about your dog eating foods with these ingredients, you should go for dog foods that include whole-grain, which is easier to digest.
Included ingredients
If you are not sure which ingredients cause stomach issues in your dog, you should go for dog foods that include easily digestible ingredients like lamb, chicken, potatoes, rice, and brown rice. These ingredients are usually fairly easy to digest and rarely cause stomach issues.
Supplements
Some dogs with weak stomachs might need all the aid they can get. If you can choose dog foods that include supplements that help your dog's digestion, that would be ideal. Look for sensitive stomach dog foods that contain probiotics, pumpkin, or other things that will help your dog get the most out of their food. If you are not sure about the importance of dietary fiber, check out this article - Best fiber sources for dogs.
Now you know what to look for in dog foods for a sensitive stomach. Check out our favorite sensitive stomach dog foods.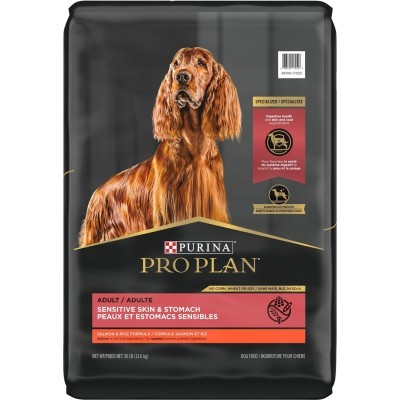 Our top pick for the best dog food for a sensitive stomach is the Purina Pro Plan Sensitive Skin & Stomach. There is a good reason why this dog food is the best seller in this category - it works really well for all dogs with sensitive stomachs. This dog food recipe is based on salmon and rice. Both ingredients are not very likely to upset your dog's stomach and are very nutritious. Plus, salmon meat means this dog food has plenty of omega fatty acids, which are fantastic for the dog's skin and coat. Another great thing about this dog food is that it comes with a budget-friendly price tag. Typical sensitive stomach dog foods have a higher price, but Purina made an excellent and affordable option that works for most budget-conscious households.
Pros
Salmon
Limited ingredients
No corn, soy, or wheat
Contains antioxidants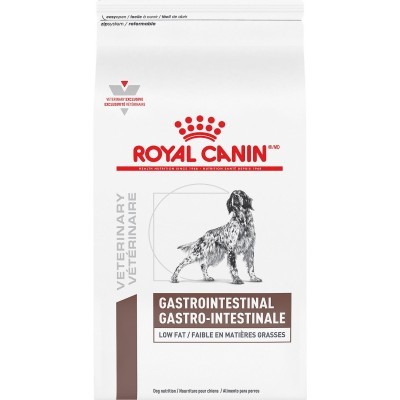 When it comes to dog foods for dogs with sensitive stomachs, the close runner-up for our top pick spot is the Royal Canin Veterinary Diet Gastrointestinal dog food. Royal Canin made the best possible recipe that excludes difficult-to-digest fats but provides enough calories and proteins for a healthy dog development and diet. Royal's veterinary product line is one of the best there is. If you have a dog that has tummy troubles often, you can be sure you will not make a mistake if you go for the Royal Canin Vet dog food.
Pros
Limited ingredients
Highly digestible
No fats
High-quality ingredients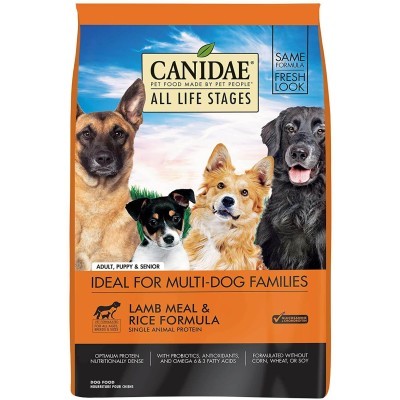 Another excellent option for your dog with a sensitive stomach is the CANIDAE All Life Stages dog food. We love Canidae, and they are one of the best in the dog food business. Their recipe includes lamb and rice as the main ingredients. This food is specifically developed to provide additional support to dogs with tummy issues. This dog food contains probiotics, antioxidants, omega 3 and 6 fatty acids, and enough protein to make your dog really happy and excited about their meals. Plus, Canidae is known to use high-quality ingredients in their dog food recipes.
Pros
Supplements
Easily-digestible ingredients
Affordable
Ideal for homes with multiple dogs
Cons
Could use more protein
Includes rice bran and tomato pomace
World Dog Finder team