Best Dog Food for Picky Eaters in 2023
01.05.2021.
Every product and service on World Dog Finder is independently selected by our editors, contributors, and experts. If you purchase something through our links, we may earn a referral fee. Learn more
---
Most dogs won't have any problem eating anything you put in front of them, but some are just picky eaters. It can seem impossible to find the right dog food for picky eaters, and it is undoubtedly a process that will take time.
Dogs that are picky eaters can have medical issues that will prevent them from eating certain ingredients. Make sure you talk to your vet if you happen to share a home with a picky-eating dog. However, not all picky eaters have medical issues; some just want tastier dog food.
What to look for in dog food for picky eaters?
Suppose you have a dog that cannot properly digest certain dog food. In that case, the only thing you should look for is to get them nutritious food that can sustain them and not cause them any issues. If you have a picky eater that just wants something more appetizing and palatable, here are some of the things you should look for in dog food for picky eaters;
Meat
All dogs need to have meat protein as their main ingredient, and picky eaters are no different. Our experience tells us that picky-eating dogs prefer eating dog food with high-quality protein sources like salmon, buffalo, or lamb. Luckily, they are all very healthy and beneficial sources.
Fats
Animal fat makes dog food testier, and it is no wonder picky eaters prefer dog foods with animal fat included. Dogs are omnivores, but their favorite ingredient is still meat. If you have trouble picking dog food for your dog with a knowledgeable palate, picking dog food with animal fat is usually a pretty safe bet.
Fruits and veggies
Picky eaters seem to want more taste in their food, and you can try by including fruits and veggies in their food. Luckily, some dog foods already include them in their recipe, so that is a great place to start. Plus, fruits and veggies are packed with healthy nutrients like vitamins and minerals.
Natural flavors
Another thing all picky eaters have in common is their shared hate of artificial flavors and colors. Dogs that are picky eaters seem to prefer dog food with natural flavors, and artificial taste inhibitors, preservatives, and colorings repulse them. That is a good thing since some preservatives and artificial taste inhibitors can be cancerogenic.
Now you know what to look for in dog food for picky eaters. Check out these fantastic recommendations;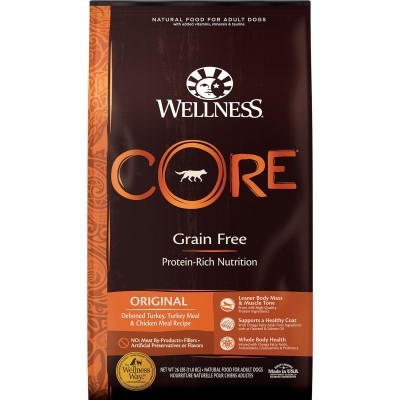 There is quite an apparent reason why our top pick in the category of "dog food for picky eaters" is the Wellness CORE Grain-Free Original dog food - It includes 3 different-tasting types of meat. Dogs seem to love this food, and the highest percentage of picky eaters will eat Wellness Core. Besides protein, this dog food for picky eaters includes fruits and veggies, which might get the dog's appetite going. This is not only good-tasting dog food; it offers them all the necessary nutrients and will keep your dog as healthy as possible. This dog food is a great choice and a top recommendation.
Pros
Includes fruits and veggies
Deboned chicken, turkey, and chicken-meal
Palatable
Added amino acids
Cons
Some dogs might still not like the taste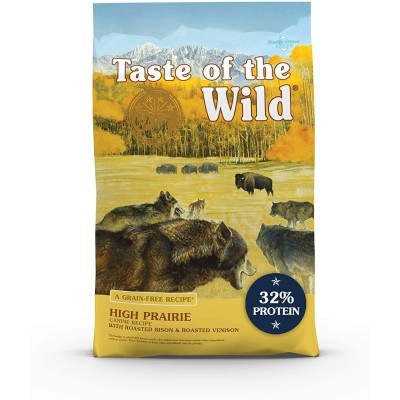 If you have a dog whose palate wants something different, why not try some alternative types of meat that might be closer to a wolf's diet? Taste of the Wild Dry Dog Food includes roasted bison and roasted venison, which is what wolves often eat in the wild. However, this dog food also includes chicken-meal, fish-meal, lamb-meal, and beef-meal, making it ideal for picky eaters. Taste of the Wild is specifically developed for adult dogs, and it includes additional omega fatty acids and antioxidants. This is another excellent choice for picky-eating dogs.
Pros
Different types of meat
Includes supplements
Grain-free
Cons
Some dogs might have a bad reaction to this food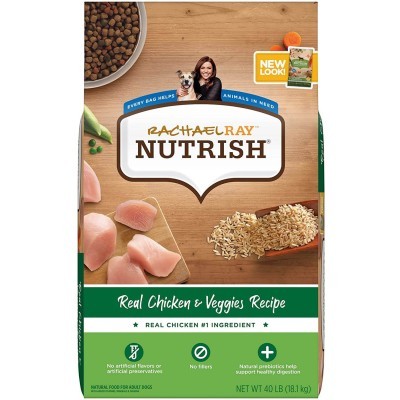 Vets are some of the best allies you can have in your corner when raising a dog. You should talk to your vet about your dog's eating preferences and ask them for advice. One of the budget-friendly foods vets often recommend is Rachael Ray Nutrish Super Premium Dry Dog Food. Not only is it tasty, but it also comes with a budget-friendly price tag. However, the lower price comes with ingredients like corn and soybean, which are not necessarily something you would hope to see in your dog's diet. However, having a picky eater at home means you are limited and have to choose something your dog will actually eat. This dog food includes common ingredients, but its recipe seems to appeal to picky eaters.
Cons
Includes common allergens
Includes corn and soybean
World Dog Finder team