5 Best Hypoallergenic Dog Foods & Tips You Need To Know
17.02.2021.
Every product and service on World Dog Finder is independently selected by our editors, contributors, and experts. If you purchase something through our links, we may earn a referral fee. Learn more
---
Choosing the right dog food for a dog with food allergies can be a slow and painful process. But it is something that needs to be done for the sake of our dog's health. Luckily, there are many hypoallergenic options on the market; you just need to know what you are looking for.
Dog allergies
Just like humans, dogs can be allergic to certain things in their diet. They might be intolerable to some protein sources or carbohydrate sources. You must find out which specific allergen is causing your dog trouble and get rid of it. That can be achieved in two ways - elimination diet and blood tests.
Elimination diets
Elimination diets are tricky, and it will take plenty of time to understand and find which foods are causing your dog's allergies. You should eliminate your dog's food and exchange it for a single source of protein and carbohydrates. Keep your dog on that diet for at least 3 months until they have no allergic issues. After that, start reintroducing them one by one ingredient until you confirm which one is causing them problems.
Blood test
An elimination diet takes a lot of time, and sometimes, we have inconclusive results. The easier and faster way of determining your dog's allergies would be blood testing. Unfortunately, these tests cannot confirm food allergies, and the only option is the elimination diet. This is an effective way of learning about inhalant (seasonal) allergies, which are more common.
Dogs with allergies can get medications to help them with this problem. To learn more, check out this article - Allergy medications for dogs.
What is hypoallergenic dog food?
The term is slightly confusing, and it doesn't mean what most of us think it means. Theoretically, if a dog is allergic to lamb, any food that doesn't contain lamb is hypoallergenic food for them. Other dogs can react to different things, and they will need different food that doesn't include their specific allergen.
The term hypoallergenic dog food will mostly refer to dog foods that do not contain ingredients that usually cause dog allergies. The most common dog food allergens can be meat-based, like lamb, chicken, fish, beef, or pork. Other common allergens can be yeast, soy, corn, wheat, and dairy. Hypoallergenic dog food should avoid these common allergens, and there are five main forms of hypoallergenic dog food;
1. Prescription Diet
Prescription diets, as their name suggests, can only be prescribed by a vet. You can only get it with a doctor's prescription, and they are usually bought in vet clinics.
2. Limited Ingredient Diet
This is one of the best ways to limit the different ingredients your dog consumes. A limited-ingredient diet is vital for the elimination process and finding out which ingredients are bugging your dog.
3. Hydrolyzed Protein Diet
Hydrolyzed protein diet is a special diet that breaks the ingredients into protein and carbohydrate molecules in small pieces. They don't trigger allergic reactions.
4. Novel Protein Diet
This type of diet revolves around the introduction of novelty protein sources. Some of the most popular new protein sources are kangaroo, bison, venison, pheasant, and alligator.
5. Homemade food
There is a huge popularity rise in homemade foods because owners have complete control over all ingredients their dogs are ingesting. It is a popular way to conduct an elimination diet.
If you are interested in learning more about a raw diet, check out this article - Dogs and raw chicken.
Based on all information we found out about the topic, we went through numerous dog food brands and their hypoallergenic options. We picked out the 5 best hypoallergenic dog food options for your dog.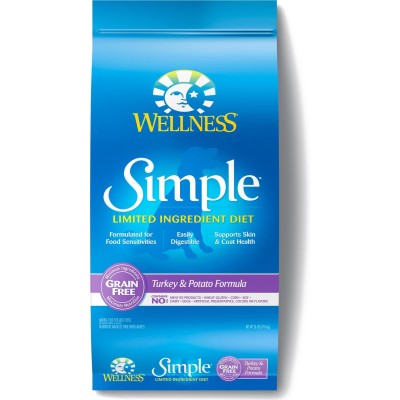 Our top pick for hypoallergenic food is the Wellness Simple Limited Ingredient Diet. Wellness is a trusted brand. Their recipe with deboned turkey and potato is an excellent choice for dogs that suffer when ingesting traditional food allergens. This is a great choice for several reasons; it offers turkey as a protein source known to be relatively safe, even for dogs with allergies. This hypoallergenic dog food provides 26% protein and 12% fat. It is an excellent choice at an affordable price.
Pros
Turkey
Limited ingredients
Affordable price
Cons
It's grain-free, which doesn't work for some pet owners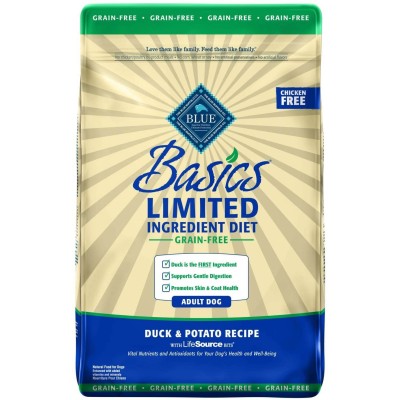 We are huge fans of Blue Buffalo pet food, and their Limited Ingredient Diet is a fantastic choice for all dogs that suffer from food allergies. It has a shorter list of ingredients, and as the main protein source, Blue Buffalo uses duck. This hypoallergenic dog food uses unusual carbohydrate sources like pumpkin, peas, and potatoes. It doesn't contain grain because it can be an allergen. This food has 20% protein and 15% healthy fats.
Pros
Duck
A limited number of ingredients
No common allergens
Cons
It's grain-free, which doesn't work for some pet owners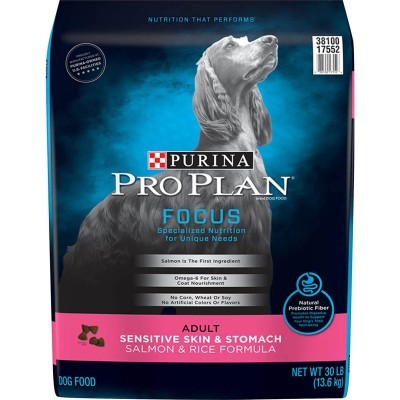 When it comes to the most popular hypoallergenic choice for dog food, the first thing that comes to mind is Purina. This wouldn't be so popular if it wasn't of the highest quality. Purina avoids most of the usual allergens like wheat, chicken, or lamb and focuses on two main ingredients - salmon and rice. These are two healthy protein and carbohydrate sources that make this dog food one of the most popular dog owner choices. Purina Focus has 26% protein and 16% healthy fats.
Pros
No artificial colors
Omega 3 and 6 fatty acids
Antioxidants
Cons
No other meat-sourced protein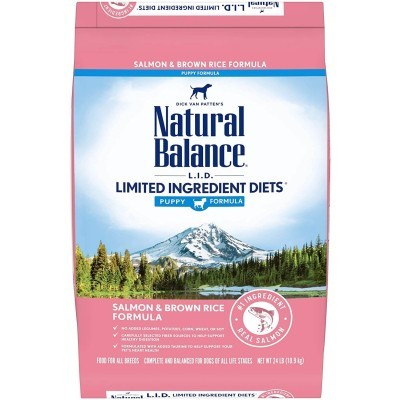 If you are looking for a hypoallergenic food based on salmon, then Natural Balance Limited Ingredient Diet can be a good choice. It is packed with healthy omega fatty acids that do wonders for your dog's skin and coat. The two main protein sources are salmon and fish meal, and there are three main carbohydrate sources - brown rice, brewers rice, and rice bran. This hypoallergenic dog food includes grain, so make sure your dog isn't allergic to it. This food has 24% protein and 12% healthy fats.
Pros
Two protein sources
Omega fatty acids
Cons
Includes grain, which is an allergen for some dogs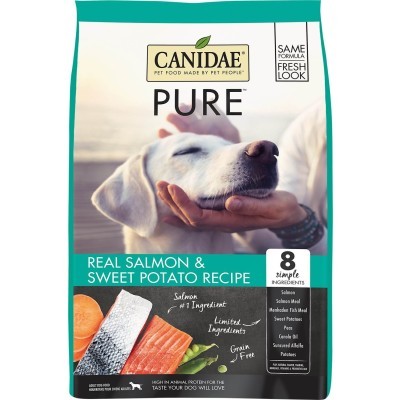 Canidae is one of the best dog food manufacturers in the world. Their hypoallergenic dog food option is one of the best available options out there, and it goes toe-to-toe with other dog food giants. This dog food gets its protein from three fish-based sources - salmon, salmon meal, and menhaden fish meal. It is packed with healthy omega fatty acids, and as carbohydrate sources, it uses sweet potatoes. This recipe uses high-quality ingredients, and it has 36% protein and 20% healthy fats.
Pros
Three protein sources
Quality ingredients
Omega fatty acids
Real fresh salmon
World Dog Finder team