Best Dog Dental Chews [2023 review]
17.04.2021.
Every product and service on World Dog Finder is independently selected by our editors, contributors, and experts. If you purchase something through our links, we may earn a referral fee. Learn more
---
We wish you could have witnessed our vets' debate about which are the best dog dental chews. It was a heated debate, but we finally managed to cherry-pick 5 products they would recommend. There is no doubt dental hygiene is important, and most of the vets we have spoken with have agreed the best thing would be to regularly brush your dog's teeth. However, we are aware that it is sometimes impossible, and no matter how hard we try, the dog just won't accept the toothbrush.
Picking dog dental chews
They still need their teeth clean and healthy, so the next best thing is dental chews. We didn't want to give weak recommendations, so we interviewed 10 different veterinarians and picked the best vet-recommended dog dental chews. Before you choose one that will be best for your dog, here are some things you should look out for in dog dental chews;
Owners that advise against teeth cleaning
One of the most dangerous thing for new dog owners is experienced owners that advise on teeth cleaning and hygiene. Their logic is often simple - if wolves and other wild canids don't brush their teeth, then how important is it for my dog? The truth is - very important. Wolves live about 4 - 5 years in the wild, and dogs often live 3 times longer. That means their teeth need to be in perfect shape longer. Wild canids strip the meat off the bones and clean their teeth naturally. They also lose their teeth relatively early, which leads to starvation and death. Don't listen to anyone who tells you that dental hygiene isn't crucial for your dog.
Veterinary Oral Hygiene Council seal of approval
When it comes to vet-recommended dog dental chews, there are non better than dental chews submitted to the Veterinary Oral Hygiene Council for testing. Not all dental chews are the same, and whenever possible, look for chews that have the VOHC seal of approval. There are no better recommendations than that.
Source
Like with any other product, different manufacturers use various products in their dental chews. We are always for the option that comes from countries we generally trust. Look for manufacturers from the US, Europe, UK, Australia, Canada, or New Zealand. These countries have strict regulations and testing, so you can be relatively sure your dog is chewing on safe and healthy ingredients. That doesn't mean other countries can't make great products, but we will leave testing to them.
If you want to know more about the importance of dental hygiene, check out this article - Dog teeth cleaning.
Vet advice
Not many dog owners know that dental chews can be bought in pet shops, AND your vet can prescribe special dental chews that are available only with a prescription. It is a good idea to talk to your vet about your dog's oral hygiene. Ask them for their input and advice, and check if your dog might benefit from dental chews that are available only with a prescription.
Size
When it comes to dog dental chews, size is critical. It is counterproductive to give your large Mastiff vet-recommended dental chews for small dogs. They will simply eat the chew, and it will do nothing for their dental health. Make sure you order the correct size of dental chews for your dog.
Potential risks
Unfortunately, there are some risks associated with dental chews. Dogs with strong jaws might easily chew through them and ingest a larger piece of a dental chew. The problem is that these chews are tough, and they will not break down so quickly. You should limit your dog's time with a dental chew and make sure you take it away if you notice the chew is breaking into small pieces. Ingested pieces can cause gastrointestinal upsets and blockage. A blockage is considered a medical emergency. If you notice any signs of problems, you should contact your vet immediately.
Now that you know what the most important things to look for in vet-recommended dog dental chews are, here are the five products our veterinarians managed to agree upon;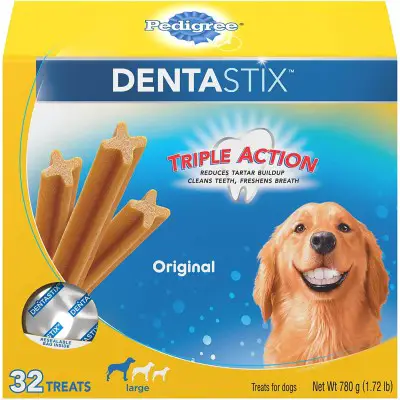 There is a good reason why Pedigree DENTASTIX has more than 20.000 positive reviews. When it comes to effectiveness and taste, this is the best choice out there. These vet-recommended dental chews are "chewier" than others and will break down a lot easier. That means they are safer. We have chosen these chews as our top pick because they remove plaque from the dog's teeth and are effective in keeping the dog's breath fresh.
Pros
Different tastes
Different sizes
Effective
Clinically tested
Dogs love the taste
Cons
No VOHC seal, but they seem pretty effective and safe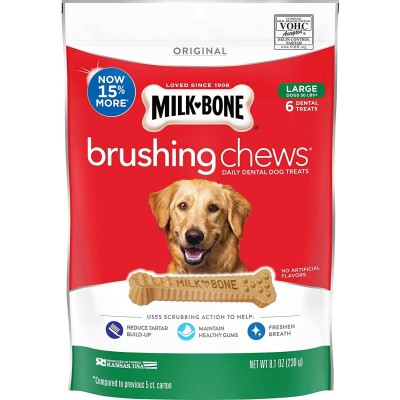 The Milk-Bone Original Brushing Chews are a great and tasty choice dogs seem to love. This recipe doesn't include any soy ingredients but contains a delicious chicken flavor dogs go nuts for. Not only do these vet-recommended dog dental chews take care of your dog's dental hygiene, but they also contain 16 different vitamins and minerals. Your dog is getting additional health benefits most dental chews don't offer.
Pros
Tasty
VOHC seal of approval
Effective
Made in North America
Cons
Chicken by-product
It is effective in cleaning but doesn't do much for the dog's breath
Dog owners need to make sure they pick healthy dog treats. Check out this article for some suggestions - Best dog treats.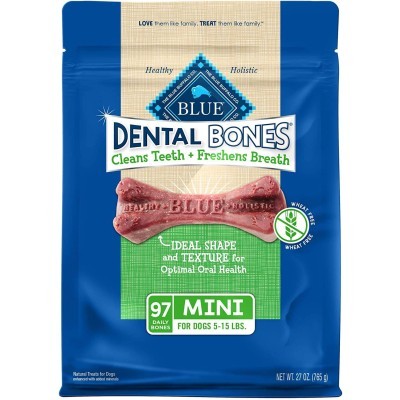 When it comes to picking vet-recommended dental chews for smaller dogs, the Blue Buffalo Dental Bones are the best possible choice. These chews come in different sizes, so even if you have a larger dog, Blue Buffalo has you covered. These chews have a great and effective texture that will keep your dog's pearly whites clean and healthy. Plus, these dental chews have added glucosamine and chondroitin for the dog's joint health. This is a great choice.
Pros
Made in the USA
No by-products
Whole ingredients
Cons
A bit pricier
No VOHC seal of approval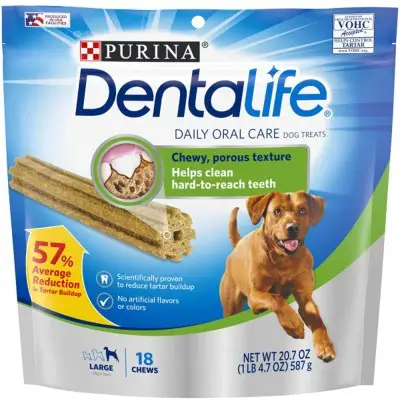 Dogs can be expensive, and the general costs can rack up quite fast. Luckily, there are affordable and cheaper options when it comes to dental chews for dogs. The Purina DentaLife is an excellent choice at a reasonable price. Purina made dental chews that help with the dog's breath and reduce plaque and tartar buildups by 57%. These chews have an innovative shape and can help your dog's teeth remain in perfect condition. There are different size options, so you can get value packs or smaller pouches.
Pros
VOHC seal of approval
Effective
Clinically proven
Cons
Some owners expressed their concerns about ingredients, but there are no known cases of these chews causing severe health problems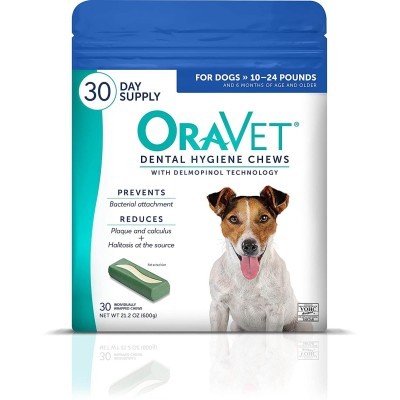 Another excellent choice for small dogs is the OraVet Dental Hygiene Chews. Unlike other dental chews, these contain an active agent called delmopinol, which prevents plaque-causing bacteria from developing. These dental treats are low in calories and make an excellent choice for all dogs with bad breath and dental issues. These vet-recommended chews are ideal for smaller breeds like the Pomeranian or the Papillon. A top choice that will help dogs with the worst breath issues.
Pros
Tasty
Delmopinol
Acts as a preventative
VOHC seal of approval
Cons
Some dogs had a bad reaction and a GI upset
World Dog Finder team