Best Dog Treats and How to Choose Them
02.03.2021.
Every product and service on World Dog Finder is independently selected by our editors, contributors, and experts. If you purchase something through our links, we may earn a referral fee. Learn more
---
Dog treats can be a powerful tool in a dog owner's arsenal. Dog treats are not only used to show your dog some appreciation, but they are also used for training and strengthening the bond between the owner and the dog. Picking healthy dog treats for your dog is vital for several reasons. They can promote health, motivate the dog during training, and bring some spice to the dog's life.
What to look for in a dog treat?
Some of us think that you can't go wrong when buying dog treats for your dog. There is some truth to that. However, there are some things you should consider when buying treats that would fit your dog. You won't see your dog objecting to any kind of dog treats, but you don't want to end up giving them ones that will have bad long-term consequences for your dog. Keep a close eye on these things while buying the best dog treats;
Reasoning
The first thing to think about is the reason you are giving snacks to your dog. There are different dog treats, and not all are for the same purpose. These are just some of the healthy dog treats you could use;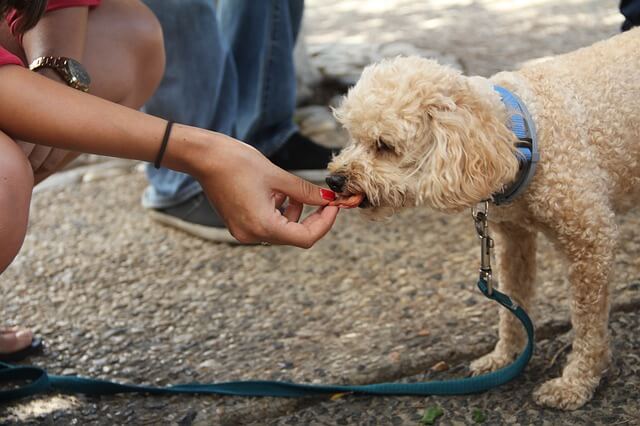 Training dog treats
For training purposes, the best choice would be small-sized dog treats rich in flavor. Your dog will be extra motivated to perform and earn a tasty reward. These treats are usually high in calories, so they should only be used for training.
Supplement treats
Some dogs can have health issues like arthritis, skin issues, hip dysplasia, etc. The ideal way to get supplements in your dog's body is to give them healthy dog treats. Some treats for dogs contain supplements like Omega-6 fatty acids, glucosamine, or any other supplement that will promote health. There are different healthy dog treats your dog will gladly take.
Dental dog treats
Some healthy dog treats promote dental health. Different types of dog chews can be considered as treats, and dogs seem to enjoy them. They promote dental health and prevent the development of periodontal diseases.
The essential thing all dogs need is a great diet. Check out this article for more ideas - Best dog food.
Size
The size of the treat is essential as well. This is pretty straightforward, and if you have a large dog breed, make sure you get them healthy dog treats of appropriate size. That way, dogs have time to enjoy them. If you have a small dog breed, it is better to take something small that won't present a choking hazard.
Texture
The texture is significant if you are getting the best dog treats for puppies or senior dogs. Their jaws are not as strong as the jaws of adult dogs, and they will need soft, healthy dog treats that are better suited for their weaker jaws.
If you want a simple solution for storing dog food, check out this article - Dog food containers.
Nutritional value
No matter the type of dog treat you got for your buddy, they should never be more than 10% of their daily calorie intake. You should make sure what the nutritional values of your dog treats are. Make sure you pick healthy dog treats with age-appropriate nutritional value, low carbs, low fats, and the appropriate amount of protein. Every dog has unique needs, and the best dog treat for your neighbor's dog doesn't mean they will be a healthy treat for your dog.
Now that you are up to speed on the most critical things in healthy dog treats, check out the list we prepared for you. This is the list of best dog treats.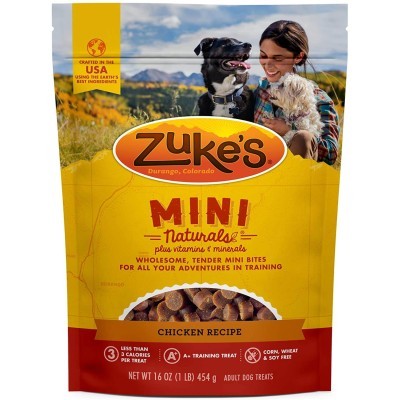 Our top pick for best dog treats is Zuke's Mini Naturals Training Dog Treats. This is a healthy dog treat and one of the best healthy treats for dogs. This one is specially made for training. When training your dog, you should give them plenty of treats every time they do what is expected from them, so it is an excellent thing Zuke's Naturals only have 3 calories in each treat. They contain turmeric, and chicken is their main ingredient.
Pros
Low on calorie
Full taste
Cons
Strong smell owners don't like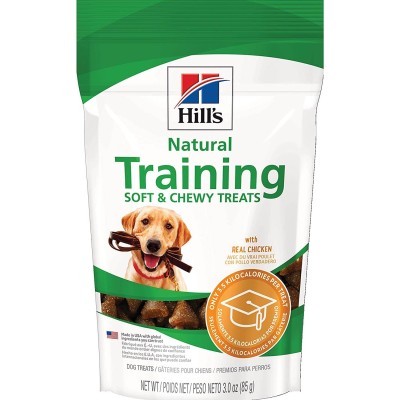 Another great, healthy dog treats are Hill's Chicken Training Treats. This is an excellent choice for anyone in the process of training their dog and getting them to learn all the things well-behaved adult dogs already know. Hill's is a trusted manufacturer, and they make healthy treats for dogs. These ones contain amino acids, vitamins, protein, and the main ingredient is chicken.
Pros
Healthy
Interesting shape for dogs and owners
Cons
Some owners reported treats being too hard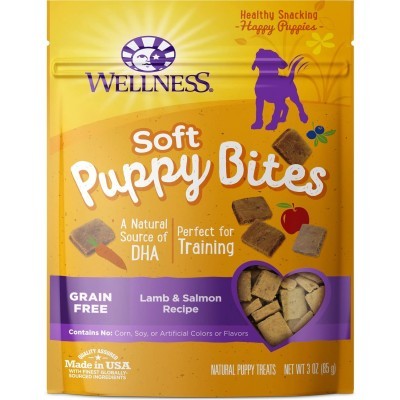 Another great pick of healthy treats for dogs is the Wellness Soft Puppy Bites Lamb & Salmon. These ones have lamb and salmon as main ingredients, so you can be sure your dog will love them. They are rich in protein and Omega fatty acids, so they are great for the dog's skin, coat, and joints (precisely what you are looking for in training treats). They are considered hypoallergenic and very safe.
Pros
Hypoallergenic
Great value
Healthy ingredients
Cons
Some dogs don't love the taste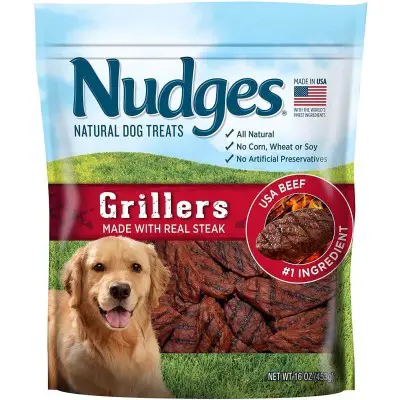 When it comes to great reviews, Nudges have accumulated plenty of them. This is one of the best dog treats for adult dogs, and many 5-star reviews can confirm that. This is THE best treat in every sense because the main ingredient is - steak. These healthy dog treats are made from USA beef, and dogs seem to adore the taste. It doesn't include artificial ingredients and soy, grain, or gluten.
Pros
Steak is the main ingredient
Two size options
Tasty
Cons
Not for smaller dogs
The second ingredient is chicken, so some dogs might be allergic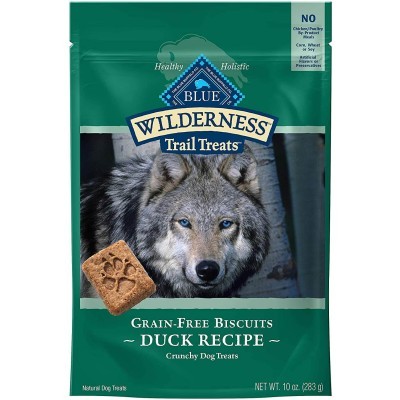 The Blue Buffalo Wilderness Trail Treats have a different approach to making healthy dog treats, and owners seem to appreciate it. Their primary protein sources are bison, duck, salmon, venison, turkey, and red meat. They believe if you are not including grain and other common allergens in your dog's diet, you should avoid protein sources that can cause allergies, like chicken. This is one of the best treats for dogs out there.
Pros
Alternative protein sources
Grain-free
Cons
Some owners reported dogs not liking them
Have intense smell owners don't like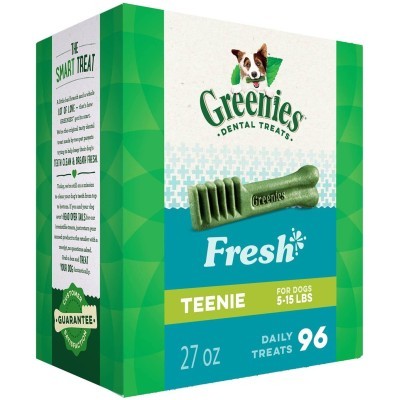 If you are looking to get healthy dog treats that promote dental health, this is the product for you and your dog. GREENIES Fresh Natural Dental Dog Treats have a unique shape that even looks like a toothbrush. These healthy treats for dogs help with tartar and plaque buildup, promote gum health, clean teeth, and help with bad breath. Greenies are our pick for the best dental dog treats.
Cons
Doesn't replace teeth brushing
Not for dogs that gulp their food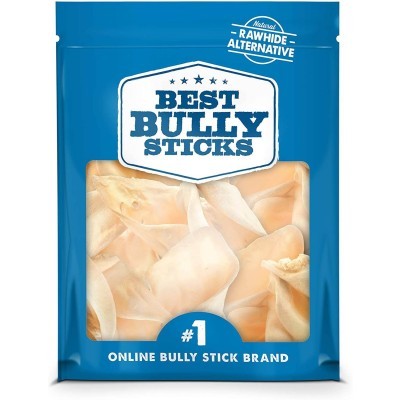 If you are looking for a low-fat, healthy dog treat, Best Bully Sticks Cow Ear Dog Chews might be the right choice. Your dog will enjoy its time with this fantastic dog treat. These treats have FDA and USDA certification, so you can be sure they are of the highest quality. This is not an ordinary treat - it promotes dental health and helps with bad breath. This is a healthier option than rawhide, and since it is made from only one ingredient, you can be sure your dog won't have any trouble digesting it.
Pros
Healthy
Promotes dental health
Low-fat content
Tasty for dogs
World Dog Finder team