Best Puppy Treats [2023 review]
20.03.2021.
Every product and service on World Dog Finder is independently selected by our editors, contributors, and experts. If you purchase something through our links, we may earn a referral fee. Learn more
---
Puppy treats should play a big part in your puppy's life. They are essential for positive reinforcement training, and treats will let your dog know how you want them to behave. However, picking the best puppy treats is not easy. There are plenty of things to consider and not focus only on the price. You don't want your puppy eating puppy treats with questionable ingredients.
What to look for in puppy treats?
Puppies should get plenty of treats, especially at the beginning of their life, when they learn what behavior is expected from them. They have to complete leash training, obedience training, potty, and crate training. All of these training courses will require plenty of treats to reinforce their good behavior. We must get them healthy puppy treats that will keep their weight where it's supposed to be and not cause weight gain. Here are the most important things to look for when picking the best puppy treats for your new puppy;
Calories
One of the most significant issues with dogs in the US is obesity. More than 55% of American dogs are obese, and more are overweight. Picking the best puppy treat option will require you to check the number of calories each treat contains. Obesity can influence a puppy's bones, joints, and overall health, so make sure you pick the best ones possible.
Healthy options
If possible, always go for a natural, healthy puppy treat option. Check the ingredient list and make sure there aren't any preservatives, artificial taste inhibitors, or artificial colorings. Also, never use table scraps as dog treats. Make sure to keep human food for yourself, and learn which human foods are safe for dogs to eat.
Functional treats
There are many puppy treats available, and some are created specifically for each part of puppy's life. Full, tasty, high-calory treats will be a fantastic occasional snack. Still, you should avoid giving them to your puppy all the time. Puppy training treats have a lower calorie count and are a healthier option. Many treats include supplements like glucosamine or omega fatty acids. Check your puppy's health and talk to your vet if there are any supplements your dog should be taking.
All puppies should go through basic obedience training. Check out this article for more information - What will obedience teach your puppy.
Now you know what to look for in puppy treats. Here is our list of recommendations for the best puppy treats.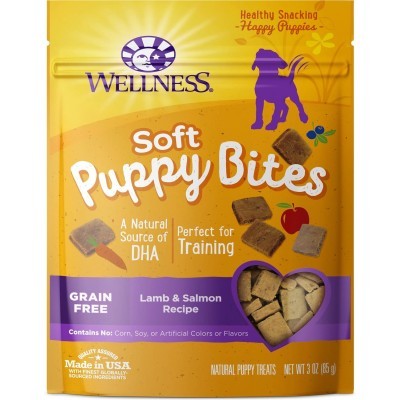 Our favorite overall puppy dog treats are the Wellness Soft Puppy Bites. Not only are they tasty, but puppies seem to go crazy over them. The ingredient list includes only meat-based protein, fruits, and vegetables. These puppy treats are specially created for puppies, and they do not include any grain. There is one thing you should keep in mind - these treats are high in calories, so it is a good idea to break them down if you want to use them for training.
Pros
Delicious
Natural ingredients
Cons
A bit large
High in calorie
Large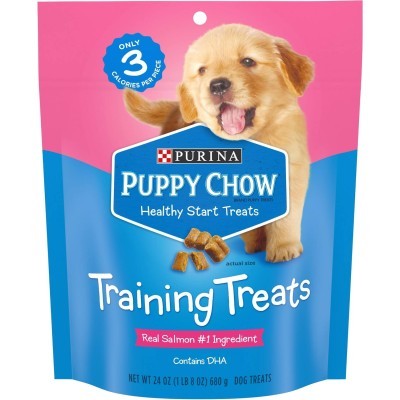 As we mentioned earlier, puppies will require plenty of training. They will need a lot of treats during that time. Picking puppy training treats is a good idea, and there are non better than the Puppy Chow Salmon Flavor Training Dog Treats. Purina is a trusted manufacturer and one that had the least issues regarding their quality. They spend a lot of money each year on research and nutrition. They are salmon-flavored and tiny, so it is easy to hold them and give only small bits to your puppy.
Pros
Great ingredients
Omega fatty acids
Low calories
Cons
Some owners reported puppies not loving the taste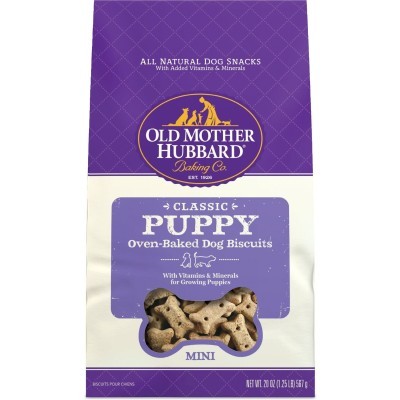 One of the best choices out there is the Old Mother Hubbard Classic Puppy Biscuits when it comes to traditional baked puppy treats. This economy-sized package is very budget-friendly. Believe it or not, treat expenses can add up pretty fast. Old Mother Hubbard has different options available for dogs of all sizes and ages. However, the puppy option has additional healthy ingredients. It includes vitamins and minerals that all puppies need for healthy growth, development, and energy.
Pros
Budget-friendly
Tasty
Great reviews
Cons
Include grain so not for puppies that cannot tolerate it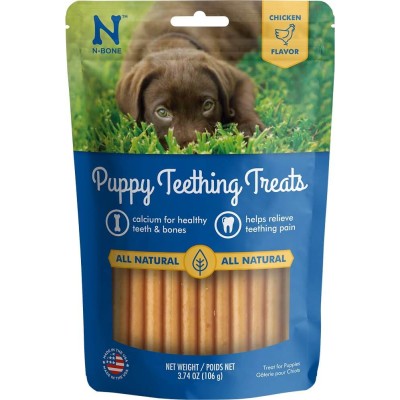 Puppies go through different stages in life, and all of them will go through the teething phase. You don't want them biting you or the furniture constantly, so getting them teething treats is a good idea. The best puppy treats for teething are the N-Bone Puppy Teething Treats. These puppy treats come highly recommended by vets, and puppies seem to love the treats' taste and consistency. Puppies want to chew during the teething phase, and your average puppy will take 10-15 minutes to chew this treat. Still, these puppy treats are soft enough not to damage their teeth.
Pros
Make the puppies chew
Tasty
Healthy
Low calories
Cons
Some puppies dislike the taste
Small breeds might not like them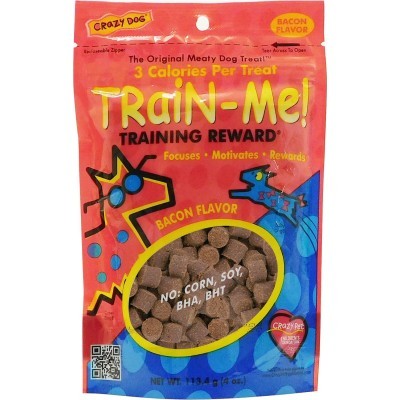 It is not a bad idea to have a second option for puppy training treats. Crazy Dog Train-Me! Bacon Flavor Dog Treats are a great option. You can combine them with other puppy training treats, or if the puppy loves this taste, stick to them. Most puppies love the bacon taste these treats offer, and they seem to be pretty happy about them. Despite being bacon-flavored, these treats are low in calories and are ideal for your puppy's training sessions.
Pros
Low in calorie
Healthy
Bacon flavor
Cons
On the bigger side, so not ideal for smaller puppies
World Dog Finder team