Best Wet Dog Food [2023 Review]
18.02.2021.
Every product and service on World Dog Finder is independently selected by our editors, contributors, and experts. If you purchase something through our links, we may earn a referral fee. Learn more
---
Choosing the right dog food for your dog is one of the first things we need to do as new dog owners. If you don't have much experience in that field or wonder what would be the best choice, you can always talk to your vet and ask for advice. There are different options to choose from, and the first choice we need to make is - dry food or wet dog food?
Dry dog food vs. wet dog food
Both types of dog food have their benefits and downsides, and choosing is not an easy process. You should understand the nuances and advantages both foods offer, so you can safely make an informed decision. Some dogs might have food allergies, and they should be on a special diet with limited ingredients. For more information about that, check out our review of the best hypoallergenic dog food.
Dry dog food
Probably the most significant advantage of dry dog food is its nutritional value. It has a minimum of 30% protein and 15% healthy fats. One of the best things about it is - it can stay fresh longer. You can put dry kibble in your dog's bowl and leave it there for 24 hours and still be sure your dog can safely eat it.
Wet dog food
The biggest advantage of wet dog food is that it is easily digestible, palpable, and an excellent choice for dogs recovering from illnesses, surgeries, nursing, or senior dogs. Sick dogs seem to prefer wet food, and it has a richer taste than dry food. The problem is that wet dog food has less nutritional value and the price tag is usually higher. Another problem is that once the can or package is open, the food needs to be appropriately stored not to get spoiled.
If you are interested in learning more about dry dog food, you can check our recommendations here - Best Dry Dog Food.
What to look for in wet dog food?
If you decided to give your dog a delicious can of wet dog food, there are some things you should be looking out for. Not all wet foods are the same, and you should keep a close eye on the ingredients your dog is eating. There are some budget-friendly options, but you should still look for these four main things in wet dog food;
Protein source
The most crucial thing in wet dog food is the protein source. Make sure the label clearly states what that source is, and try avoiding foods that label protein source as "meat." There is no way of telling what animal was used.
Ingredient analysis
The ingredient analysis is rarely 100% accurate, but it gives us a pretty good idea of how much protein, carbs, and fats your dog gets from their food.
Grain and veggies
There is a widespread opinion that grain is not good for dogs. Still, unless your dog is allergic, grain can be a great carbohydrate source. Vegetables are an excellent source of vitamins and minerals, so make sure you go for a brand that includes those things.
If you are interested in grain-free dog food, check out this article - Best Grain-Free Dry Dog Food.
Artificial ingredients
Artificial ingredients are usually added to increase the taste or change the coloring of the wet dog food. There are also artificial ingredients meant to prolong the food's shelf life, and most of these things are not suitable for your dog's health.
Now that you know the most essential ingredients, we have prepared a list of our top choices for wet dog food.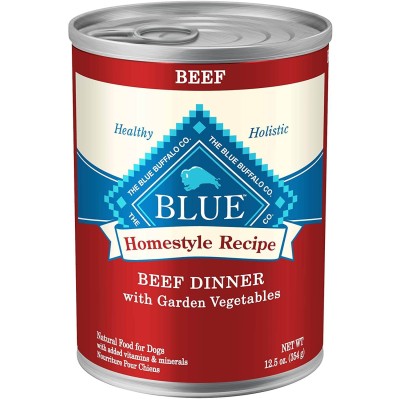 Our pick for the best overall wet dog food is the Blue Buffalo Homestyle Recipe, and for a good reason. Unlike most wet dog foods, Blue Buffalo uses beef in their recipe. It also includes peas, carrots, and sweet potatoes, which are all great carbohydrate sources. Beef has a unique taste that dogs seem to love, and you cannot argue with more than 5.500 5-star reviews. Make sure your dog doesn't have any problems or allergies, and we can guarantee they will love this wet dog food.
Pros
Minerals and vitamins
Enriched with glucosamine
Omega 3 and 6 fatty acids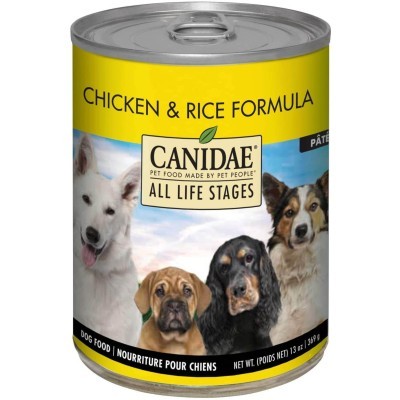 It is no secret we are huge Canidae fans, and this wet dog food confirms their quality. The Life Stages Canned Dog Food is a recipe that works for puppies, adults, and senior dogs. This is a testament to the Canidae innovations in the dog food market and their superior production process. Canidae relies on chicken as their protein source. If your dog isn't allergic to chicken, they will most likely enjoy this delicious product. It includes dried egg product, chicken, chicken broth, chicken liver, and brown rice as the carbohydrate source.
Pros
Chicken
High-quality ingredients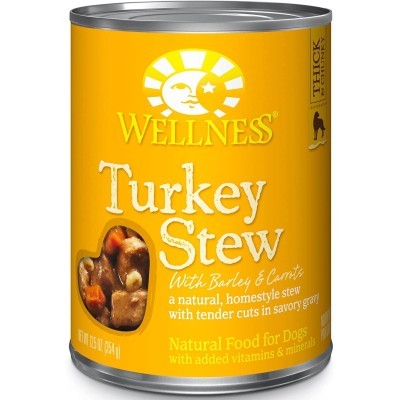 If you have a dog with some food allergies, then Wellness Thick & Chunky Grain-Free Canned Dog Food might be a great choice. It gets most of its protein from turkey, which is pretty safe for delicate stomachs. It has a fantastic fat-to-protein ratio and is completely grain-free. This wet dog food might be a bit pricier, but it is a high-quality choice that your dog will love.
Pros
Grain-free
Limited ingredients
Great for a delicate stomach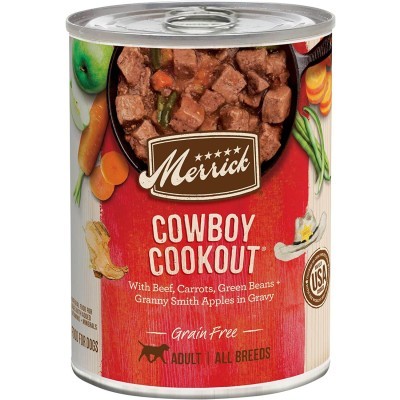 Beef is an excellent protein source, and Merrick Grain-Free Wet Dog Food uses it as the primary protein source. It is a perfect choice for a wet dog food that owners seem to be very pleased with. Merrick includes vegetables and fruits to enhance the taste of their food, and it makes it extra delicious with those added natural flavors. Plus, they are an excellent source of vital minerals and vitamins. This is a highly-recommended choice for puppies and adult dogs.
Pros
Grain-free
Rich in minerals and vitamins
Cons
Pricey
Most of the reported issues are connected to sellers rather than food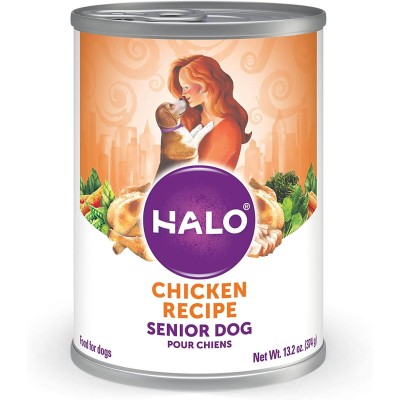 One of the most significant issues about wet dog food is its price. Feeding your dog on wet food can be pretty hard on any budget. Luckily, there are more affordable options out there. The best budget-friendly wet dog food is the Halo Natural Wet Dog Food. It has an amazing fat-to-protein ratio, and it gets most of its protein from lamb and beef liver. This wet dog food includes grain - barley and rolled oats to be more precise. It is an excellent choice for all of us that would love an affordable wet dog food option.
Pros
Affordable
Different protein sources
Cons
Most issues are related to the delivery
World Dog Finder team