Senior Dog Food [2023 Review]
22.02.2021.
Every product and service on World Dog Finder is independently selected by our editors, contributors, and experts. If you purchase something through our links, we may earn a referral fee. Learn more
---
As dogs age, their dietary needs will change. They will not require as much energy, and their mobility will probably decrease. To provide them a carefree senior life, you should pick the best senior dog food made specifically for older dogs. Senior dogs have a slower metabolism, and their food should adapt to it.
Before you decide to make a switch in your dog's diet, there are a few things you should know. These things will influence your decision on picking the exact food and recipe that provide your dog with the necessary nutrients they need in their golden years. Make sure you know the physical health of your dog because these health problems will influence the ideal choice for them;
Arthritis - Older dogs could have painful joints, so it would be best to pick a senior dog food rich in glucosamine.
Diabetes - Some dogs can develop diabetes. If that happens, their food needs to be low on carbs. You can read more about it here - Diabetes in dogs.
Gum issues - Different periodontal diseases can affect your dog as they grow old. It would be best to get them food rich in calcium that can slow the decaying of the teeth and bones.
Cancer - Like humans, dogs can also develop cancer. If that happens, you should provide them with food that will support their body. That senior dog food should be rich in protein and fats but grain-free. Check out this article for more details about this topic - Dog cancer. 
Kidney disease - Older dogs often have kidney issues. If that seems the case, you should put them on a special renal diet with lower amounts but higher quality proteins.
What to look for in senior dog food?
Choosing the best dog food for your older dog might be pretty hard if you do not have extensive knowledge in the field of veterinary medicine. Senior dogs usually have underlying conditions, and before you choose a specific brand, you should talk to your vet. They can give you the best possible advice, and they can take a look at your dog's medical history and decide what could be the best option. Here are some things you should keep in mind when choosing the best senior dog food;
Protein
Protein is the most crucial thing in the diet of a senior dog. They need protein to aid them in repacing the deteriorated tissue and muscle. You must get them high-quality protein sources that will help slow down your dog's aging.
Grain
Although grain-free dog food is getting more and more popular, the grain is not usually bad for dogs. Some grains like quinoa or brown rice can be a valuable source of amino acids. Amino acids are basically proteins that are already broken down to their simplest forms.
Artificial additives
Unless your senior dog is explicitly refusing to eat, there is no reason you should include artificial additives in their food. Make sure you avoid brands that include enhancers or food coloring. Anything unnatural is bad for humans and dogs.
Now that you know what to keep in mind and how to choose the best senior dog food, here is our list of the five best options on the market.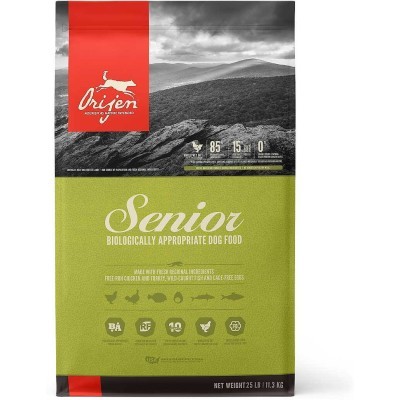 It is no secret we are huge Orijen fans. Their recipe for senior dog food with 85% animal-based protein is an ideal choice for your greying dog. This recipe includes chicken and fish, so you can be sure your dog is getting plenty of healthy Omega-3 and Omega-6 fatty acids. This recipe offers a great protein-to-fat ratio. Even though it is a bit pricier than other senior dry dog foods, it is the absolute best a dog can get. ORIJEN Senior Grain-Free Dry Dog Food doesn't include grain, so if your dog has grain allergies, that makes it even a better fit. The guaranteed analysis says this food has 38% protein and 15% fats.
Pros
High-quality ingredients
Great for allergies
For all dog sizes
85% animal-based protein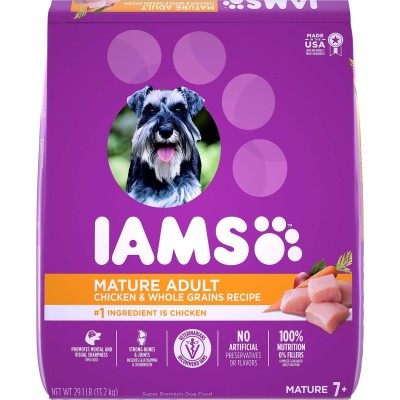 If you are looking for a budget-friendly senior dog food, there is only one clear choice - Iams ProActive Health Mature Dog Food. It has a great protein-to-fat ratio, but the best thing about it is the price. It offers great value, and IAMS is usually available in shops around the US. This senior dog food includes grain and is rich in amino acids. This is an ideal food for getting your dog's energy levels up. IAMS will make sure your dog's joints are supported, and they get the most they can out of their food.
Pros
Affordable
Boosts the immune system
Includes grain
Cons
It includes grain, so make sure your dog is not allergic
High in carbs, so not for dogs prone to obesity or overweight dogs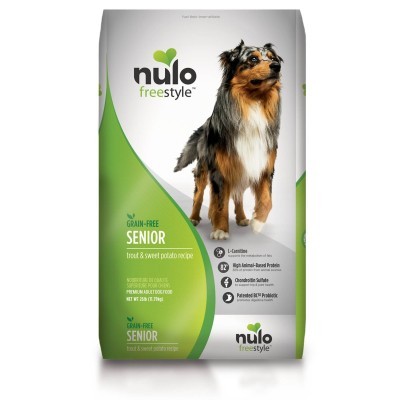 One of the most common issues with senior dogs is arthritis. Their joints and bones will get weaker, and you will need to adjust the dog's diet and give them supplements like glucosamine. The good news is, you can do that by giving them Nulo Senior Dry Dog Food with added glucosamine and chondroitin. These two supplements are not essential. The FDA does not require manufacturers to include them in their dog food, so finding a bag that already contains these fantastic supplements is a great find. Even 8 out of the 10 vets we spoke to agreed that this is an excellent recipe for dogs. It offers a minimum of 33% protein and 13% fat.
Pros
Great for arthritis
Vet recommended
Great fat-to-protein ratio
You can read more about one of the most common forms of arthritis here - Osteoarthritis in dogs.
Finding the best balance between quality and price has always been difficult. Still, if you decide on the Blue Buffalo Natural Senior Dry Dog Food, you will get precisely that. Blue Buffalo includes high-quality protein sources and grain, like brown rice, which give your dog vital amino acids. Chicken is one of the most reliable dog food sources, so if your dog doesn't have chicken allergies (some small dog breeds might be prone to it), you will get them an excellent food that will support them in the later stages in their life. This is an ideal pick for dogs that are older than 6. It has a guaranteed 18% crude protein and 10% fat.
Pros
Amino acids
Value for money
Cons
Relatively low on protein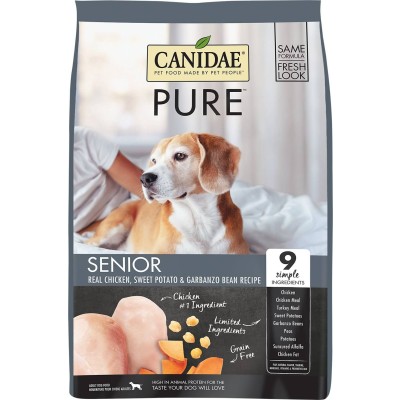 Canidae is another pet food giant that makes excellent senior dog food. Older dogs often have stomach issues. If that is the case with your furry friend, getting them the CANIDAE Grain-Free PURE Senior Limited Ingredient dog food is a good idea. This food for older pups is limited to some ingredients, and it avoids things that cause allergies. This recipe includes 31% protein and 11% fat. Make sure your dog is not allergic to chicken or other ingredients in this food. This is an ideal choice for all dogs suffering from common allergies. This is an excellent recommendation.
Pros
High-quality food
Limited ingredients
For older dogs with sensitive stomachs
Cons
Other issues were connected with the delivery
If you want to provide your senior dog with extra comfort, try getting them a cozy dog bed. Check out this article for ideas - Best dog beds.
World Dog Finder team