The Best Vet-Recommended Dog Food in 2023
29.05.2021.
Every product and service on World Dog Finder is independently selected by our editors, contributors, and experts. If you purchase something through our links, we may earn a referral fee. Learn more
---
The most important thing you have to do for your new dog is to make sure they have a complete, balanced, and healthy diet. One of the best allies you can have when raising your pup is your vet. They can give you advice on different aspects of living with a dog, and most importantly, advice regarding your dog's health and diet.
That is why we work closely with many veterinarians and ask for advice about different topics. One of the most important topics we discussed with our vets is dog food. We talked about different brands, and we can finally prepare a list of vet-recommended dog food brands. However, before we go to the products, there are things you should know about picking dog food.
What to look for in vet-recommended dog food?
Like with any other product you choose for your dog, you'd want to know what is it exactly your dog is ingesting. Luckily, with this list, you can be sure your vet will approve. However, some dogs might have different preferences and allergies that might prevent them from eating one of these vet-recommended dog foods. Here are the most important things to look for;
Protein source
The most important thing in dog food is protein. You want to look for the ingredient list and make sure the main ingredient is an animal protein coming from a high-quality source. Animals like chicken, salmon, turkey, lamb, bison, or ocean fish are a great source.
Additional nutrients
Dogs need a balanced diet, which means other ingredients and nutrients besides meat need to be included. Look for added omega fatty acids, carbs, probiotics, fats, fruits, and veggies. All of these things will help your dog develop and sustain their good health.
Dog food source
Sources of each ingredient are important, but the country of origin of the food is also vital. You want to get dog food brands that are produced in countries with strict manufacturing regulations. Look for foods produced in the US, Canada, Western Europe, Australia, UK, and New Zealand. These countries have regulatory agencies that make sure companies only use healthy ingredients for dog food production.
Artificial things
It would be best to avoid dog foods that include artificial flavors and colors. Taste inhibitors and other artificial things might not be the best option for your dog, and you should pick brands that use only natural ingredients. Avoid preservatives as well.
Now you know what the most important things to look for are. Here is a list of vet-recommended dog foods;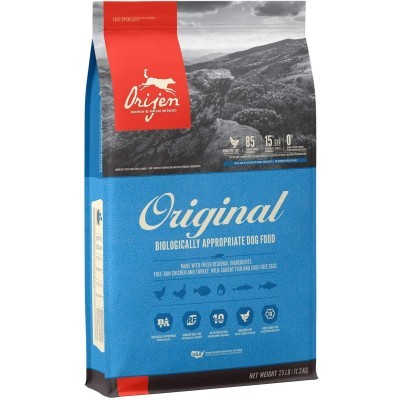 Out of all dog foods we discussed with veterinarians, most of them agree that ORIJEN Dry Dog Food is one of the best choices you can make for your dog. The main problem with this vet-recommended dog food is its price tag. This is one of the most expensive options in the market. However, the high price tag comes with some perks. Orijen uses only the best ingredients in their dog food. Their Original Adult recipe uses free-run chicken and turkey as the primary protein source. This recipe also includes cage-free eggs and wild-caught fish. You can be absolutely sure you made an excellent choice for your adult pup.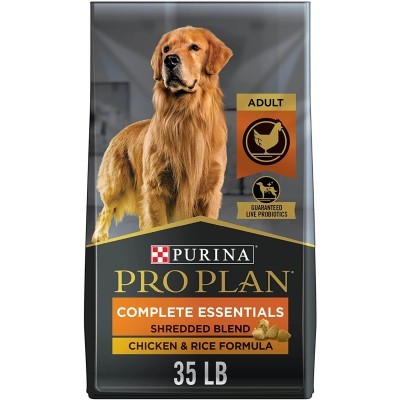 The Purina Pro Plan with Probiotics is not only vet-recommended dog food; it is also recommended by many dog owners that chose to feed their dogs with this dog food. There is a good reason Purina is so popular among dog owners and vets - it is really good. You can find it in most large retail stores, so you can be sure you will always be able to reach a bag when you need one. This dog food uses chicken and brown rice in their recipe, which most dogs love. It also includes probiotics to help with the dog's digestion and gastrointestinal health.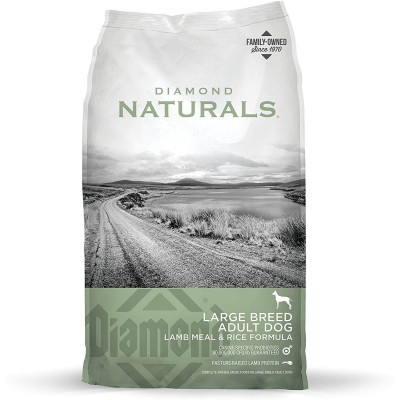 The third vet-recommended dog food on this list is the Diamond Naturals Premium Large Breed Formula. Not only is it high-quality food, but it also comes with a reasonable price tag. It might not seem so important, but dog food bills can rack up pretty quickly. We decided to include Diamond's lamb recipe. Most dogs seem to adore this taste, but the smell might not be as nice for owners. This dog food is packed with antioxidants, fatty acids, glucosamine, chondroitin, and probiotics. This is a great choice that comes with a great price tag.
World Dog Finder team