The Best Freeze Dried Dog Food (2023 Review)
11.05.2021.
Every product and service on World Dog Finder is independently selected by our editors, contributors, and experts. If you purchase something through our links, we may earn a referral fee. Learn more
---
Freeze-dried dog food is an excellent way of providing your dog with a natural, raw diet. However, preparing raw food for your dog can be a long and tedious process many dog owners simply don't have time for. Luckily, there are great freeze-dried dog foods available, and they make incredible raw food alternatives. Here is what you should know about freeze-dried raw dog food if you are considering changing your dog's diet.
What is freeze-dried dog food?
Freeze-dried dog food is actually nothing new. It uses the same technology for preparing food for astronauts. This process will eliminate water from the dog food, and the food will weigh less. However, there are some pros and cons to feeding your dog freeze-dried raw dog food. Let's start with the benefits.
High-quality ingredients
Freeze-dried raw dog food is made with the highest-quality ingredients. Unlike other dog foods, you can clearly see which ingredients are in the bag. There is usually muscle meat, ground bones, organs, fruits, and veggies.
Palatable
Just like humans love steaks, dogs love their freeze-dried dog food. They can't seem to get enough of it, and most dogs simply love the taste. Some owners even use this type of food as high-calorie treats.
Longevity
Freeze-dried dog food has a ridiculously long shelf-life, and it is ideal for keeping at home if you live in regions that could potentially leave you stranded in your house. You might get snowed in, or there could be a pandemic that prevents you from leaving your home. Luckily, freeze-dried dog food can be fresh for years, and with it, you will never run out of dog food.
Unfortunately, there are some potential downsides to freeze-dried dog food, and some owners feel they are enough to be a deal-breaker. Here are the two things we are most worried about.
Bacteria
Cooking is essential to keep us safe from ingesting potentially harmful bacteria. Dogs might not be as prone to them as we are, but they can still become ill if they eat raw meat. The freeze-drying process will remove most water from the ingredients, so bacteria cannot reproduce. Still, as soon as you add water to your dog's meal, they can start reproducing again. Some dogs might become ill, and they will need to switch back to regular kibble.
Price tag
This is something you will surely notice if you decide on a freeze-dried dog food diet - this type of dog food is expensive. Some owners have a budget that can fit this dog food, but freeze-dried raw dog food might not be the best option if you run on a tight budget.
Now that you know the most important things in freeze-dried dog food check out these fantastic recommendations.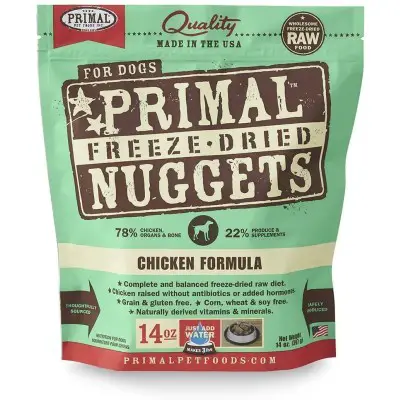 Our favorite freeze-dried dog food is the Primal Freeze-Dried Dog Food Chicken Formula. The best thing about this product is that it contains 73% chicken. Its dry matter analysis says it includes at least 37% of protein, which would place it among dog foods with the highest percentage of protein. This makes it ideal for working dogs, athletic dogs, and hunting dogs on the way to the field. Other ingredients include broccoli, carrots, kale, coconut oil, and salmon oil, which means there are plenty of supplements and healthy ingredients that your dog will absolutely love and benefit from.
Pros
Palatable
High in protein
Includes supplements
Cons
The feeding guide is confusing
Fairly large pieces, so you might have to crumble it for smaller dogs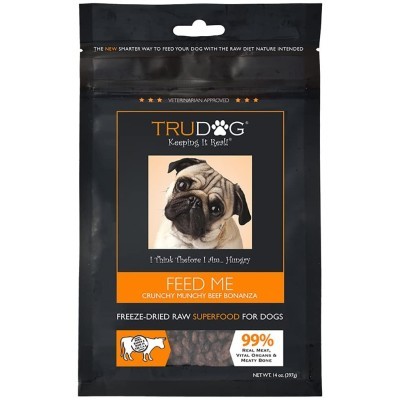 TruDog Real Meat Dog Food comes highly recommended by dog owners whose dogs switched to freeze-dried raw dog food. This dog food includes real meat and fats, which makes it irresistible to most dogs. Owners that made the switch to this type of dog food say their dogs are delighted with it. The main ingredient is free-range, grass-fed American beef. A great thing about this dog food is that it has limited ingredients, making it ideal for dogs with food sensitivities. TruDog has other freeze-dried dog food options whose main ingredients are Turkey, Turducken, and Whitefish.
Pros
High in protein (41%)
Healthy fats
Omega fatty acids
Palatable
Promotes coat health
Cons
No fruits and veggies
Pricey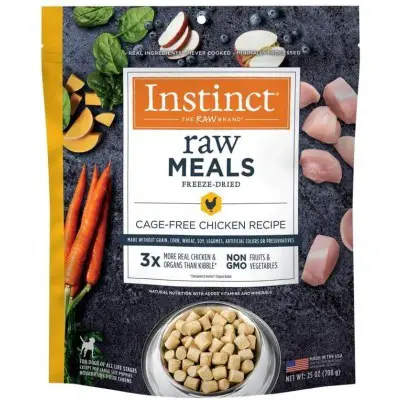 The Instinct Dog Food is a freeze-dried dog food that is another excellent choice you can make for your dog. This dog food recipe includes 85% chicken and organic fruits and veggies. This is another insanely high-protein dog food, so your active pooch will have plenty of energy for all of their adventures. The fruits and veggies included in its recipe make sure your dog gets all the necessary nutrients like vitamins, minerals, and antioxidants. Plus, owners reported their dogs having fewer digestive issues when switching to this freeze-dried raw dog food.
Pros
Palatable
Includes fruits and veggies
Loads of vitamins
Improves dog's overall health
Keeps coats shiny
American-made
World Dog Finder team