Best Chicken-Free Dog Food in 2023
21.05.2021.
Every product and service on World Dog Finder is independently selected by our editors, contributors, and experts. If you purchase something through our links, we may earn a referral fee. Learn more
---
There is an excellent reason many dog foods use chicken as their primary protein source - it is a good animal protein source, and it is relatively affordable. However, there is one major problem with chicken; it is a relatively common allergen. Many dogs are allergic to chicken. If that is the case with your pup, you will have to look for chicken-free dog foods with alternative protein sources.
What to look for in dog food without chicken?
Chicken might be a popular ingredient in many dog foods, but that doesn't mean there aren't any high-quality dog foods that include alternative protein sources. Here are some of the best protein sources that aren't chicken;
Lamb
It was a longstanding belief that lamb was a hypoallergenic protein source, but that is not entirely true. Dogs haven't developed lamb intolerance simply because it is not used in dog foods like chicken. Lamb has a delicious taste to dogs, and adequately prepared, it will provide between 25 and 28% of protein.
Beef
Many dog owners believe that beef is not used for high-quality dog food production, but that is not true. Beef is packed with nutrients like zinc, vitamins, selenium, and it is an excellent protein source. Plus, dogs seem to love the taste.
Salmon
Salmon is probably one of the best alternative protein choices for chicken-free dog foods. Not only is it packed with protein, but it is also packed with omega fatty acids that will do wonders for your dog's skin and coat. Omega fatty acids help with brain functions, so senior dogs should eat dog food with added omega fatty acids. Check out these great salmon oil recommendations.
Turkey
Turkey is an excellent protein source packed with riboflavin and phosphorus. However, keep in mind that not all turkey parts are safe for dogs, so don't give your dog homemade turkey, especially if you seasoned it with garlic and onions. Plus, feeding your dog too much turkey skin can cause pancreatitis.
Bison
This is not a conventional protein source, but it is a good one nonetheless. Bison would be the main food source for wild canids and wolves, and it is very palatable to dogs. Make sure you check the label and make sure the dog food includes great carbohydrate sources, vitamins, and plenty of fiber.
Here are some of the best chicken-free dog foods;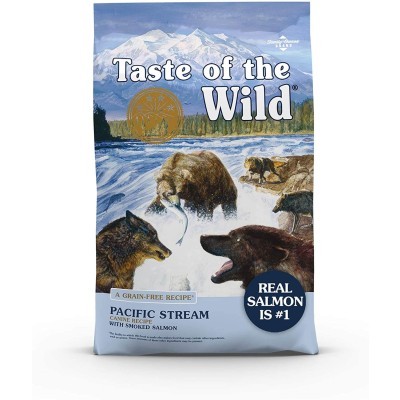 Our top pick for chicken-free dog food is the Taste of the Wild Dry Dog Food With Smoked Salmon. We love salmon-based dog food because it offers so many health benefits to dogs. Not only is it packed with omega fatty acids, but it is also one of the best protein sources out there. Grizzly bears really know what they are doing when they hunt salmon before their hibernation. Dogs seem to love the taste, but it might take them some time to get used to this chicken-free dog food, so make sure you make the switch gradually. This is a great choice, and it comes with a reasonable price tag.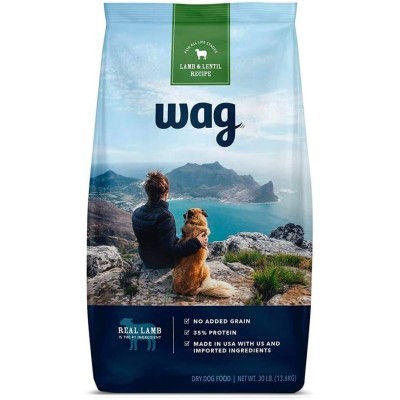 This might sound surprising, but Amazon actually produces excellent dog food. They have a couple of chicken-free options that dog owners seem to be pretty satisfied with. When it comes to budget-friendly options, the Wag Dry Dog seems like a great choice. It has an impressive amount of protein, about 35%. Its recipe includes flaxseed, and that is contributing to the overall protein content. Plus, this dog food includes salmon oil, which means it is packed with omega fatty acids.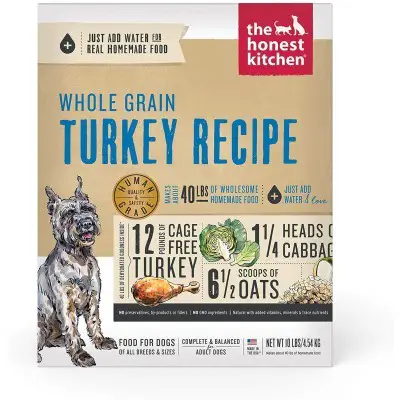 Our third pick for the best chicken-free dog food is The Honest Kitchen Dehydrated Dog Food. It comes in several options; turkey, beef, and fish. You can try out a couple of options and see which one best suits your dog. The Honest Kitchen uses only the best ingredients, and they even exceeded FDA regulations in dog food production. Their cage-free turkey recipe is one of the best overall dog foods out there, and you will not make a wrong choice if you decide to go for this option. There is one thing you need to know - this is a pricey option. However, if your budget can handle this dog food, you will make one of the best choices for your dog.
World Dog Finder team