Should You Use Salmon Oil For Dogs?
25.02.2021.
Every product and service on World Dog Finder is independently selected by our editors, contributors, and experts. If you purchase something through our links, we may earn a referral fee. Learn more
---
Omega-3 fatty acids are essential fats that every living being needs for optimal organism function. Omega-3 fatty acids are a good source of protein. These acids create important hormones and thus regulate blood flow and provide better health in general. Sadly, they are not found naturally in the body — the best food source of omega-3 fatty acids in plants, shellfish, and fish, especially salmon.  
Why Should I Include Salmon Oil in My Dog's Diet? 
Dogs need omega-3 fatty acids mostly to keep their bodies in balance. You see, dog's diets mostly consist of omega-6 fatty acids found in processed food and grains dogs eat every day. Omega-3 fatty acids are important to prevent dogs from having too many omega-6 fatty acids in their system.
Omega-3 fatty acids support the immune system, improve heart health, and cognitive function. Omega-3 fatty acids also provide anti-inflammatory benefits and thus improve dogs' skin and coat health. Regular usage of salmon oil helps reduce skin allergies.
Salmon oil is great because these acids salmon oil contains help your dog fight off illnesses.
Although generally useful and good for dogs' health, always consult your veterinarian before starting your dog on a diet that includes salmon oil.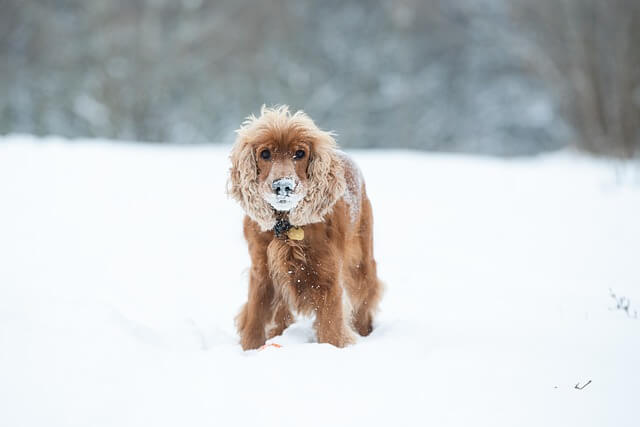 Salmon Oil and Puppies
Puppies can benefit from using salmon oil while growing up. Salmon oil contains three important omega-3 fatty acids: EPA (eicosapentaenoic acid), DHA (docosahexaenoic acid), and DPA (docosapentaenoic acid). Docosahexaenoic acid (DHA) affects and helps proper brain function in puppies (and fetuses). Puppies that received DHA supplementation performed better on learning and memory tests. Omega-3 fatty acids help to support healthy vision, too.
To conclude, salmon oil is extremely beneficial for our best friends. Benefits dogs get from consuming salmon oil are:
healthier coat and skin
prevention of skin allergies
boost of dog's immune system
better cognitive function
better mental development of fetuses
better mental development of puppies
prevents kidney problems
prevents cancer development and growth
fights heart diseases
lowers blood pressure
helps with joint problems
improves overall health condition  
If you are interested in feeding your dog a raw diet, here is an interesting article – Raw chicken for dogs.
Things to be Cautious About When Using Salmon Oil for Dogs 
Salmon oil is the most popular way to secure the dog's system to get enough good omega-3 fatty acids. However, there are a few things to be cautious about while using salmon oil in your dog's diet.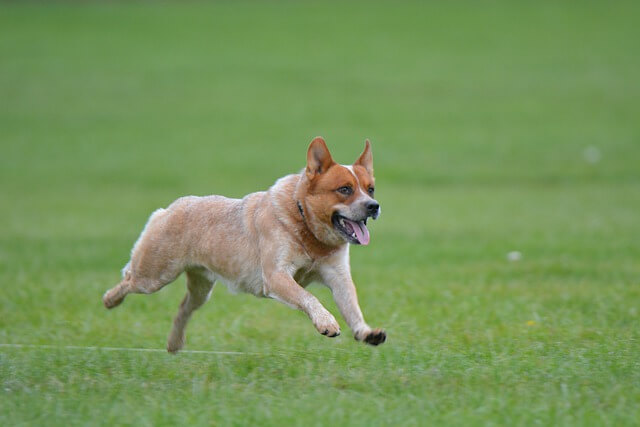 Salmon oil is high in calories, and everyday use of salmon oil can result in your dog gaining weight. To prevent this from happening, always use the specific amount of salmon oil calculated based on dogs' age, size, and activity level. Increase your dog's activity, if needed. 
Another thing to watch out for is slower wound healing. Salmon (and other fish oils) can cause that wounds on the dog's body heal slower because salmon oil slows down white blood cells in charge of clotting and healing.
Another thing to keep in mind is that fish oil products, including salmon oil, can contain toxins because they can be extracted from a fish carrying high levels of hazardous pollutants.
Salmon Oil Side Effects 
One of the most common side-effects that dogs can experience is a fishy-smelling breath. Other common side-effects are stomach pain, nausea, and sometimes diarrhea or loose stool. If you notice any of these symptoms, please contact your veterinarian immediately.
Here is everything you need to know about dog diarrhea – Dog diarrhea, a messy problem.
Which Salmon Oil is the Best Choice For My Dog? 
Today there are several different producers of salmon oil for dogs. When choosing one, try to pick a high-quality oil extracted by cold pressing of fresh salmon. Wild-caught salmon, if possible. 
Wild-caught salmon is even healthier than farmed one. Cold pressing fresh salmon at low temperatures ensures that beneficial acids from the oil do not decompose. This way, the acids will not lose their positive effect.
Always check out the expiration date and the list of ingredients written on the label. 
Salmon oil usually comes in capsules or liquid. Before choosing the right salmon oil for your dog, talk to your veterinarian. When you decide on which salmon oil is the best for your dog, keep in mind that the container needs to be stored in a dark and cool location or refrigerator. High temperature makes fish oils rancid.
The dosage of salmon oil depends on your dog's weight. 
To help you choose the best salmon oil for your dog, here are some recommendations.
Want to know more about kidney infection? Here is an article that can help with it – Kidney infection – causes and symptoms.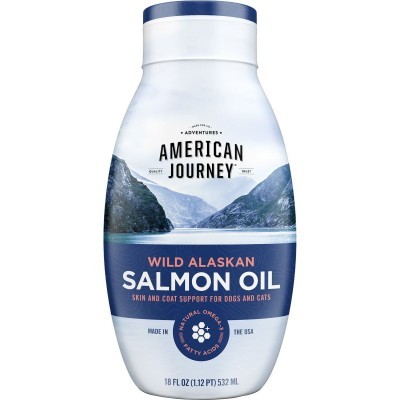 American Journey Wild Alaskan Salmon Oil Liquid Dog Supplement is made with wild-caught salmon and is rich with beneficial omega-3 fatty acids. This product comes in an easy-to-use bottle with a drip-free cap, making adding the oil to your dog's meal really easy and clean. American Journey Wild Alaskan Salmon Oil Liquid Dog Supplement is best if mixed directly with dog's food. The recommended amount is one teaspoon per 10 lbs of dog's body weight daily.
Pros
a tasty flavor
made with wild-caught salmon
rich with omega-3 fatty acids
convenient bottle that is easy to use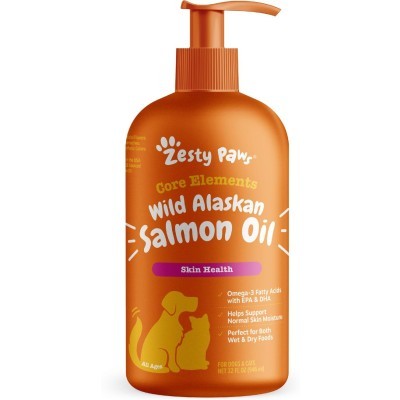 Zesty Paws Pure Salmon Oil Skin & Coat Support Dog & Cat Supplement comes directly from Alaskan salmon. This supplement is delicious and great for your pet's health and immune system, as well as for its coat. Zesty Paws Pure Salmon Oil Skin & Coat Support Dog & Cat Supplement comes in liquid form and is the best-reviewed salmon oil on the market. 
Pros
tasty and effective
rich with beneficial omega-3 fatty acids
easy to use pump-bottle dispenser
secures better immune system, better health, and shinier coat
Cons
a bit pricier than some other supplements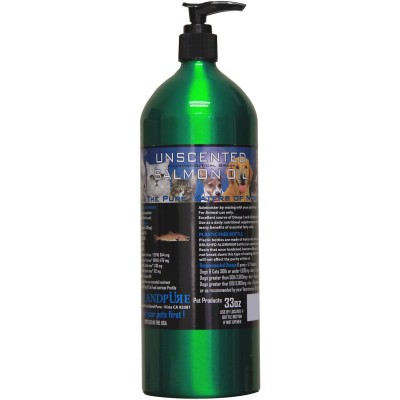 Iceland Pure Pet Products Unscented Pharmaceutical Grade Salmon Oil Liquid Dog and Cat Supplement is a product that comes from salmon from Norway's waters. This supplement is rich in omega-3 fatty acids high in EPA (eicosapentaenoic acid) and DHA (docosahexaenoic acid) that provide various health benefits. This oil is free of toxins and ultra-filtrated, so your dog will not kiss you with bad fishy breath after eating a meal that contains Iceland Pure Pet salmon oil. 
Pros
ultra-filtered to reduce fish smell
rich in EPA and DHA
support dog's health system
provides healthier skin and coat
easy to use, an eco-friendly container with a pump
World Dog Finder team