Top 3 Dog Food Toppers To Choose
16.05.2021.
Every product and service on World Dog Finder is independently selected by our editors, contributors, and experts. If you purchase something through our links, we may earn a referral fee. Learn more
---
How many times have you witnessed your dog walking away from their food? Some dogs want a bit of extra taste in their usual meals, and you can't really blame them. Some dogs are simply picky eaters and eating the same things day after day can be a bit bland. Luckily, different dog food toppers can make your dog's food tastier and more appealing. Plus, they are usually packed with healthy nutrients, so it is a win-win situation. Here is what you should know about dog food toppers.
What are dog food toppers?
The most straightforward definition of dog food toppers is - food items that can be added to your dog's kibble to improve its palatability and overall nutritional value. They come in different forms; dog food toppers can be powders, souces, or solid pieces. It can be a bit difficult to know how to choose the best dog food topper, so here is what you should look for;
The dog's age
As dogs age, their dietary requirements change. Dog food toppers have different ingredients, and they can be age-appropriate. You can choose a topper based on how old your dog is. Puppies might benefit from food toppers that aid in the development, and senior dogs could benefit from toppers that include chondroitin and glucosamine.
Overall health
Some dogs might have digestive issues or pancreatitis, so you need to be extra careful when picking dog food toppers. Your dog's overall health will determine what you should look for in the best topper fit for your dog.
Dog's preferences
Not all dogs have the same taste. Just like humans, dogs prefer different things, and some dogs prefer chicken over turkey or salmon over lamb. You might have to try a few things to see which works best for your dog.
The dog's physical condition
Dog food toppers might add palatability, but they will also add calories to their food. That means that overweight dogs should generally avoid eating overly caloric food; that road leads to obesity, which is a growing problem. However, dogs that are skinny and have trouble eating could really benefit from dog food toppers. Make sure your dog is in the right condition for dog food toppers.
Preparation
Some dog food toppers require a good deal of preparation. If you want something you can just easily mix in your dog's food, you might want to pick ready-to-go toppers. For example, some toppers will require thawing, and others will require mixing. That doesn't sound like much, but that can mess up your whole routine, especially if you forget to start on time.
These are the basics you should know about dog food toppers. Once you consider all of these things, you can easily pick what is best for your dog. Here are some of our recommendations for the best dog food toppers.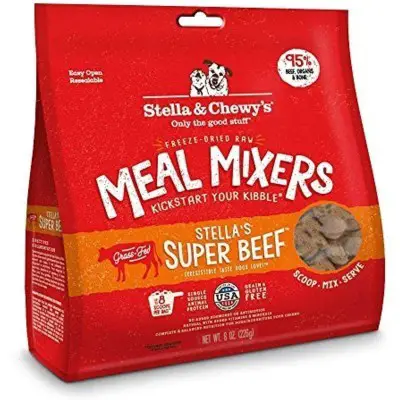 Our top pick for the best dog food toppers is the Stella & Chewy's Freeze-Dried Raw Meal Mixers. This is a raw food topper, and you can be absolutely sure your dog will jump on the meal the first chance they get. Unlike other raw dog foods, this one doesn't have to be prepared. This is ready-to-serve, and the only thing you need to do is add it to your dog's regular kibble. All the ingredients in this dog food topper are free-range or wild-caught; even the fruits and veggies are "responsibly sourced" from different organic farms. Plus, you can choose 8 different tastes based on your dog's preference. This is a top pick and the best possible recommendation in dog food toppers.
Pros
High-quality ingredients
Ethically sourced
Protein comes from free-range or wild animals
Very palatable
Cons
Picky dogs can avoid kibble
Pricey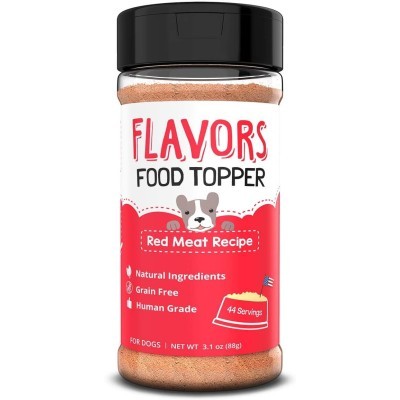 If you want a dog food topper that is extremely easy to use, you should go for the Flavors Food Topper and Gravy for Dogs. This powder only needs to be mixed with your dog's usual kibble, and in an instant, your dog has a great-tasting meal. You can even prepare it as a broth, which will be even more delicious to your dog. It comes in several different flavors, and we can personally tell you red meat is a hit among our dogs. The amount that is usually added is ½ tablespoon on each cup of kibble you feed your dog. This is another excellent pick and a topper very easy to use if you don't want too much hassle around your dog's mealtime.
Pros
Different flavors
High-quality nutrients
Easy storage
Prevents dogs from eating around kibble
Cons
Low in calories
Impractical packaging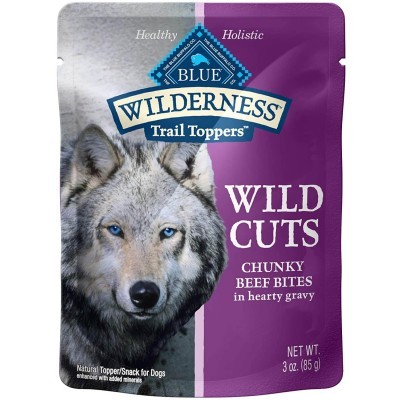 If you have a dog that needs to gain some weight, Blue Buffalo Wilderness Trail Wild Cuts Toppers is the right choice. This is a wet food topper that is simply irresistible to dogs. This one is beef-based, but there are other options like chicken, duck, or salmon. All the ingredients are of the highest quality, and Blue Buffalo is a trusted dog food manufacturer. Once this topper is opened, it needs to be refrigerated. If unopened, it can be stored at room temperature. Keep in mind that this product is meant to be fed as a supplemental topper, so only feed it with regular dog food. This is another excellent product from the Blue Buffalo factory your dog will absolutely adore.
Pros
Palatable
Different options
Grain-free
High-quality ingredients
Cons
Messy to handle
Includes several protein sources which can be an issue for allergic dogs
World Dog Finder team