Best Dog Food For Golden Retrievers: 7 Options & Buying Guide
26.03.2022.
Every product and service on World Dog Finder is independently selected by our editors, contributors, and experts. If you purchase something through our links, we may earn a referral fee. Learn more
---
Picking the best possible dog food for Golden Retrievers can be challenging and overwhelming. Facing so many available dog food options can certainly spin your mind. With the assistance of our veterinarians, we created a list of our top picks of dog foods that provide complete and healthy nutrition for your Golden Retriever. We'll also go over the nutritious ingredients in each brand and the way they'll benefit your dog.
Though all dogs are susceptible to certain health issues, Golden Retrievers are predisposed to a few. This breed is prone to genetic joint problems, cancers, and allergies. Choosing high-quality dog food for your Golden may also reduce their risk of developing health issues.
Here are the 7 best dog foods for Golden Retrievers.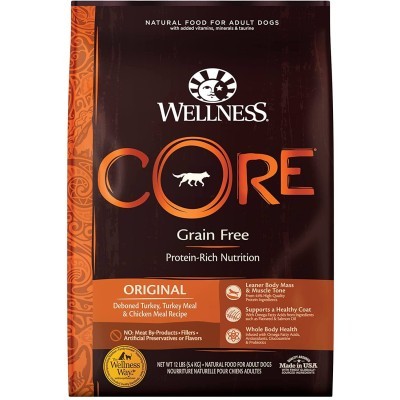 If you have a Golden Retriever with a food allergy or sensitivity, Wellness CORE Grain-Free Dry Dog Food could be a good option. Its high protein recipe has been specifically formulated to ensure that, despite the absence of grains, your dog receives all of the nutrients he requires.
Importantly, this dog food contains a combination of potatoes, peas, and other vegetables to ensure that your dog gets the carbohydrates he needs to live an active and energetic lifestyle.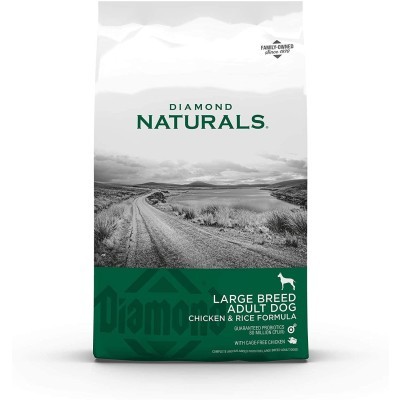 Golden Retrievers have beautiful coats that require special care. Salmon protein accounts for 25% of the protein content in this formula. Salmon is also high in omega-3 fatty acids, which are necessary for skin and coat health. To reduce the risk of adverse skin reactions, this kibble is hypoallergenic and grain-free.
A proprietary probiotic blend promotes digestive and immune health. A strong immune system is essential for avoiding skin infections. Dog owners who feed Diamond Naturals Premium Large Breed Formula to their Goldens notice an intense, healthy shine in their coats. However, it does not provide itch relief for every dog with skin problems.
Iams Large Breed dog food is a great low-cost option for your Goldie. It is a nutritionally complete and balanced food that avoids artificial flavors, preservatives, or fillers. It's made in the United States and is a great choice for your puppy's start in life. This dog food can follow your dog throughout its life.
It also includes a blend of healthy fibers and prebiotics to aid digestion. The disadvantage of this particular recipe is that it contains quite a bit of carbs. It does, however, contain an excellent meat-to-fat ratio. According to some reviews, when people started feeding Iams to their dogs, they noticed that their dogs scratched less. They noticed the blend of vitamins and essential fatty acids was assisting with the coat and skin problems they were previously experiencing. This dog food contains all of the necessary nutrients your pup requires while remaining affordable.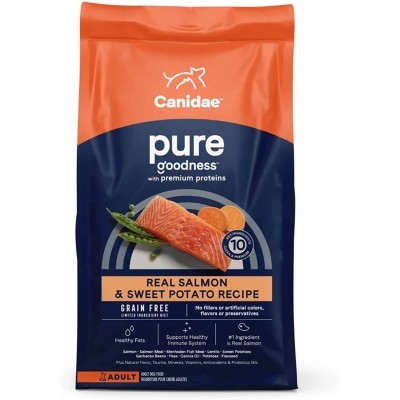 Allergies can occur in Golden Retrievers. Limited-ingredient diets, such as CANIDAE Pure Limited Ingredient, include formulas designed for dogs with allergies or sensitive stomachs. To avoid allergic reactions, limited ingredient diets try to limit allergen exposure. Salmon is the only animal protein source in this 24% crude protein food. Because most allergens are proteins, having a single protein source reduces the possibility of developing new allergies. Salmon is also an excellent source of healthy fats, which are essential for Golden Retriever coat health.
This recipe has only eight ingredients. In addition, common allergens such as grains, soy, wheat, and corn are not included in the recipe. Due to their propensity for heart disease, Goldens often do well on a grain-free diet. However, this grain-free option may be a good fit for the breed. The taurine added to this recipe promotes cardiovascular health.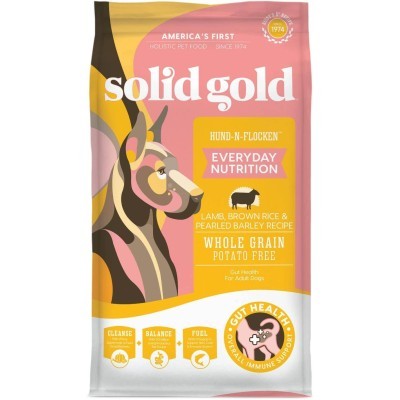 The first ingredient in the Solid Gold Hund N Flocken holistic formula is pasture-raised lamb, which has a crude protein content of 22%. Whole grains, such as brown rice and pearled barley, contain fiber, B vitamins, and easily digestible energy. Most Goldens thrive on diets rich in high-quality grain ingredients. Wheat and corn can both cause allergic reactions. However, the whole grains in this recipe help to improve health.
Live probiotics promote digestive health and aid in the absorption of nutrients from your dog's diet. Furthermore, superfoods such as flaxseed and salmon oil contain healthy fats and powerful antioxidants that can help reduce inflammation. This dog food's reviews claim that the formula improved their Golden's coat health, mental acuity, and energy levels.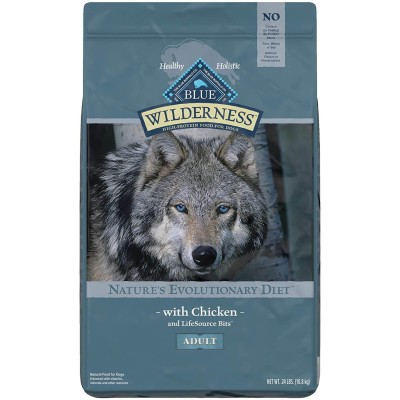 The majority of the meat protein in Blue Buffalo Wilderness Grain-Free Chicken comes from chicken meat. A dry matter label analysis reveals that the recipe contains 38% protein, 17% fat, and 38% estimated carbs... This results in a fat-to-protein ratio of about 44 percent. This is a reputable dog food manufacturer with excellent products.
This recipe also contains a zinc amino acid complex and other chelated minerals, which provide superior nutrition for larger breeds. It should improve your Golden's hair, skin, and cognitive abilities.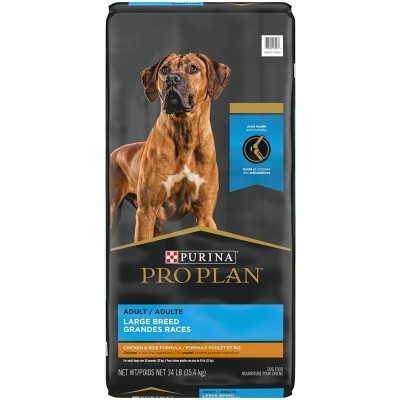 If you decide to pick the Purina Pro Plan Large Breed, your dog will receive a well-balanced diet specifically developed for large breeds. Our vets highly recommend this food. The main ingredient listed in the ingredient list is chicken, which is a fantastic protein source the dog needs to build strong muscles and maintain healthy body function. It's also made with live probiotics, which help your dog's immune and digestive systems.
There are 19 different recipes you can choose from in the Pro Plan product line. This dog food is carefully designed to meet all of your dog's nutritional needs. You can select foods that are gentle on their skin or stomach. It also offers a variety of meat options such as chicken, lamb, and beef. It is really great you have a variety of Purina recipes to choose from because your dog's medical needs will be different at various stages of its life.
Apart from prescription diets, the Purina Pro Plan product line is the highest quality line of all Purina dog foods. The one included on this list is highly digestible, allowing for optimal nutrient absorption and providing your dog with the energy they require.
Buying guide for Golden Retriever food
Finding the best possible dog food for your Golden Retriever is critical. Their food is something they consume at least two times a day, so it should be something they enjoy while also being healthy. This section will go over some of the ingredients that absolutely need to be included in your dog food recipe.
Protein
Protein is required for the healthy growth, repeairing, and maintenance of nearly all of your dog's body tissues. It also contains amino acids that a dog's body requires to build things like cartilage, tendons, skin, hair, muscles, and ligaments. You should look for a recipe that includes a high-quality source of protein. This means this nutrient (protein) is the most important ingredient in your dog's food in terms of weight.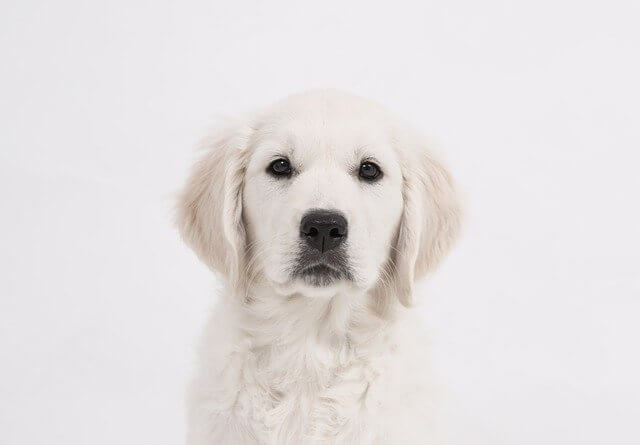 Adult dogs require 18% protein in their food. Salmon, turkey, chicken, beef, and lamb are all excellent sources of protein. Many dog foods include by-products of meat, such as salmon or chicken meal. These byproducts are a great protein source and they contain essential vitamins as well.
Vitamins
For dogs to sustain healthy growth and maintenance, like humans, they require various vitamins in their usual food. The majority of them are naturally present in foods. Ensure that the recipe you decide on contains all of the vitamins listed below.
Vitamin A - Needed for good vision and aids the immune system
Vitamin B (B1, B2, B3, B5, B6, B7, B9, B12) - contributes to the energy regulation,  carb metabolism, proper nervous system and blood cell functions, hormone regulation and production, and immune system response
Vitamin C - Helps reduce cognitive aging and inflammation
Vitamin D - Also known as the "sunshine vitamin," is a mineral balancer
Vitamin E - Required for cell function as well as fat metabolism.
Vitamin K - Helps with blood clotting
Choline - Helps to maintain healthy liver and brain function
Vitamins are crucial in your dog's diet. It is also wise to consult your vet about which dog food to pick and which will provide the optimal vitamin levels for your beloved Golden Retriever.
Carbohydrates
Carbohydrates have a bit of a bad reputation, but they are an essential component of dog food because they will provide the energy your Golden Retriever needs. Carbohydrates are derived from the sugars found in grains, legumes, and other plants and should be included in a dog's well-balanced diet.
The following is a list of the most common carbs usually used in dog foods. They will also be listed as some of the main ingredients.
Oatmeal barley (or whole oats)
Whole wheat flour
Millet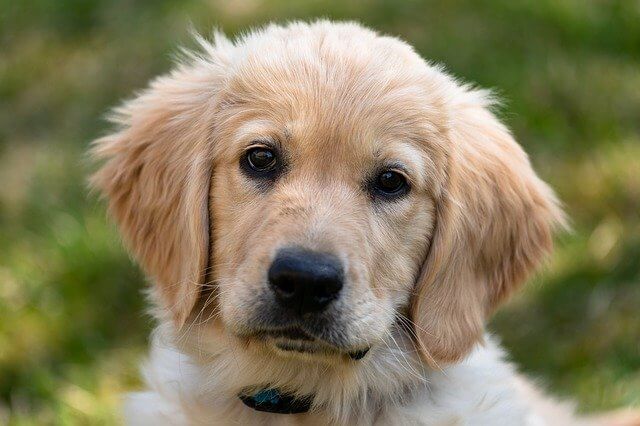 When selecting a dog food for your dog, ensure that it contains all of the ingredients a well-balanced Golden Retriever diet requires. The FDA regulates most dog foods, ensuring their safety and health for your precious Golden Retriever. Before feeding your dog any food, it is always good to talk to your vet and ask for their advice.
How often should you feed your Golden?
The best practice is to feed Golden Retrievers at least two times a day. Start with breakfast in the morning and once in the late afternoon. If you have to go to work early, a good schedule would be to feed them just before you have to go, and then again when you get back home. People frequently give their dogs food when they eat their own breakfast and dinner.
If your dog appears hungry between their typical meals, a healthy snack is a good option to tide them over until their next meal.
Maintaining a feeding schedule for your Golden Retriever will make your life a lot easier and your dog will be healthier. If there is no constant feeding schedule, it may disrupt their routine and, as a result, their health. It can also lead to obesity in some cases. If your schedule varies each day, getting an automated feeder is a viable option because you don't have to be home for mealtimes.
Is a grain-free diet a good option for Golden Retrievers?
Veterinarians typically do not recommend grain-free diets. Recent American Veterinary Medical Association (AVMA) research has correlated certain diets and nutrients with Dilated Cardiomyopathy (DCM) in various dog breeds.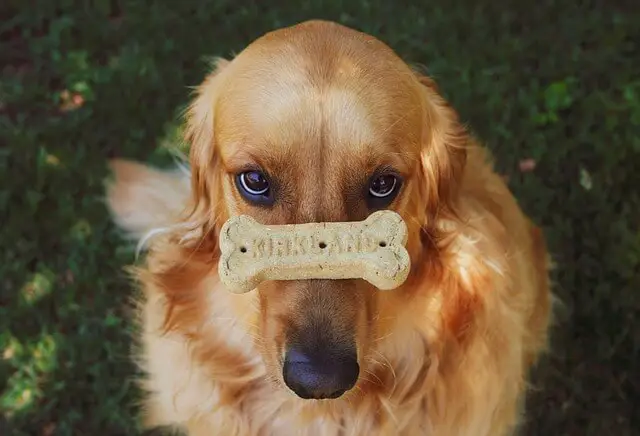 Grains are an excellent source of nutrition for dogs. Grains are high in healthy fats, carbs, and antioxidants, which help maintain healthy coats, skin, joints, and immune systems. There is a common misconception that grains cause canine obesity; however, if grains are consumed in moderation, you should not worry about your dog becoming obese.
Grain-free diets are recommended by some veterinarians for dogs with certain types of food allergies. If your vet recommends a grain-free diet, follow through because it is most likely the best option for your dog.
Golden Retriever dog food buying tips
Dog food labels can be pretty confusing. Take a look at any dog food, whether online or in-store, and you'll notice that there's a lot of confusing information on the packaging.
The Association of American Feed Control Officials (AAFCO) has established guidelines in the United States to govern the claims that pet food companies can make on their labels:
If the package claims to only contain one product, it must contain at least 95% of that product.
If phrases like dinner, platter, and entrée appear on the packaging, the product must contain at least 25% of the named ingredient.
When the term "with" appears on a package, only 3% of the named ingredient must be present in the product.
When a product is labeled as having a "flavor," it only needs to contain trace amounts of that ingredient.
1. Examine the ingredients
When looking at a dog food label, the ingredients are listed in descending order of weight. That is, the ingredient with the highest percentage by weight appears first on the ingredients list, followed by the second-highest ingredient, and so on.
As a result, ingredients like meats that contain a lot of water are usually listed first. Still, you should read further down the list because many other ingredients that your dog needs may weigh less.
2. By-products
Many people will avoid dog foods that list animal by-products in their ingredients, erroneously believing that the manufacturer used inferior meats when, in fact, the opposite is true.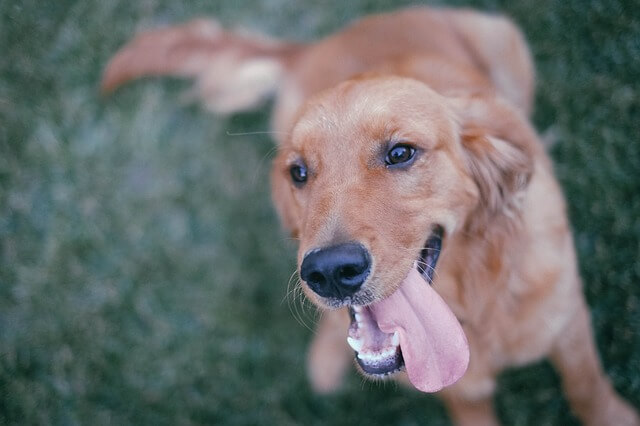 A reference to by-products does not imply that the manufacturer used horns or hooves. Instead, by-products in pet dog foods include a variety of highly nutritious organs such as livers, lungs, and kidneys. These are easily digestible animal parts that, while less commonly used for human consumption, are extremely beneficial to your dog.
3. Talk to your vet
Don't forget that your dog's veterinarian may be the best source of information specifically tailored to your individual dog's needs. Your vet can tell you if your dog's weight is too high or too low, has a good understanding of any health issues your dog has had and can provide valuable nutrition advice.
In conclusion
Giving your Golden Retriever the best food is critical to their overall wellbeing. A food high in high-quality protein, vitamins, minerals, and carbs will provide your dog with the energy he needs to live a healthy life.
Our staff veterinarians highly recommend this list we've provided. We sincerely hope you will find this information useful in selecting the best food for your Golden Retriever.
World Dog Finder team