Best Raw Dog Food in 2023
09.06.2021.
Every product and service on World Dog Finder is independently selected by our editors, contributors, and experts. If you purchase something through our links, we may earn a referral fee. Learn more
---
If you are a dog owner that talks to other dog owners, chances are you spoke to someone who switched to raw dog food. Many owners make glorious claims that raw food is the right way to go and their dog has never been healthier, smarter, or better-looking. However, what is the truth behind feeding a raw diet? Is it actually so beneficial?
Here is what you should know about raw dog food.
What is raw dog food?
Raw dog food is specialized dog food designed to mimic our dog's ancestors' diet in the wild. There are some benefits to raw food, but there are also some downsides dog owners need to account for. There are four basic types of raw dog food, and they are;
Refrigerated/Frozen raw
Homemade raw
Air Dried/Dehydrated raw
Benefits of raw dog food
Like we already mentioned, there are some benefits dogs can get from eating raw food. Raw food is exactly that - raw. Fruits and veggies are best when they are raw. It is a lot more palatable, so even picky eaters like it. Probably the most significant advantage of raw dog food is that it is less processed than industrial kibble. There are even commercially developed raw foods that are usually safer than homemade raw diets.
Drawbacks of raw dog food
Like with anything else in life, there are two sides to the story. Raw diet might offer some advantages, but there are some drawbacks as well. The biggest issue with raw meat is that it contains bacteria and parasites. Things like Salmonella, tapeworms, or Listeria can hide in raw meat, and your dog could get infected. When owners prepare raw food at home, they sometimes leave large pieces of bone. That is a severe choking hazard, and the dog's gastrointestinal tract can get damaged. Raw dog food is usually more expensive, so if you run a tight budget, raw dog food can take a big chunk out of it.
Since raw food can be challenging to prepare at home, here are the best options for purchase. Check out the best raw dog foods;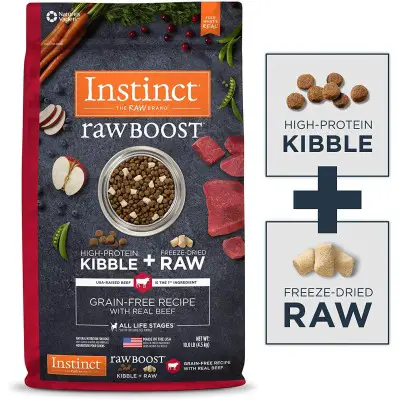 We absolutely love Instinct Raw Boost Grain-Free Dry Dog Food because it mixes dry kibble and freeze-dried raw dog food. This recipe combines raw, freeze-dried beef with high protein kibble, and it completely avoids any type of grain. This is incredibly easy to store. The portions are already prepared, so you don't have to worry about the correct percentage of raw meat. This is an ideal choice for dog owners thinking about switching their dogs to raw diets. The good news is you can order four different types of meat, and raw meat is sourced right here in the US.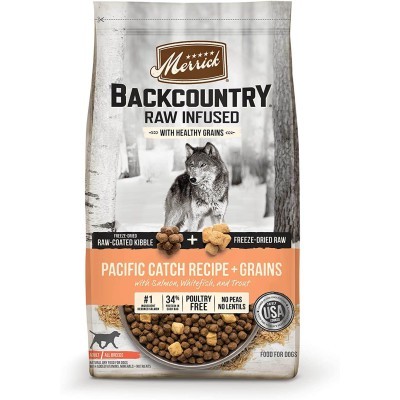 If you value advice from fellow dog owners, the Merrick Backcountry Raw comes highly recommended. This is another combination of raw food mixed with kibble, and this dog food can come with or without any grain. Merrick is another excellent choice for owners considering switching to raw and want to see how their dogs will react to raw dog food. The raw meat is salmon, and it is packed with healthy omega fatty acids. Plus, salmon is one of the best protein sources in the world.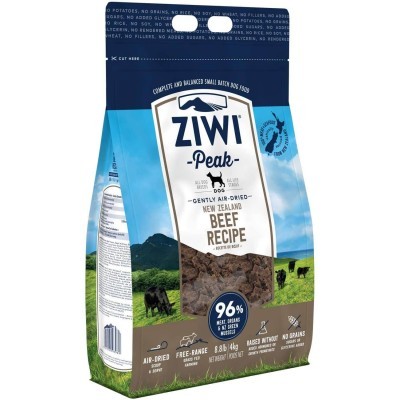 ZIWI Peak Air-Dried Dog Food is another raw dog food with great reviews. This dog food comes in several options, like beef, venison, lamb, mackerel and lamb, tripe and lamb, and chicken. This raw dog food can be used as a primary food source or a kibble topper that will make your dog eat their regular kibble with no complaints. It includes raw meat, organs, bones, and green mussels. This food is packed with healthy nutrients, but like any other raw dog food, the price tag is pretty high.
World Dog Finder team