The Best High-Fiber Food for Your Dog
03.06.2021.
Every product and service on World Dog Finder is independently selected by our editors, contributors, and experts. If you purchase something through our links, we may earn a referral fee. Learn more
---
Dietary fiber is one of the most underrated nutrients in the canine world. Luckily, many scientific studies are telling dog owners about fiber and its importance. There are many benefits humans and dogs get from consuming dietary fiber, and it is an excellent way of balancing the dog's digestion.
Benefits of fiber for dogs
As we already said, there are many benefits humans and dogs can get from a high-fiber diet. There is a good reason fiber is one of the essential things in the human diet. Dogs can get the same benefits humans can. The best things fiber can do for your dog are: regulate glucose absorption, regulate intestinal functions, and support a healthy intestinal flora. If you want to read all about the importance of fiber, check out this article - Best fiber sources for dogs.
What to look for in high-fiber dog food?
If you talked to your vet, and they told you your dog could benefit from a high-fiber diet, you might want to start looking for the best high-fiber dog food. However, looking at the ingredient list and checking the fiber content is not enough. There are other important things you should look for, and they are;
Protein
Protein is still the most crucial thing in your dog's diet. You have to make sure the protein source in the high-fiber dog food you choose comes from a high-quality source. Look for things like chicken, turkey, lamb, beef, salmon, and bison. Check the label and make sure the protein is high-quality.
Probiotics
If your dog needs a high-fiber diet, it probably means they have digestive issues. If that is the case, look for dog foods with probiotics. They will restore the digestive balance and will make sure your dog's digestion gets back on track.
Healthy supplements
Probiotics are not the only thing you should look for. If you can, always go for a high-fiber dog food containing supplements like glucosamine, chondroitin, and omega fatty acids. All of these supplements have a unique benefit they can offer your dog, from joint health to coat and skin health.
Manufacturer
Many dog owners love to experiment with different dog food manufacturers. However, if you have the option, always pick dog foods from countries with strict manufacturing laws. Look for manufacturers from Western Europe, Canada, the USA, UK, Australia, New Zealand.
Now you know what to look for in high-fiber dog foods. Here are our recommendations;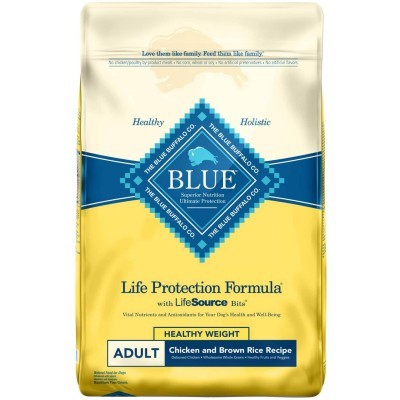 Our top pick for the best high-fiber dog food is the Blue Buffalo Life Protection Formula. This dog food is packed with healthy nutrients; the high-fiber content is just one part of it. This dog food recipe gets its protein from deboned chicken and chicken meal. It includes brown rice, flaxseed, oatmeal, and isolated pea fiber. This recipe places special care on its fiber content and includes omega fatty acids, vitamins, and minerals. This is an excellent choice for all dog owners whose dogs need healthy fiber in their food.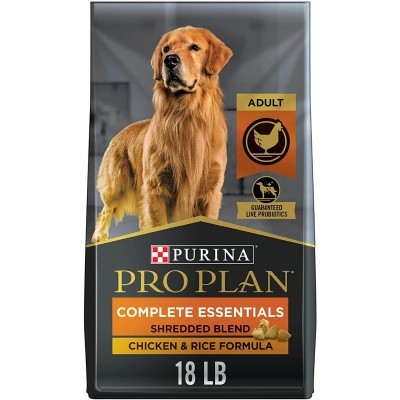 When it comes to great price and quality, Purina is the right way to go. The Purina Pro Plan with Probiotics is an excellent choice for all dogs that need a high-fiber diet. This high-fiber dog food will not only help you regulate your dog's digestion, but it will also boost their immune system. This dog food recipe contains about 4% crude fiber, and it contains enough probiotics to restore an upset digestive tract. There is a good reason Purina is one of the best-selling dog foods globally - it is excellent.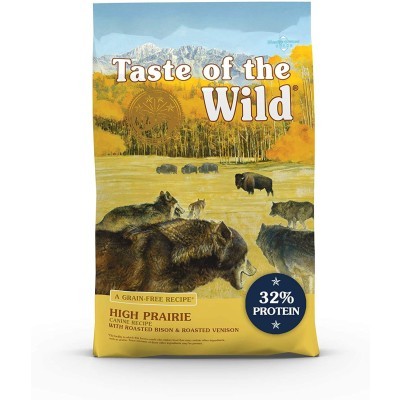 If you want to put your dog on a diet that is as close to what wolves might eat in the wild, then Taste of the Wild With Roasted Bison And Venison is the right choice for your dog. Not only does this dog food have a healthy protein source, but it is also packed with healthy nutrients and supplements. It has a high-fiber content and includes additional minerals, vitamins, and omega fatty acids. This recipe is great because it contains prebiotics, probiotics and is packed with antioxidants. This is a great choice, and you can be sure your dog will get plenty of healthy dietary fiber.
World Dog Finder team