Best Low-Fat Dog Food in 2023
26.05.2021.
Every product and service on World Dog Finder is independently selected by our editors, contributors, and experts. If you purchase something through our links, we may earn a referral fee. Learn more
---
Getting the best possible dog food for your dog can be challenging. It can be even more difficult to find low-fat dog food for pups that need special diets. Dogs can develop health issues that can require special diets. Some of those problems are pancreatitis, obesity, and inflammatory bowel disease (IBD). When your dog is sick, you want to do anything you can to make them feel better, and the first thing you should do is get them on special, low-fat dog food.
What to look for in low-fat dog foods?
Not all dog food brands are the same, and if you are looking to get something good for your dog, you should take your time and research the best low-fat dog foods. It is a good idea to talk to your vet and ask for advice regarding special diets. They can tell you all you need to know about your dog and what they need in their diets. Here are some of the things you should look for in low-fat dog foods;
Origin
The best dog food brands come from countries that have strict manufacturing rules and laws. You don't want to buy dog foods with questionable ingredients. The best thing you can do is get a brand from trusted manufacturers. Look for foods from the US, UK, Canada, Australia, New Zealand, Western Europe, and Scandinavia.
Protein source
The most important thing you have to look for is protein quality. Check the label and see the primary protein source the recipe uses. Look for high-quality animal proteins like chicken, salmon, turkey, lamb, bison, venison, or ocean fish. Protein is the most important nutrient in low-fat dog food, so make sure it is the best possible.
Probiotics
Probiotics will help your dog's digestion. Since lof-fat dog food is usually given to overweight and obese dogs, you should make sure the food you pick has probiotics. Your dog's digestion will improve, and the beneficial bacteria will prevent your dog from having an upset stomach when switching foods.
Palatability
Dogs that have to switch to low-fat dog foods have to do so because they are overweight. That means they are used to eating yummy things, so the palatability of their new low-fat food is essential. You should make sure your dog will love the taste of their food.
Here are our recommendations for the best low-fat dog foods;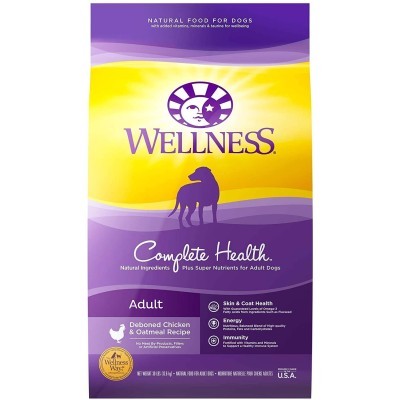 Our top pick in the category of low-fat dog foods is the Wellness Natural Pet Food Complete Health. This dog food manufacturer uses premium ingredients for their recipes, and their line of products is held to a high standard by dog owners. Their low-fat formula is one of the best choices for overweight dogs, and it comes with excellent palatability. From all dog foods on this list, this one tastes best for dogs. Despite the low-fat content, it is well-balanced and includes 4 different probiotics.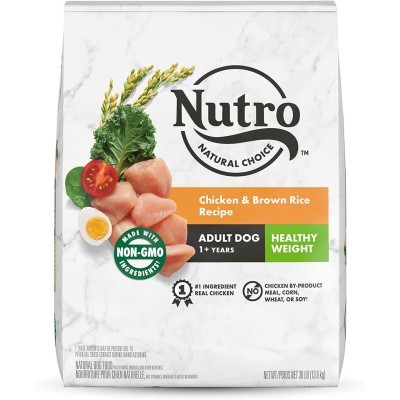 For all dogs that struggle with weight, there is NUTRO NATURAL CHOICE Adult Healthy Weight. This dog food recipe uses chicken and sweet potatoes as their main ingredients, and this is a taste most dogs love. This low-calorie, low-fat dog food is ideal for chubby dogs, and you can be sure you won't go wrong if you pick Nutro. This dog food includes dried fruits for added vitamins and antioxidants, so your dog is fully protected, and their immune system is not compromised while they lose weight. However, if you don't want them to lose weight, you can control your dog's portions and make sure they get plenty of food while they get over the disease that is bugging them.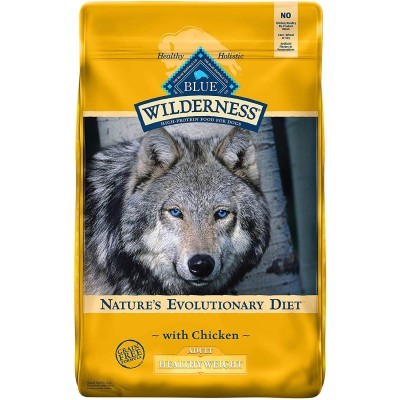 This is another brilliant product from the Blue Buffalo company. The Blue Buffalo Wilderness High Protein Healthy Weight is ideal for all dogs with pancreatitis or need to lose some weight. This recipe uses chicken as its primary protein source. It is grain-free and even has L-carnitine included to boost your dog's metabolism. We are personally big Blue Buffalo fans, and we feed our dogs with their Adult food. We are delighted with their dog food and think this is one of the best choices you can make for your overweight or sick pup.
World Dog Finder team