Top 3 Best Vet-Recommended Puppy Food
02.06.2021.
Every product and service on World Dog Finder is independently selected by our editors, contributors, and experts. If you purchase something through our links, we may earn a referral fee. Learn more
---
If you are getting a new puppy, one of the first things you will have to choose is great puppy food. Just like choosing food for your adult dog, asking your vet for advice is a good idea. Vet-recommended puppy food will make sure your puppy has healthy development, and they will develop in healthy adult dogs.
What to look for in vet-recommended puppy food?
Not all dog foods are the same, and some are simply better than others. You shouldn't pick the first puppy food you come across. Specific breeds have unique needs, and large dog breeds have different dietary needs than small breeds. Here are some of the most important things to look for in vet-recommended puppy food;
Protein
Protein is the most crucial thing in your puppy's diet. It is essential for developing and repairing body tissue, and puppies have a lot of developing to do. A high-quality dog diet is essential in all life stages, and it's never more important than during puppyhood. Make sure the protein in the vet-recommended puppy food comes from high-quality sources.
Minerals
Essential minerals are vital for healthy skeletal development. However, certain breeds, like the Great Dane, prone to hip dysplasia, need to have specific calcium and phosphorus levels. Too much of it can cause puppies bone issues and poor development. Talk to your vet and ask about mineral levels your puppy requires in their diet.
Essential fatty acids
Fatty acids are essential for many different processes in your puppy's life. It supports healthy joints, but most importantly, it will do wonders for their skin and coat. Puppies have sensitive skins, and many things can upset the skin's health. Omega acids will support the puppy's overall health and brain functions.
Vitamins
Puppies should get all the vital vitamins from their food. You can add vitamin supplements to their diet, but nothing can replace the vitamins they should receive from their food. Make sure the vet-recommended puppy food you pick has plenty of essential vitamins included.
Food origin
As a general rule for picking dog and puppy food, we like to look for foods manufactured in countries with strict production rules and laws. Look for dog foods made in the USA, Canada, UK, Australia, New Zealand, and Western Europe. These countries have strict manufacturing laws and agencies that test and approve dog and puppy foods.
Now that you know what to look for in vet-recommended puppy food, here are some of our recommendations;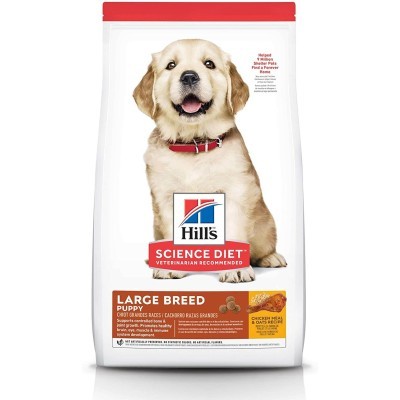 Most vets agree that Hill's Science Diet Dry Dog Food for puppies is a great choice. This is a vet-recommended puppy food that is ideal for the puppy's development. It has controlled calcium levels and will sustain the puppy's bone growth. The best thing about this puppy food is that it is packed with DHA from fish oil. That ingredient is essential because it will support the puppy's brain development and functions. This is our top pick in the category of vet-recommended puppy foods.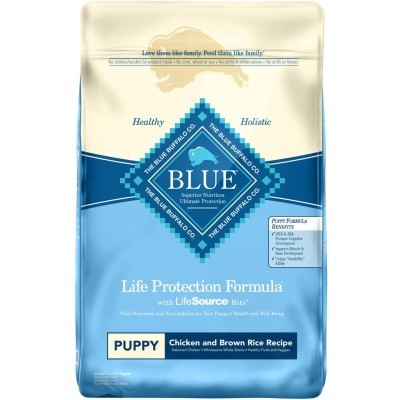 We include Blue Buffalo foods in most of our lists for a good reason - they make excellent dog food. Many veterinarians agree that picking puppy food can be tricky, so choosing one that is as good as the Blue Buffalo Life Protection Formula is a pretty safe bet. This puppy food recipe includes chicken as its main ingredient, so the food's palatability should never be in question. Puppies love how this food tastes, which is great because it includes everything your puppy needs for healthy development. This puppy food contains vitamins, minerals, omega fatty acids, antioxidants, and high-quality proteins. This is another excellent pick for puppy owners.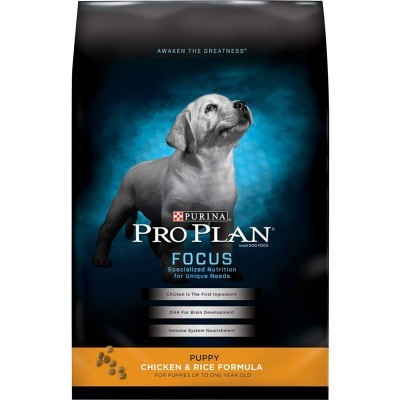 Puppy food can be very expensive, and the bills can rack up pretty fast. Luckily, there are great options, like the Purina Pro Plan High Protein Dry Puppy Food, that come with a friendly price tag. This is another dog food that has the AAFCO certification, so you can be absolutely sure your puppy is getting great ingredients. Purina is a very popular choice. Luckily, it is vet-recommended puppy food, which is very important for many dog owners. This recipe we included is based on chicken and brown rice, but other options are equally good.
World Dog Finder team