Best Dog Water Dispensers in 2023
18.05.2021.
Every product and service on World Dog Finder is independently selected by our editors, contributors, and experts. If you purchase something through our links, we may earn a referral fee. Learn more
---
If there is one thing all living beings need, it is water. As a responsible dog owner, there is one thing you should always make sure of - that your dog has plenty of water. That means their water bowl should always be full, and the dog should be able to access drinking water easily. However, with our busy schedules and working life, it is sometimes challenging to make sure your dog's water bowl is full. Luckily, you can get a dog water dispenser that will make sure your dog doesn't run out of water while you are away from them.
What to look for in dog water dispensers?
Like with all dog products, not all dog water dispensers are the same. Before you decide to buy a particular model, you should look for different useful features and make sure you are getting the best dog water dispenser for the amount of money you decided to spend. Here are some of the useful features you should look for;
Capacity
The best dog water dispensers for your dog will have a large enough capacity. It doesn't have to be a tank per se, but the amount of water should be enough to last at least until you come back home. Keep in mind that you should look for a water dispenser that will be large enough for your particular dog.
Material
There are various options when it comes to water dispenser material. You can choose from plastic (make sure it's BPA-free), ceramic, or stainless steel. Each one has some advantages, and it mostly comes down to the owner's preference.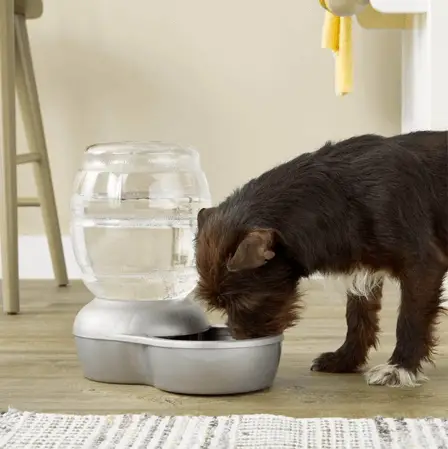 Maintenance
You don't want to end up with a dog water dispenser that will be too complicated to clean. If you have to completely take it apart every time you have to clean it, it will get on your nerves and will most likely end up in some storage room, never to be used again. Make sure you get a model that will be easy to clean and maintain.
Functionality
There are different types of dog water dispensers, and you can choose the best model based on your dog's behavior. There are dog water fountains or simple gravity water dispensers. Make sure you choose the model that your dog won't knock over or refuse to drink from it.
Design and price
As with any other product, it is important that the product is well-designed and not too pricey. Some great-looking dog water dispensers will fit any interior. Before you decide to buy, make sure you look at the price tag so you don't get surprised at the checkout.
Here are some of our favorite dog water dispensers;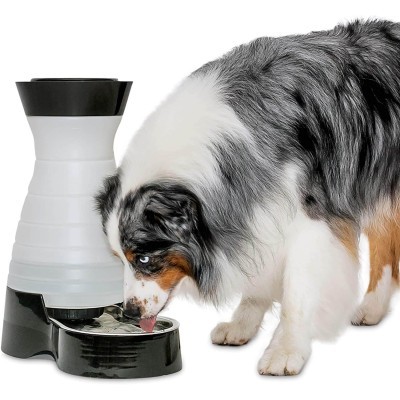 Our top pick for the best dog water dispenser is the PetSafe Healthy Pet Gravity Food or Water Station. This model can be used for both food and water, but we prefer using it for water only. Food dispensers can be good, but only for dogs that eat as much as they need. Many dogs will overeat if they have food available 24/7. This water dispenser comes in three sizes, and the bowl is made of stainless steel. Stainless steel made sure maintenance is easy, and this water dispenser checks all boxes we look for in this category. The PetSafe is a great choice and a trusted dog product manufacturer.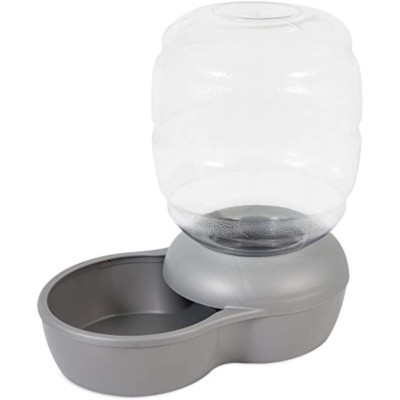 If you are looking for a dog water dispenser with a budget-friendly price tag, the Petmate Replendish Gravity Water Dispenser is a great choice. This water dispenser has four different sizes available. The best thing about it is that it contains a charcoal filter, so you can be sure the filter will eliminate 99% of bacteria. This gravity water dispenser has a 1-gallon tank that will slowly fill your dog's bowl without overflowing it. It is easy to maintain, and you can be sure your dog will have plenty of water while you are not close to them. The plastic used for the production of this water dispenser is recycled and completely BPA-free.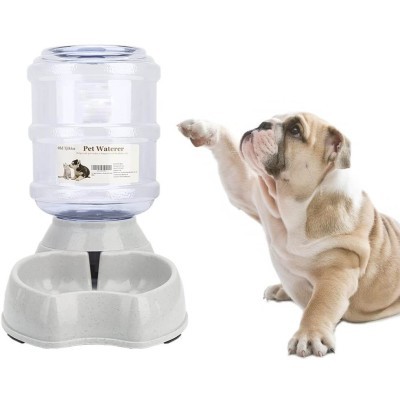 Our third pick is the Old Tjikko Dogs Water Dispenser. It is practical and has a large enough tank for most dogs. The capacity of this water dispenser is 1 gallon, which is enough even for households with more pets. This model is made of BPA-free plastic, which is durable and easy to maintain. A 1-gallon tank is enough to last small dogs up to 10 days, so you don't have to think about the dog's water bowl constantly. Plus, this model has a rubber bottom, so it is sturdy and stable.
World Dog Finder team