The Best Dog Water Fountains
05.03.2021.
Every product and service on World Dog Finder is independently selected by our editors, contributors, and experts. If you purchase something through our links, we may earn a referral fee. Learn more
---
Dog water bowls can quickly get dirty and contaminated with different airborne pollutants, especially during the summer when the heat is at its maximum. This is where dog water fountains come in handy. They can provide your dog with a source of fresh, clean water that will prevent it from getting contaminated and dirty.
What to look for in a dog water fountain?
Unfortunately, getting the right dog water fountain is not as easy as it seems. There are different things you should consider and think about. Getting a dog water fountain that just circulates water is not enough. You should think about these four key elements when getting a water fountain for your dog;
Materials
One of the most important things when picking any product is choosing the right material. They all have certain advantages and disadvantages, like price, sturdiness, durability, etc. Picking the right one for a dog water fountain at your home will depend on you and your dog. If you have a smaller dog who isn't too energetic and enthusiastic about drinking, taking a lighter, cheaper fountain might be a good option. If you have a large dog that knocks the bowl over often, getting a sturdy, durable one is probably a better idea. The three types of materials used for dog water fountains are plastic, stainless steel, and ceramic.
If you love gadgets, check out this article - Best Automatic Dog Feeders.
Buzzing and noise
One of the critical features of a dog water fountain is the noise it makes. There are two noise sources you want to consider; the splashing water and the mechanism. Both of these sources can interfere with your dog's and your sleep. Make sure you get one that has a quiet option, and that can adjust the water flow.
Filtration
The main reason owners want to get a dog water fountain is to make sure their dogs have a reliable source of fresh, clean, filtered water year-round. The only way to ensure that is to get a filtration system that is reliable and effective. There are two types of filtration systems used in dog water fountains: carbon and charcoal.
Carbon is just an element that doesn't have any special cleaning or filtering properties. The filter itself does most of the cleaning. The charcoal filter can seem unpleasing and dirty, but it is a lot more effective. It contains carbon, oxygen, and hydrogen, but owners seem reluctant to get it because it is made from pyrolyzing wood. The special charcoal molecular structure gives it unique filtering properties, and it attracts microscopic debris and other pollutants.
Maintenance
The maintenance of the dog water fountain should play another vital role in your decision-making process. Make sure the model you choose has easily cleaned and replaceable parts. One of the major pluses is machine-washable properties.
Now that you know what to focus on and which components we considered when choosing our favorite models. Here is the list of our favorite dog water fountains.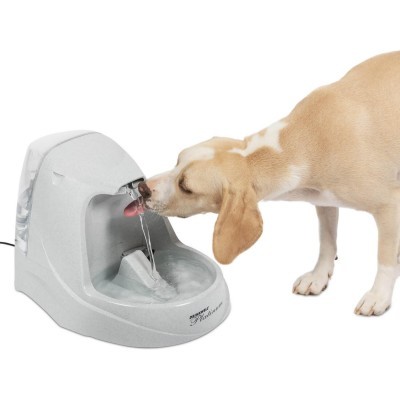 Our top pick and our personal favorite is the PetSafe Drinkwell Dog Water Fountain. This model has a large enough capacity, and cool features dog owners love. The 168-ounce capacity will make sure your dog has enough fresh, clean water the whole day. This dog water fountain is made from plastic. It uses a carbon filter that is actually charcoal, but the company decided to advertise it as carbon.
Pros
Sound notification when it is nearly empty
Large capacity
Great value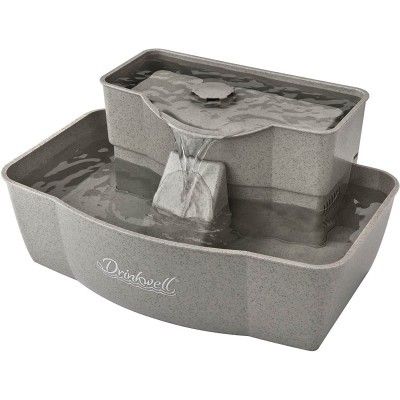 There is a good reason this dog water fountain received more than 9.000 positive reviews; it is an ideal model for a household with multiple dogs and cats. It provides two levels of drinking, and the design is not bad at all. The Drinkwell Multi-tier Pet Fountain comes from a trusted manufacturer. It comes with a carbon filter that will make sure your dog's water stays clean.
Pros
Quiet
100-ounce capacity
Easy to clean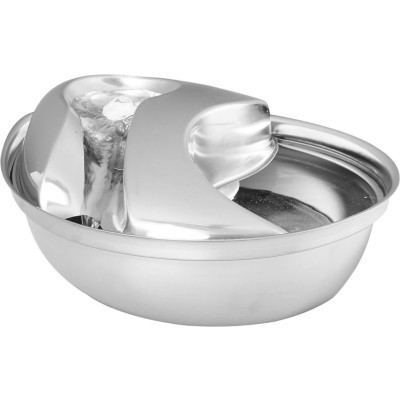 The Pioneer Pet Raindrop Fountain is another owner recommendation, but the difference is - this one is made from stainless steel. It has a replaceable charcoal filter, which we know is better for filtering than a carbon filter. The natural, flowing water is appealing to your dog. It has a smaller capacity of 60 ounces, but if you have one medium-sized dog in your household, this is more than enough.
Pros
Easily cleaned
Stainless steel
Charcoal filter
Quiet
Clean design
Cons
Dogs will take time to get used to the bowl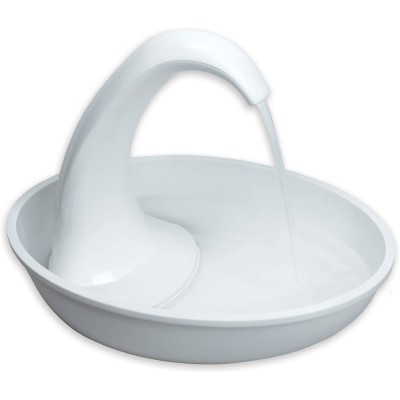 The Pioneer Swan Dog Drinking Fountain has a unique design that draws dogs towards it. This model allows your dog to have a faucet only for themselves, and as we know, dogs love drinking from faucets. It has an 80-ounce capacity, which is more than enough for one large dog or several small breeds. This model has a charcoal filter and is relatively easy to maintain. This dog water fountain uses a USB connection pump and ensures no noise issues. A great model that is highly recommended.
Pros
Great design
Charcoal filter
USB connection pump
Easy to maintain
Cons
Some owners reported motor malfunctions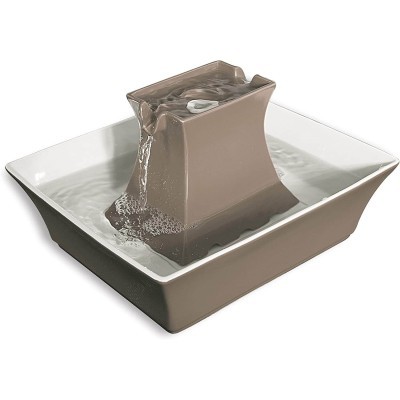 The Drinkwell Pagoda Dog Drinking Fountain is one of the best choices you can make for your dog. This is a ceramic dog water fountain that is easy to clean and maintain. It has dual flows that will be very entertaining and will make your dog drink plenty of water during the day. It comes with a carbon filter and a somewhat smaller capacity of 70-ounces, but that should be enough for medium-sized dogs.
Pros
Design
Ceramic
2 drinking levels
2 flows
Cons
Smaller capacity so not for multiple pets
Some owners reported motor issues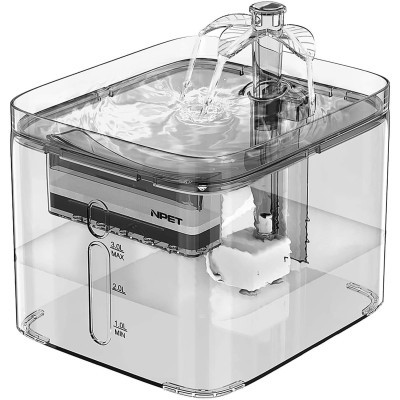 If you are looking for a dog water fountain with a larger capacity and a unique design, this is the model for you. The NPET 3L Automatic Dog Water Fountain has a 100-ounce capacity, and the seethrough design will ensure your dog never ends up without water. This model has three different water flows that can be modified to enrich the dog's water fountain's oxygen content. It is an excellent solution for homes with several smaller dogs or one medium-to-large-sized dog. It comes with a quadruple-action carbon filter.
Pros
Design
Price
3 water flows
Adjustable
Cons
Some owners reported mechanical problems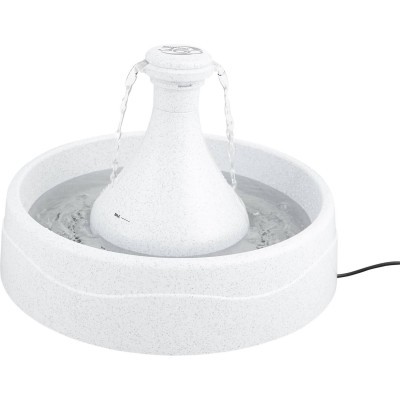 The Drinkwell 360 Dog Water Fountain has a fun feature, so we decided to place it on our list. It comes with replaceable rings on top so you can control how many 360-degree flows you have. You can choose anywhere from 1 to 4. That will increase oxygenation and keep the water crispy fresh for a long time. It comes with a carbon filter and is very easy to assemble and clean.
Pros
Up to 4 water flows
Easy to maintain
Affordable
Large capacity
Great for homes with multiple pets
Cons
The flow can't be adjusted
Cord easy to chew through
World Dog Finder team