Best Carpet Cleaning Solution for Pets
17.05.2021.
Every product and service on World Dog Finder is independently selected by our editors, contributors, and experts. If you purchase something through our links, we may earn a referral fee. Learn more
---
Sharing a home with a dog, or any other pet for that matter, is messy; there is no going around that. Accidents on carpets can happen, especially if you have a new puppy that is still potty training. One of the best things you can do to make sure your puppy doesn't repeat the deed is to thoroughly clean the soiled area. However, you cannot use any cleaning product; you should get a pet carpet cleaning solution that is 100% safe for dogs.
As dog owners, we sometimes have trouble keeping our home spotless. Carpets are especially in danger since dogs and cats love, especially puppies and kittens, love doing their business there. If you want your carpets to survive, you should pick one of these fantastic products;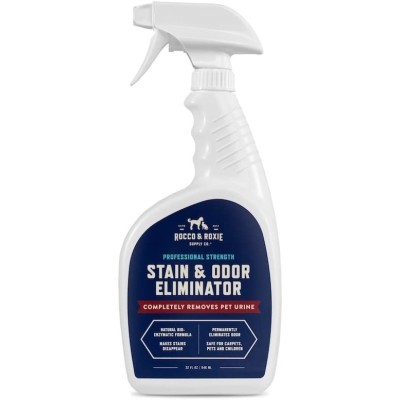 There is a good reason why the Rocco & Roxie Supply Professional Strength Stain and Odor Eliminator is our top pick - it is incredibly effective. This product has more than 58.000 positive reviews, and it can be used on different surfaces. This is not strictly a carpet cleaning solution; it can be used all over your home. Plus, this Odor Eliminator can be added to carpet cleaners and used that way. Everything you have to do is - spray the stained area, let it sit for 5 - 10 minutes, and blot dry. Rocco & Roxie Stain Eliminator has a great price, and it is a great product to have in your home.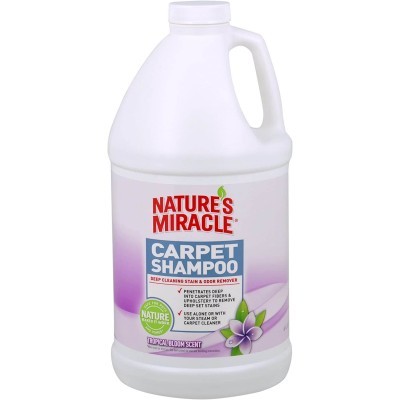 Many dog owners we contacted and talked about carpet cleaning solutions for the sake of this article have recommended the Nature's Miracle Deep-Cleaning Stain and Odor Remover. Most owners we spoke with were delighted with the job this carpet cleaning solution has done for them, and they said their carpets remain safe. However, this solution should be used with a machine carpet cleaner. Still, it will penetrate the stains and odors to break them from within. Keep in mind that this enzyme-based carpet cleaner will keep breaking the smell down even a couple of hours after it was applied, so you will need some patience. It is an ideal choice for owners who have a dog that loves marking the same place repeatedly.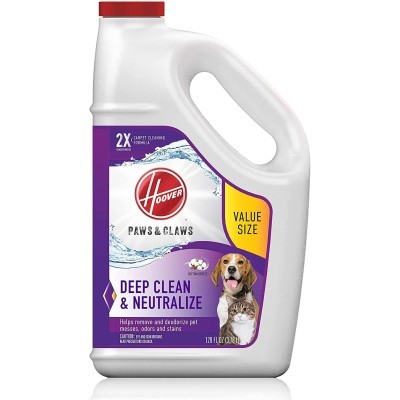 This is another carpet cleaning shampoo that is meant to be used with a carpet cleaner. The Hoover Paws & Claws Deep Cleaning Carpet Shampoo removes and deodorizes odors and stains on your carpets, rugs, and upholstery. This carpet cleaning solution is better than many products on the market, and it is effective against old stains. This solution contains enzymes that will completely disintegrate stains and odors, so your dog can't smell the place where they had the accident. This is a very budget-friendly carpet cleaning solution that can save your expensive carpet's life.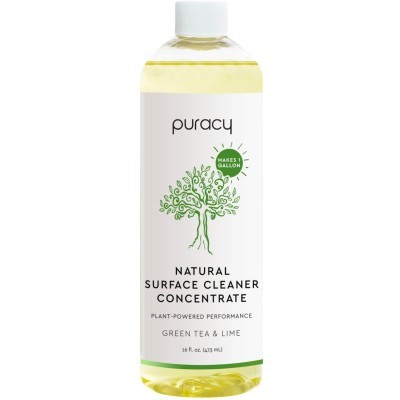 The Puracy Multi-Surface Cleaner is not only a carpet cleaning solution safe for pets; it is ideal for various surfaces in your home. Unlike other carpet cleaning solutions, this one is completely natural. Dogs and puppies can get an allergic reaction to different chemicals in cleaning solutions. If you are worried about that, you should go for the Puracy Multi-Surface Cleaner. It doesn't contain any harmful chemicals, and this carpet cleaning solution is plant-based. It is very effective, and it produces low foam, so it is safe to use with carpet cleaners. This is a great natural product safe for dogs and puppies.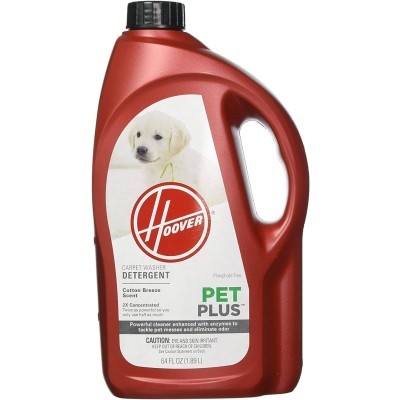 This is another excellent product from the HOOVER factory. The Hoover PETPLUS Concentrated Formula is effective against all sorts of stains caused by your dog. Like the other HOOVER carpet cleaning solution on this list, this one is also enzyme-based and attacks the stains and odors from within. It works with any carpet cleaner, and it is highly effective against old hardcore stains. It is an excellent choice for all puppy owners who are still teaching their puppies where to go to the bathroom; a great selection and a top recommendation.
World Dog Finder team