3 Best Chew Toys for Puppies (Review)
12.05.2021.
Every product and service on World Dog Finder is independently selected by our editors, contributors, and experts. If you purchase something through our links, we may earn a referral fee. Learn more
---
Puppies have a teething phase, just like human babies do. During that phase, the puppy will chew on anything they can get ahold of, and that is when chew toys for puppies come in handy. If you are interested in keeping your fingers, toes, shoes, clothes, or furniture safe from tiny needle-sharp puppy teeth, you should give puppy chew toys a serious thought. However, not all chew toys are the same. Here is what you need to know about chew toys for puppies.
What to look for in puppy teething toys?
Not all toys are safe or practical, and if your puppy needs help with their teething problems, there are a few things you should look for in puppy chew toys. There are toys specially designed to help puppies with teething. They will help them with their pain levels and numb the irritations they are feeling. Here are the most important things to look for in puppy teething toys;
Material
Material is vital for any toy you are getting for your puppy or an adult dog. You want to get durable rubber or rope toys. It is best to avoid toys with long strings or squeaky toys. The puppy can easily swallow strings, and they will do anything they can to find the source of squeaking. When they inevitably get to it, they can swallow it and choke.
Frozen toys
This doesn't imply you should get puppy toys with motives from the Disney movie "Frozen" (although if you are a fan, who's stopping you?), but look for toys that are designed to be frozen in a freezer. The cold will help with the inflammation, swelling, and pain. You can use a frozen washcloth that is tied into a knot.
Stuffed toys
There are many children's toys that are stuffed with foam stuffing. This might be ideal for human kids, but canine children should avoid them. The only way a puppy can enjoy a toy is by biting it, and a teething puppy's favorite activity is chewing. There is a chance of swallowing the foam stuffing, which is a choking hazard. It is best to avoid stuffed toys at the beginning.
Size
Size is important when it comes to puppy teething toys. You generally want to avoid using small toys that your puppy can swallow. Anything small enough that presents a choking hazard is not safe for teething puppies, and you should pick a large enough toy for puppies to bite and safe enough so puppies can't swallow them.
If you want to know more about the teething phase, check out this article that can tell you more about it - When do puppies stop teething?
Now that you know what to look for, here are our recommendations for the best puppy chew toys;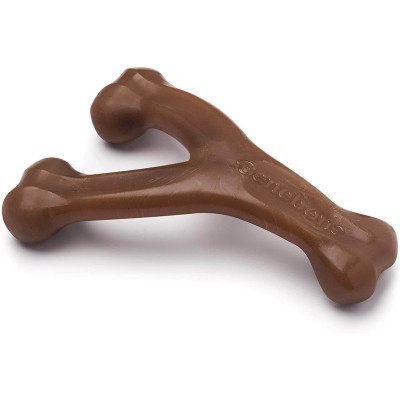 Your puppy will love their new Benebone Durable Wishbone Dog Chew. Not only is this ideal for teething puppies, but this chewable toy is edible. It comes in three varieties - bacon, chicken, and peanut butter. You can be sure your puppy will absolutely love the taste of their new chew toy. Plus, you can easily place this toy in a freezer and give it to your puppy frozen. The cold will help alleviate the pain and make them a bit more comfortable during the teething process. This is our top pick, and dog owners worldwide seem to agree.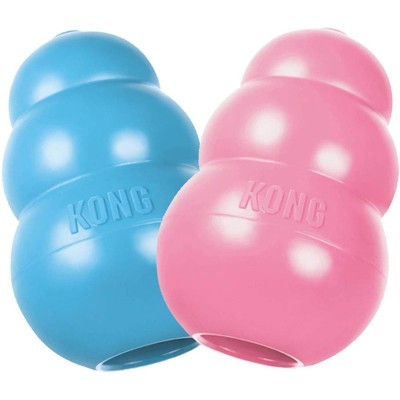 It is not a huge secret we are major KONG fans. The KONG - Puppy Toy Natural Teething Rubber Toy is ideal for teething puppies. This chew toy for puppies is durable, and it can be filled with peanut butter and frozen, so your puppy has plenty of fun with this rubber chew toy. The best thing about Kong is their high-quality rubber made specifically for enthusiastic chewers. Even adult dogs with strong jaws have trouble destroying the Kong. Plus, you can use this toy for a game of fetch, and its irregular shape will make it bounce in unpredictable ways. This is an excellent pick for teething puppies.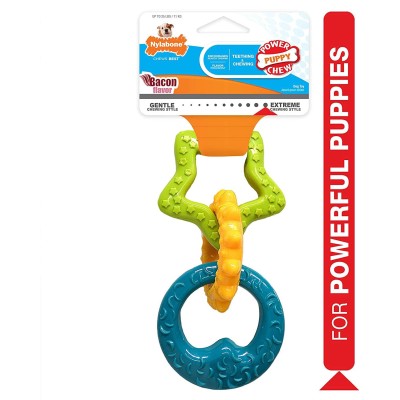 If you are looking for a puppy chew toy that you can use for a game of Tug-O-War, then the Nylabone Puppy Teething Chew Toy is the right choice for you and your puppy. Similar chew toys are flimsy and get destroyed pretty quickly. Luckily, this one from Nylabone is very durable. It has different surfaces included, so the puppy remains interested for a long time. You can put it in the freezer, and the cold will not lower the consistency and durability. Plus, this puppy chew toy is bacon-flavored, and you know your puppy will love that. This is another great find and a top recommendation.
World Dog Finder team