Best Dog Heating Pads in 2023
30.04.2021.
Every product and service on World Dog Finder is independently selected by our editors, contributors, and experts. If you purchase something through our links, we may earn a referral fee. Learn more
---
Humans can easily throw on a couple of extra layers of clothes and feel warm during those cold winter days, but dogs are not that lucky. Sure, there are breeds like the Siberian husky or Alaskan Malamute whose coat will keep them warm even if the temperatures reach minus degrees, but there are also dog breeds that will need additional protection.
Getting a dog heating pad
A dog heating pad can be an excellent solution for all dogs that are feeling a bit chilly. Before you buy the first heating pad you see, here are some things you should think about.
Size
Size should play an important role when deciding on a dog heating pad. Think about your dog's size, and make sure you get a heating pad that can fit your whole dog. It makes no sense to get a dog heating pad that will only keep half of your dog warm.
Sleeping position
Another thing you should consider is how your dog sleeps. Some dogs love to stretch out, and some love sleeping on their backs. Maybe your dog curls up, or perhaps they lay on their side and stretch as much as they can.
Usage
Think about where you will use the dog heating pad. Will it be placed primarily indoors or outdoors? Knowing the answer to that question can give you pointers on what material and safety features the dog heating pad should have.
Materials
There are two main types of heating pads for dogs - electric and heat-reflective. Electric dog heating pads have electric cables, and dogs that love chewing things shouldn't have a dog heating pad.
Maintenance
Some dog beds are just easier to clean than others. This is especially important if the bed will be used indoors. Make sure you get a dog heating pad that is easy to clean. The better models should be machine washable and include soft bedding.
Price
The price is always an important thing to look at when getting any product for yourself or your dog. There are different price ranges, and dog heating pads are luckily affordable and budget-friendly. 
If you want to get something more than just a heating pad, check out this article - Best heated dog beds.
Now that you know what the most important parts to look for are, check out our top recommendations for dog heating pads.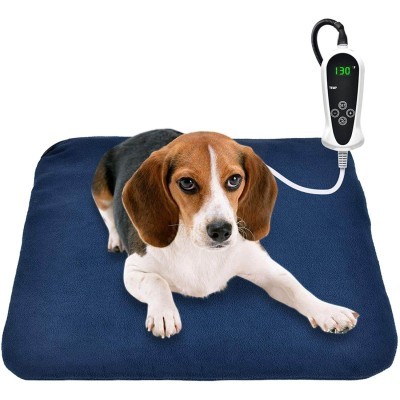 Our top pick for dog heating pads is the RIOGOO Pet Heating Pad. Our favorite thing about it is - it has a safety feature that will turn off the electricity if you forget to turn it off yourself. It doesn't spend too much electricity, and your dog will feel cozy and warm even if outside weather is freezing. This is especially good for puppies that have just come to your home. They will miss cozying up with their littermates at the beginning, so getting them a dog heating pad is a great idea. This heating pad is made with strict regulations to ensure maximum safety, but you should still keep an eye on your dog and make sure they don't chew through the cord.
Pros
Safe
Cozy
Soft
Great safety features
Cons
The safety timer lacks automation
Once it is turned off, it will not turn on on itself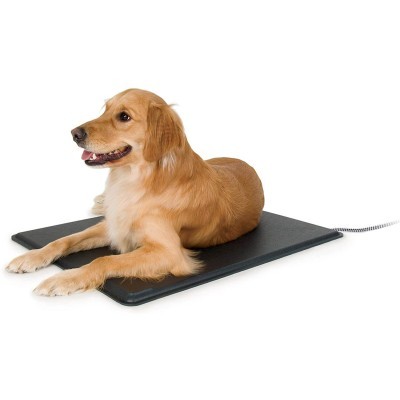 If you are looking for a primarily outdoor heating pad, the K&H PET PRODUCTS Outdoor Heated Pad has you covered. This is a fantastic heating pad that is entirely safe for outdoor use. This model has a thermostat and will heat up to your dog's body temperature. This is a great safety feature, and it will prevent your dog from overheating. It can be used in kennels or simply as an outdoor laying mat. It is fairly easy to clean, and you can be sure your dog will enjoy napping and sleeping on it.
Pros
Safe
Includes a thermostat
Effective
Cons
Pricier than other heating pads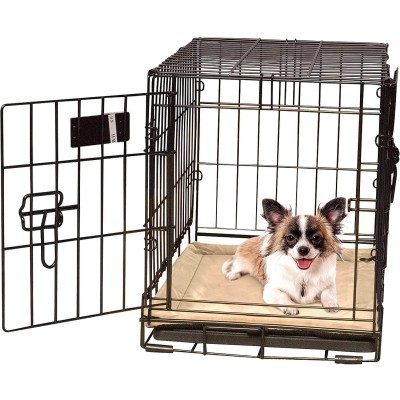 When it comes to dog heating pads, K&H Pet Products seem to know what they are doing. That is why K&H PET PRODUCTS Self-Warming Crate Pad is our choice for the best self-heating pad. This pad has thick foam and is covered with soft, cozy microfleece. If you have a chewer and you are worried about their safety around cords, this heating pad eliminates that risk. This product will reflect the dog's body temperature and keep them warm without using any type of electricity. Plus, it is completely machine washable, so maintenance is easy.
Pros
Machine washable
Soft
Microfleece
No electricity
World Dog Finder team