Best Heated Dog Beds in 2023
29.04.2021.
Every product and service on World Dog Finder is independently selected by our editors, contributors, and experts. If you purchase something through our links, we may earn a referral fee. Learn more
---
There are many reasons why your dog might benefit from a heated dog bed. If you have a hairless dog breed or a senior dog with joint issues, getting a heated dog bed can do wonders for your beloved pooch. However, not all dog owners know about heated dog beds and what they can do for their dogs. Here are some things you should know about them.
Which dogs can benefit from a heated dog bed?
The truth is, all dogs with short coats could use a heated dog bed, but there are certain dogs that will enormously benefit from it. Here are three main types of dogs that could use a heated dog bed.
Puppies
The first few months in a new home can be very stressful for puppies. They could use all the comfort you can give them, and a heated dog bed can be exceptionally comforting for them. Plus, puppies are not that good at regulating their body temperature.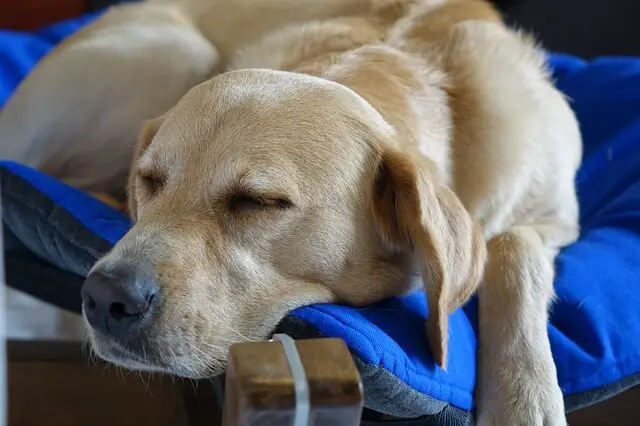 Senior dogs
Just like puppies, senior dogs are not really good at temperature regulation. They can quickly get cold, and getting them a heated dog bed will make their life a lot easier. Plus, heated dog beds will help them with their arthritic issues and joint pain.
Outdoor dogs
Dogs that live most of their lives outside, working or guarding, could really benefit from having a heated dog bed. This is vital for dogs that live outdoors in colder climates.
Types of heated dog beds
Not all dogs have the same living conditions or preferences. Some dogs love sleeping in crates, and other love sleeping on couches or sofas. Luckily, there are different types of heated dog beds that can accommodate all dogs.
Flat
The most common type of dog bed placed inside of a dog crate is the flat bed. These heated flat dog beds have no bolsters and often come with slits in the corners to hook them up to the crate.
If you think your dog's bed doesn't have to be heated, check out this article - Best dog beds.
Bolster beds
Bolster beds are great because they offer dogs additional security and comfort. If you get them a heated bolster bed, they will have the whole "comfort" package in one bed.
Heated covers
Heated covers are for dogs that love sleeping on the furniture. This is especially good for senior dogs who might be set in their ways and have spent most of their lives sleeping in "their spots" on the family couch. Plus, heated covers will protect your sofa from dog hair.
Outdoor heated dog beds
These beds are a popular option for working dogs that spend their lives outside. Outdoor heated dog beds are usually made from PVC and have soft bedding like fleece or some other type of soft cloth that will be comfy for dogs to sleep on.
Now that you know what type of heated dog beds there are and which dogs could use them, check out our top recommendations.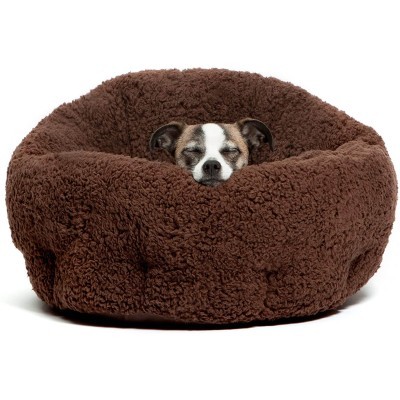 Our top pick for a heated dog bed is the Best Friends by Sheri OrthoComfort Deep Dish Cuddler. This is a self-warming type and is ideal for dogs that might want to chew or scratch their bedding. OK, maybe not perfect, but a lot safer than the electrical option. This heated dog bed is surrounded by bolsters for maximum comfort. It is completely machine washable, and you can even use the low heat setting to dry it up. The Deep Dish Cuddler is very popular among dog owners, and the only problem is that it doesn't fit larger or giant dogs.
Pros
Comfy
Machine washable
Self-heating
Highly recommended
Cons
Durability issues
Not for large dogs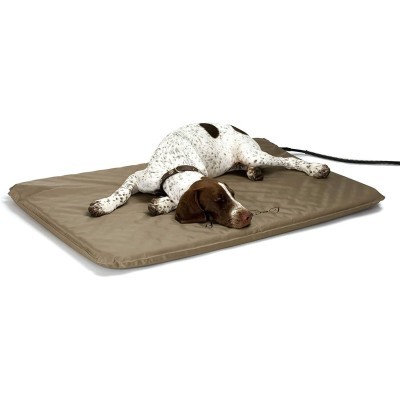 If you are looking for heated dog bed options for your outside dog, there is nothing that comes with a higher recommendation than the K&H Pet Products Lectro-Soft Outdoor Heated Pet Bed. This is an electric-type heated dog bed that your dog will absolutely love. It comes with a soft PVC fabric that is completely waterproof, so your dog can safely sleep on it even if they are wet. This heated dog bed includes an extra soft fleece cover that can be removed and washed in a washing machine.
Pros
Effective
Safe
Comfy
Easy maintenance
Cons
Not for dogs that chew their beds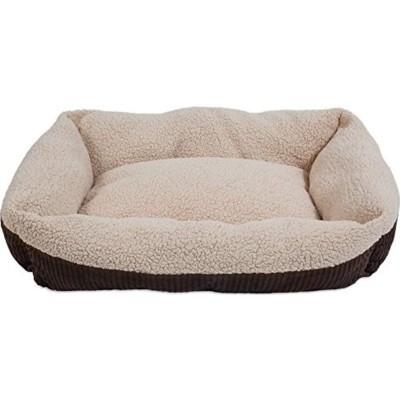 If you think that an electric heated dog bed is not a safe option, you might want to consider getting your dog the Aspen Pet Self Warming Bed. This heated dog bed has bolsters on three sides and soft bedding that will use your dog's body temperature to heat them up. It comes in three different styles, and the soft fleece will keep your dog nice and comfy throughout their naps.
Pros
Comfy
Soft
Reflective heat
Non-slip bottom
World Dog Finder team