Best Calming Dog Beds [2023 review]
20.04.2021.
Every product and service on World Dog Finder is independently selected by our editors, contributors, and experts. If you purchase something through our links, we may earn a referral fee. Learn more
---
Just like humans, dogs can be anxious or stressed about different things. Of course, dogs don't have jobs they have to worry about, but their owners leaving can be a very stressful event for a dog. As owners, we want to do anything we can to ensure our dogs feel comfortable and safe. That is precisely where calming dog beds come into play.
What are calming dog beds?
Calming dog beds are similar to regular dog beds. Still, they have added features that provide extra comfort and security for your restless dog. These calming beds for dogs have special material that gives the dog a feeling of warmth and embrace. The materials are soft, and some beds have warming features that will instantly calm your dog's nerves.
Why should I get a calming dog bed?
There are mixed feelings and advice on sharing a bed with your dog. Some owners and experts see nothing wrong with that, and they don't have anything against it. Some studies even show some benefits to co-sleeping, like strengthening the bond between you and your dog. However, some experts believe dogs should have their own beds, especially dogs with separation anxiety and aggressive tendencies. Those experts claim that co-sleeping will enhance the behavior issues and make them worse.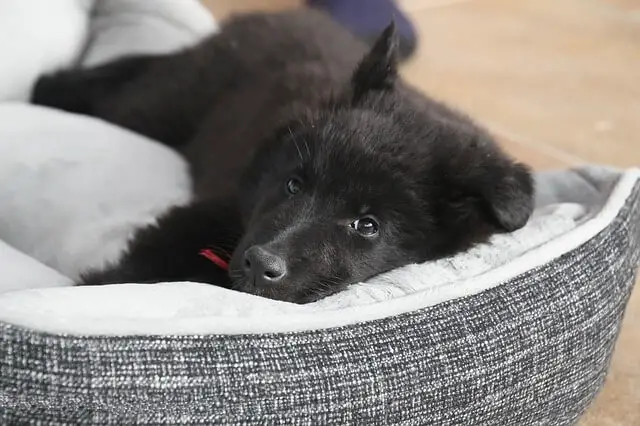 There are other risks involved with sharing your bed with your dog; disease transmission. Although it is rare, different diseases can get transmitted from your dog to you and vice versa. Plus, we have different sleeping patterns from our dogs. They are light sleepers and are likely to move around at night and react to benign sounds. If you can get your dog to stop jumping on your bed, think about getting them a perfect, calming dog bed that will be only theirs.
Want to know more about puppy sleeping patterns? Check out this article - How much do puppies sleep?
Types of calming dog beds
There are two main types of calming beds for dogs - bolster-types and cave-types. Dog beds with bolsters have raised edges or "bolsters" that provide the dog with added security and prevent their head from dangling off the edge. The cave-type calming dog bed has an additional cave-like feature where dogs can crawl into for added security. These beds are like human sleeping bags. They can pop up like tents or have blankets for warmth and protection.
Now you know what calming dog beds are, and we bring you the best calming dog beds available for online orders.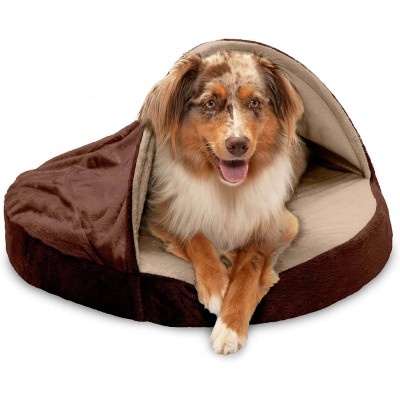 After reviewing more than 70 different calming dog beds, we ordered for our dogs the Furhaven Pet - Self-Warming Cuddler based on its great reviews. We can honestly say that this is the best thing we could have got. All dogs that have tested this dog bed absolutely loved it. You should see the positions they sleep in on this bed. This model from Furhaven Pet is a cave-type calming bed for dogs, and dogs seem to love the additional warmth the "blanket" provides. This bed's sleeping side is made from long-pile micro velvet that is incredibly soft, so it is no surprise dogs love it. It comes in different designs, and you can even choose the type of foam you want to get with the bed.
Pros
Soft
Cozy
Affordable
Machine washable
Cons
Make sure you measure the size before ordering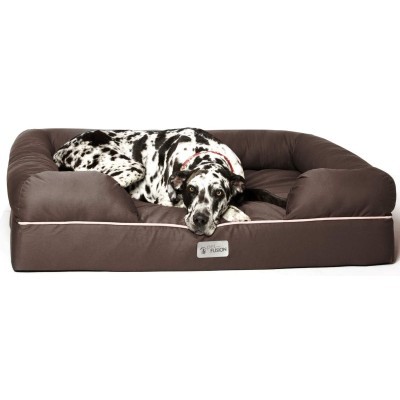 The PetFusion Ultimate Dog Bed with bolsters comes highly recommended by dog owners. This model has 4-inch memory foam to provide unparalleled lumbar support. Not only is this model great for anxious dogs, but it is also an excellent choice for dogs recovering from surgery, senior dogs that need extra skeletal support, and dogs with joint issues. The movable cover is machine washable, and the bolsters are filled quite generously. A great feature this dog bed has is the non-skid bottom that will keep it in place even if your puppy runs and jumps in it.
Pros
Great lumbar support
Cozy
3-year warranty
Cons
It states the cover is waterproof, but owners reported that to be somewhat false
If you want to know more about dog beds, check out this article - Best dog beds.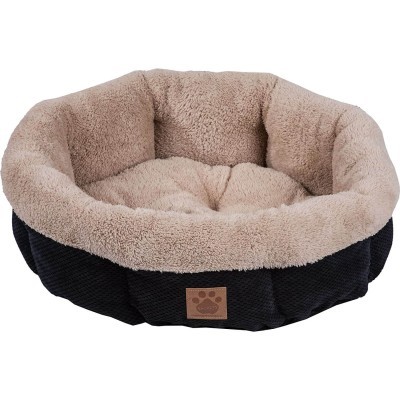 The Precision Pet SnooZZy Mod Chic is the best choice for small dog breeds. Your Chihuahua, Papillon, or French Bulldog will love their new calming dog bed. The high. "overstuffed" sides offer additional security, and the cozy inside material will give your dog the feeling of taking a nap on a little soft cloud. This calming dog bed is machine washable and dryable. It comes in different colors and styles, and it includes a non-skid bottom to keep it in place for enthusiastic puppies that love jumping in and out of their bed.
Pros
Comfy
Soft
Self-warming fleece
Cons
Not for dogs that love to scratch their beds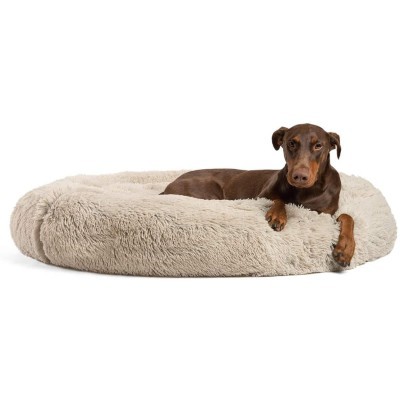 The Best Friends by Sheri Calming Donut Cuddler comes highly recommended by other sources. There is a good reason for it. This is an excellent choice for all dogs that love sleeping and curling up. This calming dog bed includes faux shag fur, which is very comfy and soft for dogs. The outer fabric is machine washable, and the bottom is waterproof. Even if accidents happen, the bed will prevent any liquids or dirt from reaching your floors. The manufacturer claims they use non-toxic filling, but they are a bit vague about the description. Luckily, this is a dog bed made in the US, so we firmly believe that materials are safe and dog-friendly.
Pros
Cozy
Soft
Machine-washable
Cons
Lack of specification for materials
Loses shape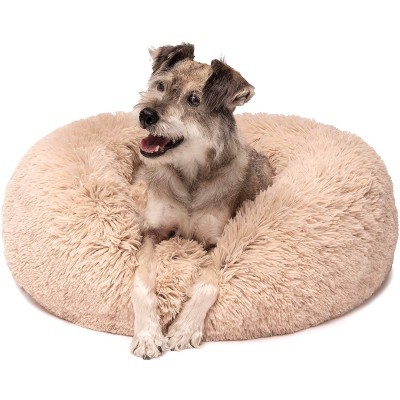 The Friends Forever Donut Dog Bed is another great option for smaller breeds like the Papillon or Boston Terrier. This calming dog bed comes with faux fur that will keep your small dog warm and cozy during the cold winter months. The filling inside the bed provides plenty of neck and back support, and dog owners seem to be very happy with this dog bed. This model is machine washable and dryable, making it easy to maintain. Dog owners have reported their dogs to sleep better in this small, calming dog bed.
Pros
Easy to maintain
Back and neck support
Self.-warming
Cons
Only for small dogs
Not for dogs that love to scratch their bed
World Dog Finder team