Waterproof Dog Bed - Why is it a Good Idea?
23.02.2021.
Every product and service on World Dog Finder is independently selected by our editors, contributors, and experts. If you purchase something through our links, we may earn a referral fee. Learn more
---
Dogs and water are a pair most dog owners had the pleasure of meeting. Dogs love spending time in or near water; it doesn't matter if it is raining or there is an ocean nearby; they will find a way to get wet. Ensuring they have a waterproof dog bed is a good idea, especially if you have a puppy or a senior dog that could have trouble controlling their bladder.
To avoid such accidents happening to your dog, getting a waterproof dog bed is not a bad idea. Just make sure you get the "waterproof" and not "Water-resistant" dog bed. Water-resistant dog beds have a special finish that can hold off just a tiny bit of water for a short period; it will eventually let it sink.
What to look for in a waterproof dog bed?
Like with any other product in the world, there are certain things you should look out for before you decide on any specific model. If you are looking for a waterproof dog bed, consider these things;
Size
Make sure the dog bed you want comes in the correct size. You don't want to end up with a dog bed that can fit only half of your dog. Also, consider how your puppy will grow and develop, and make sure the waterproof bed can accommodate them.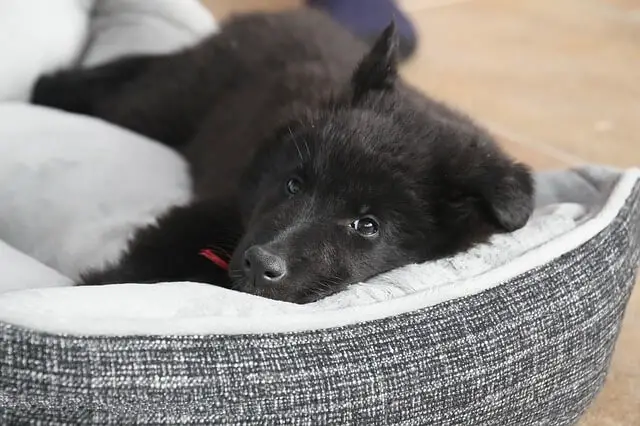 Maintenance
Cleaning a waterproof dog bed can be a drag, so make sure you get one that can be easily maintained. Some models are machine-washable, so keep that in mind when shopping or browsing.
Material
Dog beds are made from different materials, and some are more expensive than others. That usually means they have a higher quality. Material like memory foam can be an excellent option for arthritic dogs that need great skeletal support, but it might not be necessary for small dogs or young puppies.
Removable parts
Cleaning a waterproof bed would be nearly impossible if the top cover is not removable. Make sure this is one of the essential characteristics you get in a new dog bed.
Features
Dog beds come with many features we might not even know we need. Things like bolsters can help your dog rest their head, and non-skid bottom will keep the bed in place even if your dog jumps in it.
Which dogs can use a waterproof dog bed?
You might not even know just how useful waterproof dog beds can be. There are many situations your dog, and you will benefit from having a bed that won't leak. These are just some of the examples a waterproof dog bed will get in handy;
Senior dogs with bladder control
Sick dogs with stomach issues
Outdoor use
Vacation dog bed
Clumsy dogs
As you can see, there are many uses for such a brilliant product, and we have prepared a list of our favorite waterproof dog beds.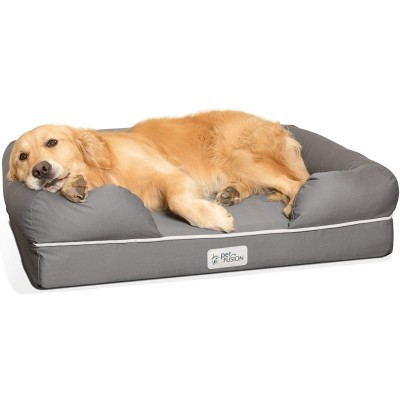 The PetFusion Ultimate Dog Bed is the best option out there at the moment. It offers an excellent value for money, and it is made from premium materials that will keep the foam safe from liquids. The cover is water-resistant, which is perfect since it is machine washable. The inside of the bed includes a waterproof liner that helps keep liquids out. It even includes bolsters that make a convenient headrest.
Pros
Different sizes
High-quality materials
Great value for money
Cons
Some owners reported having trouble getting the cover over the foam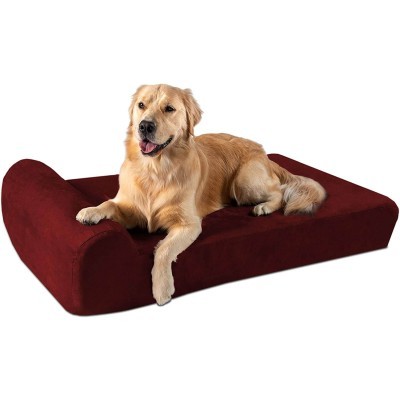 The Big Barker Orthopedic Dog Bed is a close second on the list of best waterproof dog beds, but some features placed them in the second position. The quality of materials and the bed is the absolute best, and the memory foam gives unparallel support, even for older dogs with arthritic pains. However, the bed itself is not waterproof; the waterproof lining is bought separately. And this is a bed that is only for large dogs. Small dogs should not use it.
Pros
Excellent support
Memory foam
High-quality materials
Cons
Waterproof lining sold separately
Pricey
Not for small dogs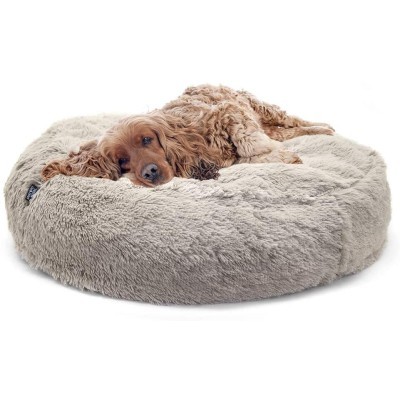 Who said waterproof dog beds need to have a flat design? The SPORT PET Designs Waterproof Dog Bed has a fantastic design that will fit right in. You can place it anywhere you want, and be sure that it won't get ruined if your dog has an accident on top of it. It has a fleece cover that provides excellent comfort and is machine-washable. The foam cushion inside is waterproof and durable. This is an ideal bed for dogs that don't require any special skeletal support.
Pros
For all dogs
Comes in different size options
Fleece
Cons
Some owners reported leakage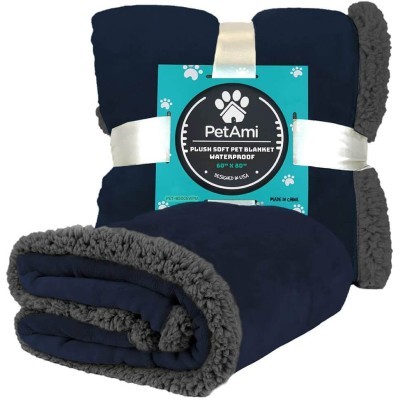 Some dogs don't love their beds, and they would much rather sleep on our beds or couches. If that is the case in your home, getting the PetAmi Waterproof Dog Blanket might be the right solution. Protect your home and furniture from your dog's liquids by putting this waterproof blanket over it. It comes in different colors, and both sides of the blanket are waterproof. The best thing about it is that it is incredibly soft because it has fleece and sherpa lining. The blanket is machine-washable.
Pros
Affordable
For furniture protection
Soft
Cons
Dogs can easily get it off the couch or bed
If left too long, the smell of urine can go through the blanket onto the furniture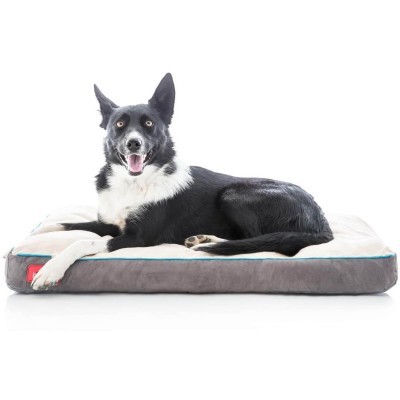 If you are looking for a more budget-friendly waterproof dog bed, then Brindle Soft Memory Foam Dog Bed is a clear choice. Not only is it waterproof, but it also makes an excellent bed for traveling and dog crates. It is designed to fit perfectly in a rectangle dog crate, and the waterproof foam will help with your crate and potty training. It has a simple and practical design. This dog bed is machine-washable.
Pros
Affordable
Machine-washable
Fits in dog crates
World Dog Finder team